For anyone who missed it, Band of Gold was the ground-breaking TV crime drama series written and created by Kay Mellor which was first broadcast on ITV in March 1995. It captivated over 15 million viewers each week and revolved around a group of women, Carol, Rose, Anita and Gina. It was gritty, realistic but shaped with real heart with true characters performed by Cathy Tyson and Geraldine James who had depth and soul. Barbara Dickson's singing and acting completed the inspired casting. The series revolved around the lives of a group of sex workers who lived and worked in Bradford's red-light district.
This production is the world premiere stage production of Kay Mellor's multi-award winning TV series Band of Gold featuring Gaynor Faye (Rose), Laurie Brett (Anita), Sacha Parkinson (Gina), Emma Osman (Carol), Kieron Richardson (Steve), Shayne Ward (Inspector Newall) and Andrew Dunn (Ian). Undoubtabley the faces on stage would have been instantly recognised by members of the audience from their appearances in long time TV soaps such as Emmerdale, Playing the Field (Gaynor Faye), EastEnders, Waterloo Road (Laurie Brett), Coronation Street, X Factor (Shayne Ward), Hollyoaks, Heartbeat (Kieron Richardson), Mr. Selfridge, The Mill (Sacha Parkinson) and Dinnerladies, Coronation Street (Andrew Dunn) plus their appearances in stage productions such as Calendar Girls (Gaynor Faye), Les Misérables (Laurie Brett), and Rock of Ages (Shayne Ward) but despite the casting of well-known experienced TV and stage actors, this production didn't live up to expectations for me.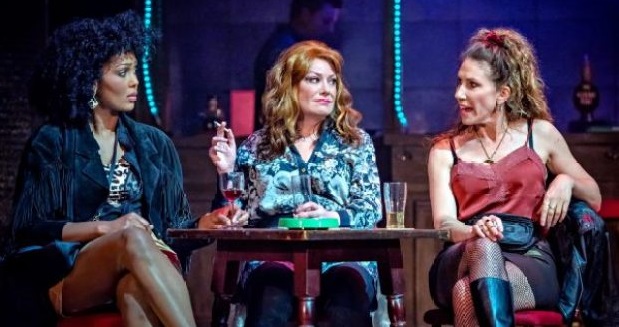 A recorded voice-over from Kay Mellor introduced the show which included a warning that the production had adult themes and that strong language was used throughout. For anyone taking offence from any of this, it was a bit late to let them know once they had paid for their tickets and were sitting in their seats. This sort of information should be clearly stated on posters and publicity material prior to performances.
Anita (Laurie Brett) kicked off the show with a song introducing us to the pub, The Hustler where she performed and met up with her working-girl friends, Rose, and Carol. Set in the 1990's, there were references to the era by way of singers Bananarama and the films Pretty Woman and The Terminator.
The production is basically a 'Who Done It' murder mystery padded out with the background stories of the three working girls and their friend Anita, who work the lane in Bradford. "The lane" referred to in the production is a reference to "Lumb Lane" which is a street in Manningham, Bradford, historically renowned for being an area in which many prostitutes work.
Along with the main subject of prostitution, the show deals with themes of poverty, domestic violence, sexism, drinking, drugs, loan sharks and chucks in a long-lost daughter deserted by her mother as a baby who finds her working on the streets at the end. Like all good fairy tales, the girls escape life on the lane and set up their own cleaning company and call it Scrubbers. Unfortunately, it was all very contrived and regrettably even the attempt at humour during the piece didn't do it for me.
Set in the 1990's, Gaynor Faye plays hard-nosed Rose, the older hooker who rules the lane, well, if not a little over-acted at times and Laurie Brett (Anita), Sacha Parkinson (Gina), and Kieron Richardson (Steve) gave good performances. For me Emma Osman as Carol outshone them all and played her part with aplomb, hitting just the right amount of pathos and humour when required. Renditions of songs from Laurie Brett (Anita) of Love Hurts and Tainted Love helped raise the atmosphere during the piece which at times was quite lethargic with scene changes using large, black sliding screens to block out furniture re-arrangement etc. The sets were very basic with the main action taking place in The Hustler pub, Anita's flat, Carol's flat and Gina's house. I found it difficult at first to understand the Scottish dialogue used by Laurie Brett and had to listen hard to catch her lines. Shayne Ward's portrayal of Inspector Newall was rather 1950's rather than 1990's and a little wooden at times but I think anyone would have struggled with the lines he had to deliver which were rather mundane at times. Olwen May (Joyce), Steve Garti (Curly) and Mark Sheals (George) contributed credible performances.
Writer & Director, Kay Mellor has drawn on the same themes used in the TV series which for me were repetitive and at times rather dreary. Speaking for myself and I think most of the audience, we would have appreciated something more innovative. A different twist to the storyline and extra thought-provoking content would have been more creative and far more interesting. For me it's fine to create a successful TV series which was hailed as ground-breaking for its time but don't just rest on your laurels and be repetitive, take it another step further, go to the next level with a production which will sweep the audience off their feet with amazement and appreciation, then your work as a writer is accomplished.
Band of Gold is at The Lowry, Salford until the 25th January 2020 https://thelowry.com/whats-on/kay-mellors-band-of-gold/
Reviewer: Anne Pritchard
Reviewed: 21st January 2020
North West End UK Rating: ★★★