As the play opens, we first meet Doris, Margaret, Jackie and Rosie playing in a waste ground singing and talking about cursing their own families. As the story unfolds, we follow them in their lives as they grow up, four generations of women from a Manchester family.
Written by Charlotte Keatley in 1987, 'My Mother Said I Never Should' explores the lives, loves, choices and expectations of the women from this family between 1940 and 1987. The scenes in the play don't follow one another chronologically, which really tests the skill of the actors as they seek to portray their characters at different points in their lives. Reading about the subject matter: teenage pregnancy, family conflict, secrets and the pressures of social change might put you off attending this play, but it shouldn't. It's actually much funnier than I expected, and the result is a play that is engaging and entertaining, but also makes you think.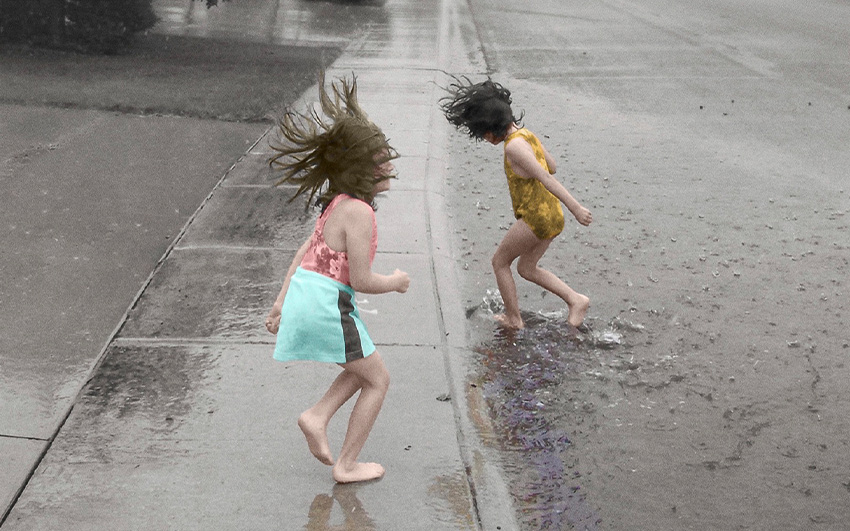 This particular production is performed by Fingersmiths Theatre Company ( http://www.fingersmiths.org.uk/ ) in collaboration with Sheffield Theatres and New Wolsey Theatre. Fingersmiths is a company of hearing and D/deaf actors who perform using a combination of spoken and written English and British Sign Language. In this particular production, the actors use spoken language, subtitles, voice overs and sign language, and their approach to ensuring understanding for a D/deaf and hearing audience alike was innovative and clever. This is not the first time I've been to a production using a Deaf actor, but it was the first production I've seen that was fully accessible, and I really liked it. I expected to be distracted, but in fact, that wasn't the case.
Not only that, but the company in no way sacrificed quality to reach their desired level of inclusion and accessibility. The four actors were extremely versatile in their portrayals of women of different ages, and I found Jeni Draper as Margaret to be particularly engaging on stage as she worked through her frustrations and fears, raising her granddaughter as her own child while worrying about her daughter's future and her own marriage and achievements in life. Truly though, the work of all the actors should be noted: Ali Briggs, Lisa Kelly, EJ Raymond and Genevieve Barr.
The set, designed by Sophia Lovell Smith, was minimal but worked well and helped the audience build the different locations in their imaginations, helped by Gary Longfield's excellent lighting design. I also appreciated that the screen used for subtitles was integrated into the set, and also used to display the year in which each scene took place, and the album covers of the music being used to introduce each scene. The result was a good example of collaborative theatre between cast and creatives alike.
Tickets are still available for the tour which continues for the rest of March. Information about future dates in London, Exeter, Derby and Birmingham is here: http://www.fingersmiths.org.uk/mother-said/my-mother-said-i-never-should-tour-dates-spring-2020/
Reviewer: Jo Tillotson
Reviewed: 3rd March 2020
North West End UK Rating: ★★★