By the power of Zoom, we are transported to America's deep South. Written by Robert Barnett, whose other plays include The Hiroshima Daughter, Olympic Notions and Supply, Luke's Dad, Reckoning Angel and Colors. He also writes radio drama, one act plays, libretti for opera and musical theatre, indeed he is multi-disciplined and seem to be able to turn his hand to any type of writing.
One Good Tree has been produced by a Salford based production company called Up 'Ere Productions, who aim to encourage local talent by performing locally and developing new work. They have adapted their strategy to include Zoom performances which enable them to put on live theatrical productions in their 'Weekly Watch'.
This play tells the story of David Onley (Nathan Lea), who is 15 years old and has killed his parents. Sandy Kauffman (Joanna Randle) (a lesbian lawyer), has been assigned to defend him, after David confessed to the murders, to The Sherriff's Office.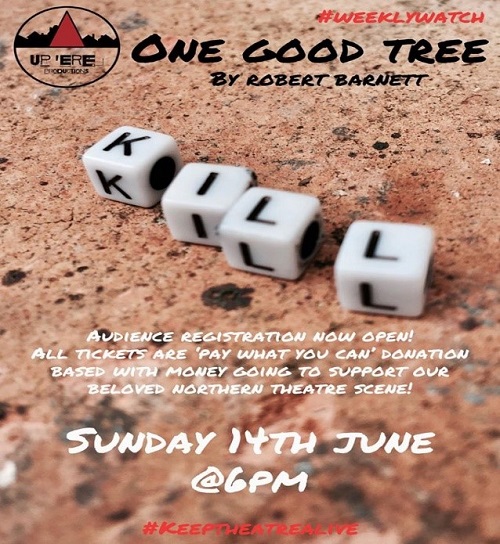 Sandy also calls on the help of Naveen Amin (Darren Kuppan), who was previously her intern but quit and became a therapist. David was coming to terms with the fact that he was gay, and his parents took a dim view of this. His father Joshua was a self-appointed minister and he felt the need to exorcise the demons within his son, one of these exorcisms was witnessed by his grandmother Mavis Onley (Prue Griffiths). Naveen is finding David hostile and feels that he is hiding information. In the midst of this, Wellington Fisk (Simon Naylor), a particularly obnoxious media hungry man, is trying to whip up a story, by digging up the dirt on anyone connected to the trial to assist in his attempts to further his own ambitions.
This play offers an interesting insight into the work that goes on before a trial ever gets into court. Naveen is dealing with a traumatised young boy who was persecuted by his parents due to narrow mindedness. Kuppan plays the role with sensitivity and realism, Naveen has his own issues to deal with as he is also gay and is organising his wedding which is thrown into disarray when the meddling Fisk decides to make the plans public. Fisk, played by Naylor, has no line drawn in the sand to signify where he will not venture with his published remarks. This role could so easily be over acted and become a pantomime villain, but Naylor gets the balanced right and really raised the hackles on the back of my neck!
Joanne Randle gives us a wonderful performance as Sandy, she is strong when needed, but shows her vulnerable side when talking about her daughter and her own relationships.
Nathan Lea creates a volatile character in David, he has an expressive face and uses this to communicate David's state of mind. He is both aggressive and vulnerable which comes across well.
Kitty Ball and Jordi Williams have done well to direct and adapt the script to Zoom. This is a full-length play and requires a great deal of concentration and attention to detail to make sure the play flows. The only thing to pick up on here, is that the switch between characters could be smoother, there were times when there was a delay; understandable when actors are trying to perform and operate Zoom as well, but this could to tightened up on for future productions.
Robert Barnett wrote this wonderful script with characters that we can keep peeling away the layers to draw the audience back in. The twists and turns hold our attention, which is more challenging when asking your audience to sit in front of a computer or iPhone/iPad. Bravo – this production was a great success and would definitely be worth considering performing on stage in future.
If you watched this production and would like to contribute to Up 'Ere to help with their future productions, please click HERE.

Reviewer: Caroline Worswick
Reviewed: 14th June 2020
North West End UK Rating: ★★★★★