Hope abounds in this refreshing abridgement of a classic play
Since I'm producing a touring production of Julius Caesar this Summer, I was keen to take in this abridged production from the 2nd Year Drama students and I was not disappointed with their refreshing take on the play incorporating modern parallels and production techniques.
The action commenced in a bare ground floor theatre where the audience fulfilled the role of citizens to the returning Caesar (Amber Sanders) who is not put off by the warnings of a soothsayer (Pascal Bourke) although it was soon clear that misdeeds were afoot as the calculating and suited Cassius (RJ Lloyd) proceeds to charm and convince the more bohemian Brutus (Sean Kelly) of the need for action. It is only a matter of time before Cassius is working his charms on other senators including Casca (Adam Titchmarsh), Cinna (Charlie Noctor), Decius (Cameron Brady), Metellus (Jamie Peterson) and Trebonius (Matthew Holmes), and collectively they begin to justify their cause.
Despite the warnings from wife Calpurnia (Daniel English), Caesar is swayed by Decius to attend the Senate where, to the cascading beat of drums and some powerful choreography, he meets his bloody end, all in the name of liberty.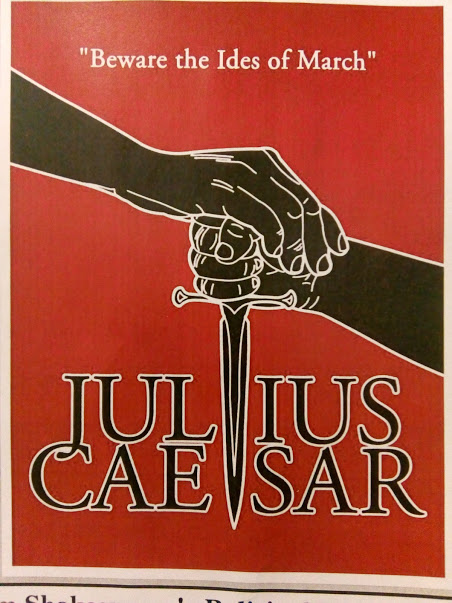 But the one they fear is soldier Mark Antony (Martin Dimitrov) who though clearly moved by the loss of his close friend and ally, appears to become easily tied up in the clever words of Brutus and Cassius as they seek to avoid any revenge for their actions.
We are swiftly moved to the Foyer where we receive the funeral orations from Brutus – who loves Rome more – followed by Mark Antony's famous speech which, charged with emotion, casts enough doubt in the minds of the mob, under the orchestration of a Citizen (Tamsin Barrett), and demonstrates there's more to this soldier than meets the eye, justifying the fears expressed by Cassius all along.
Moving up to the Great Hall, we see Mark Antony with the recently returned Octavius (English), now camouflaged and deliberating over the spreadsheet of who will be killed and who will be spared. The appearance of the media and Mark Antony's elevation to glad-handing the audience took us very presidentially into the modern day.
Congratulations to director Timothy Keenan, assisted by Peterson, for capturing so much in this 50-minute piece whilst cleverly and sensitively incorporating a wide range of techniques including sound effects, lighting, choreography, and use of space.
There were strong performances from all the cast, many of whom who doubled up in supporting roles. Kelly captured Brutus' turmoil and vanity perfectly and handled his funeral oration well; Lloyd was assured and captivating as he brought conspirators, and at times the audience, fully on-message. Dimitrov perfectly reflected the emotion and rage of Mark Antony with a moving, powerful and explosive performance, whilst cleverly delivering the subtle funeral oration upon which the whole play turns. It's great to see such talent blossoming and I look forward to seeing their development in future productions.
There is one more performance at 8pm on 1st March 2018 at Cornerstone Building.
The Cornerstone is home to Liverpool Hope University's Drama, Fine Art & Design, Dance, and Performance Studies departments and regularly showcases events. More details at www.hope.ac.uk/
Reviewer: Mark Davoren
Reviewed: 28th February 2018