When Ghost the Musical premiered nearly 7 years ago showcasing some of the best technical advances in visual theatre it never entered my mind that amateur or college groups would ever dream of taking on such a monster of a show and deliver a production that matched the original. Tonight the staff and students of Airedale Academy in Castleford did just that at their on-site theatre, The Phoenix.
Following on from the most recent UK tour produced by Bill Kenwright which was devoid of almost all the technical innovations of 7 years ago I wasn't sure what to expect walking into the auditorium last night. I needn't have worried, video screens and projections galore complimented a hugely talented cast and the lighting rig was packed to the rafters providing a truly spectacular production.
Based on the iconic 1984 movie of Ghost written by Bruce Joel Rubin the story follows lovers Sam Wheat and Molly Jensen as they move into their new New York loft apartment. Following a gallery opening where sculptor Molly had pieces being shown, Sam is murdered in a botched street robbery, however Sam's spirit remains on earth and he is faced with the prospect of watching those he left behind without being able to communicate or be seen. A chance meeting with a phoney psychic, Oda Mae Brown who can hear Sam but not see him, he sets about protecting Molly from further danger after finding out who his killer was and the connections he had with people far too close to home.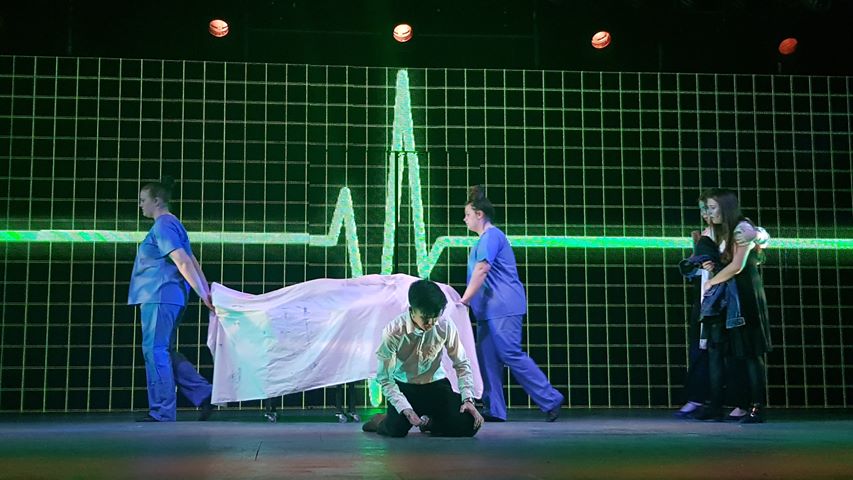 As a college production over the three nights the cast rotates to showcase the talents of their students. Tonight Ellis Kirk and Charlotte Embling took on the iconic roles of Sam and Molly. Kirk's portrayal of Sam was believable and heart breaking and you felt the pain and frustration he experienced from not being able to communicate with those he was separated from far too soon. Embling as Molly whose emotional journey throughout the evening was played perfectly. Her playful nature at the beginning of the show as her love for Sam became evident gave way to heartache and anger as she began to learn the truth of her lover's death.
For me, one of the most difficult roles to get right in this show is that of Sam's best friend, Carl Bruner. Oliver Kemplay pitched his portrayal just right, his facial expressions left you in no doubt as to how troubled he became following his friends death. Jason Burton as Willie Lopez also deserves credit here. He displays menace and nonchalance as the mugger turned killer of Sam.
With death all around welcome comedic relief is delivered confidently by Rachel Kiernan as Oda Mae Brown. Stepping into the shoes of a role made famous by none other than Whoopi Goldberg is no easy task but each time she appeared on stage laughs were guaranteed as she delivered some of the best moments of the show to the delight of the audience.
Sheldon Harling as the Hospital Ghost led the ensemble performing "You've Gotta Let Go" with confidence and a fine voice, the first time I have seen a female take on this role and it worked really well. The rest of the ensemble took on other minor roles in the show and all delivered professional performances. Director Tracey Bell has used the wealth of talent at her fingertips well to produce a show to remember.
Being critical for a moment, there were some first night nerves from the impressive video walls and at times I felt some of the scenes were rushed but I am sure this will all be ironed out before the next performance on Tuesday. I also at times had trouble hearing some of the ensemble due to a lack of microphones. Although frustrating, this didn't affect my enjoyment of this spectacular show, the best version I have seen since the first UK tour closed a number of years ago.
Ghost the Musical continues at The Phoenix Theatre, Castleford until Wednesday 28th March. Tickets are now limited and you should contact the box office via 01977 664566 to check availability.
Reviewer: Peter Davidson
Reviewed: 26th March 2018
Tuesday Performance
Thank you to The Cast for inviting us back for a second night to see their other cast perform in Ghost. First of all, I must say that the technical problems from last night were virtually undetectable tonight and the show shone brighter as a result.
For me tonight's performance had more emotion than the previous night. This is partly I think due to the fact opening night nerves had gone, the lack of technical issues and also the cast on stage. Whilst last night's cast were superb, tonight the show stepped up to another level.
Taking on the role of Molly we saw Meghan Smith give one of the most emotionally charged performances of the character I have ever seen. This was especially evident during "With You" where I detected real tears through the stunning vocal performance. Starring opposite Smith was Connor Cox who played a more hesitant Sam Wheat opposed to the confident persona Kirk showed the previous night. Cox's vocals were simply amazing, powerful and emotionally fuelled. Cox and Smith were a delicious partnership.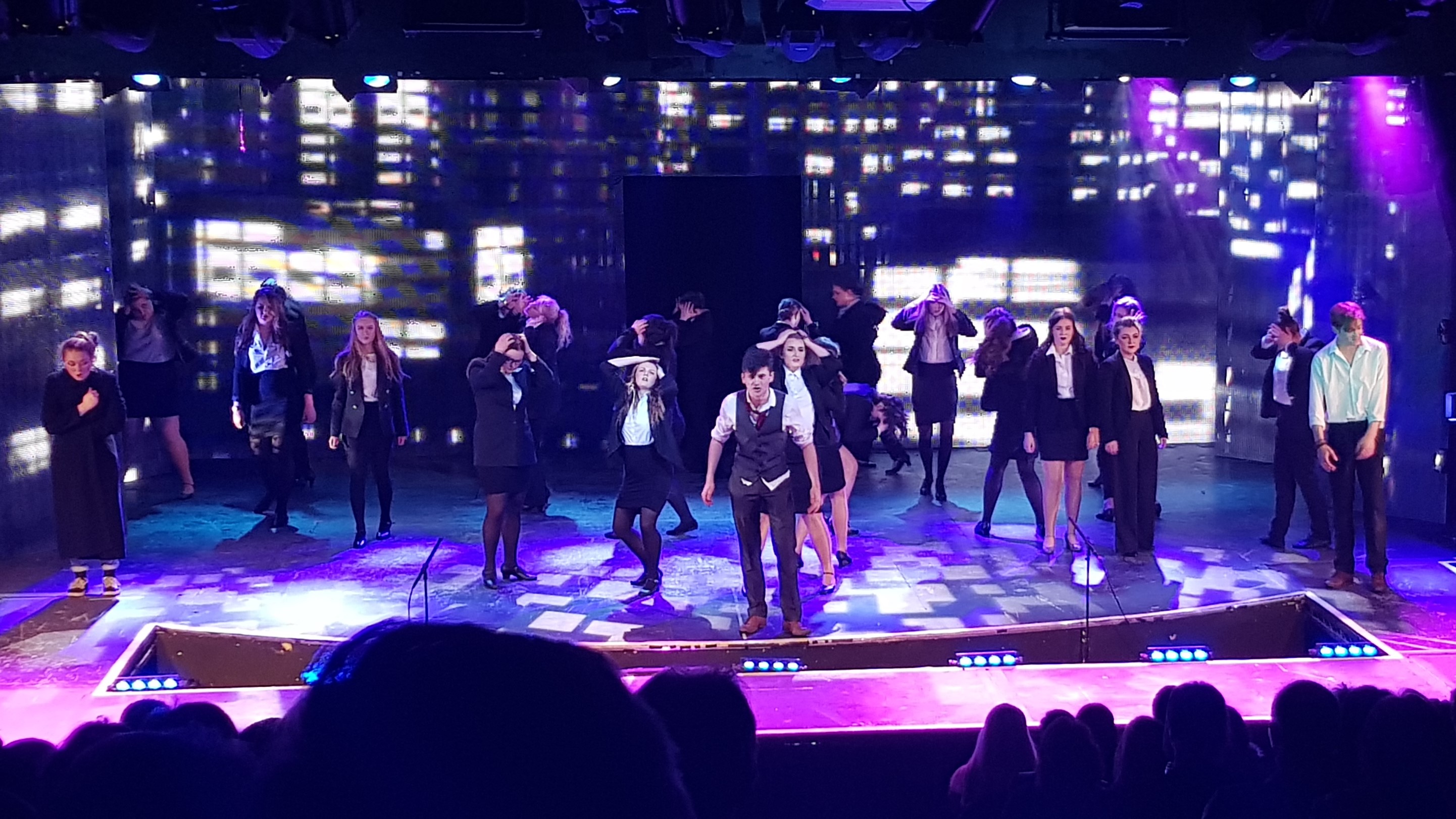 Last night Charlotte Embling played Molly, tonight she transmogrified into Oda Mae Brown, and wow did she steal the show! Embling delivered a comedic masterclass receiving spontaneous rounds of applause after almost every scene she appeared in. Her vocals too were superb releasing her inner rock voice powerfully blowing away the audience.
Ellis Kirk was another principle last night playing Sam Wheat, but tonight he was haunting as the Subway Ghost providing yet another confident and energetic performance.
There were also changes to the support roles from last night and all shone as their counterparts did last night.
Once again, my thanks to this company for inviting me back to see the show for a second time. To see the show flourish from what it was just 24 hours earlier was a joy and I wish you all the best for your final performance tonight.