Funny Girl is based on the true story of Fanny Brice who was a Broadway star in the 1920's, 30's and 40's. Brice was known for her exceptional comedic skills and singing ability. Funny Girl tells her story- her rise to stardom, subsequent career, people that impacted her life and how she became known as the Funny Girl.
The show begins with an already successful Fanny in her dressing room on the opening night of her new show with Ziegfeld Follies. Whist waiting for her stage call, Brice begins to reminisce about her life and the musical revolves around how she got her big break. From her debut show at an amateur night at Keeney's Theatre in Brooklyn to when she caught Florenz Ziegfeld's attention and all the success and heartache in between.
Fanny Brice was a true performer, she lived on stage, always ready to perform for an audience so naturally this role requires a born performer to successfully illustrate the exceptional talent that was Fanny Brice. During this UK tour of Funny Girl, Natasha J Barnes is the actress to rise to the occasion and let me tell you- she rises fearlessly. She cleverly plays Fanny through the years, at different ages and stages in her life with impeccable comedy timing, a loveable onstage persona and above all a voice of gold.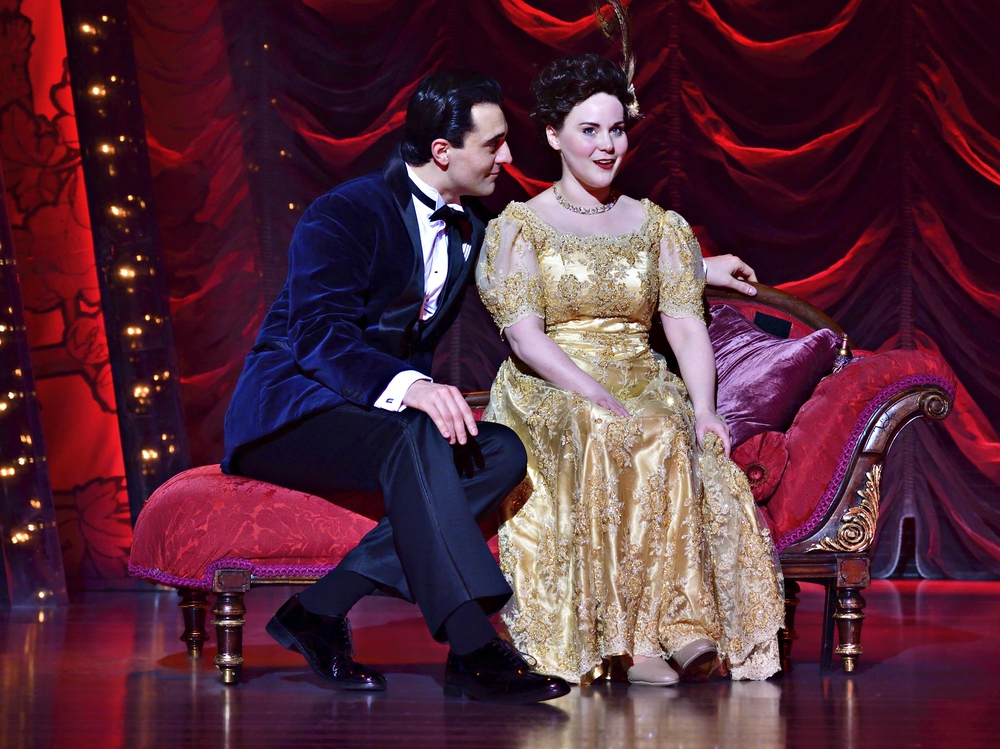 I must also give credit to Darius Campbell who played Nicky Arnstein. I admit I was intrigued because my only knowledge of him was as a pop star in the early 2000's. I am happy to say I was very pleasantly surprised. He was a charming leading man. Towering over Natasha with a gorgeously smooth baritone voice, his take on Nick Arnstein seemed effortless. There's undeniable chemistry between Campbell and Barnes that has you rooting for them the whole way and their voices melt together magnificently, no more so that in the number 'Who Are You Now?'
This show pulls out all the stops, nothing was spared- beautiful and clever stage set, fantastic costumes and a live, enthusiastic orchestra brought the show to life. The joy of being in the production shone through everyone, from the orchestra conductor to the supporting ensemble.
As the name suggests, the show was funny! It had us all laughing out loud throughout the performance. Whilst being funny it is not afraid to explore the painful times in Brice's life. Fanny knew the true meaning of 'the show must go on', she continued to entertain her audience no matter what was happening in the wings.
Funny Girl has all the elements of a great show- deep emotion, great comedy, catchy songs and a sensationally talented cast. I urge you to venture out to see it, it's guaranteed to be a good night that makes you feel good. Barnes got a standing ovation from us and it was well deserved.
"Let the world know you as you are, not as you think you should be."- Fanny Brice
Reviewer: Lowri Hiles
Reviewed: 24th July 2017
North West End Rating: ★★★★