Curtains is the mixing of two popular theatrical genres, musical and murder mystery. Add a little humour and you have a recipe for a great show
This production is touring before doing a West End stint then hitting the road again in January. You can tell the music and lyrics are by Kander and Ebb, creators of well-known shows Chicago and cabaret, by the feel of the music and the humorous, snappy lyrics. There is a show within a show (the audience are backstage watching the reworking of a musical following an opening night disaster) this allows big song and dance routines to be dotted throughout the solving of a murder without feeling out of place.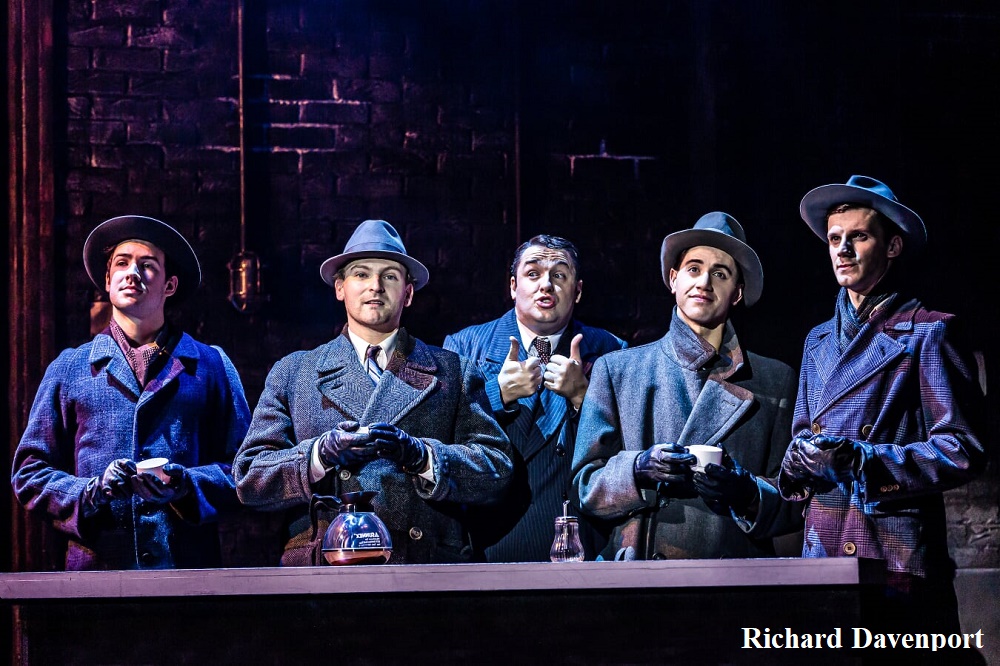 It's opening night of Robbin Hood, a new musical playing in Boston before a hopeful transfer to Broadway. Suddenly the future of the show is in doubt after the murder of the leading lady. Luckily inspector Cioffi is on hand, but not only to solve the murder. With a love for theatre and performing the inspector also lends a hand to improve the show. Can the company turn the show around in 24 hours and can the inspector find the murderer?
The cast is comprised of ensemble and a large array of named parts. The ensemble bring energy and enthusiasm to the slick dance routines, smiling and working hard throughout. Christopher Belling is the director of "Robbin Hood", Samuel Holmes delivers the lines with perfect timing and right amount of sass, and he is a joy to watch and raises many laughs. One of the producers of the show, Carmen Bernstien is played by Rebecca Lock, she has a presence and poise that grabs your attention, especially in her musical numbers when her voice rings through the rafters. Carly Stenson has some great numbers, "Thataway" gives her a chance to show her dance moves as well as a great voice. Jason Manford is the name most people will have heard of. Known as a comedian he more than ably proves that he can sing, act and dance. He shows his characters almost childlike enthusiasm for theatre and gives Inspector Cioffi a heart.
There is an Oklahoma type feel at times as the corny western style retelling of the Robin Hood story is the setting for some of the musical numbers. It is in one of these numbers that we are treated to a stunning pas de deux by Alan Burkett and Emma Caffrey, this gives them both a chance to shine with their dancing.
Being an unfamiliar musical to many there are unlikely to be any songs that are known to the audience. However, there are many numbers that deserve to be better known. The balance of humour, storytelling and theatricality ensures your toes are tapping and you are generally having a good time.
As murder mysteries go, you would probably have to be Sherlock Holmes to solve this one, but that isn't the point. Curtains is a love story, a comedy, a whodunit and a musical. Everything is perfectly combined to create a wonderful piece of musical theatre.
Reviewer: Annette Nuttall
Reviewed: 6th November 2019
North West End UK Rating: ★★★★