Where once Roald Dahl held sway as the doyen of children's literature, David Walliams has now moved into first place and inherited his mantle. His books shift in their millions and provide solid entertainment introducing children throughout the globe to reading.
23 Walliams books maintain high-ranking places on the best seller lists and no school library is complete without at least one of his titles. So, it comes as no surprise, these golden hits are soon seized upon for translation and adaptation.
Walliams 2010 book tells the story of the Billionaire boy of the title (played here by Matthew Gordon) and his quest to find a friend. It provides a simple moral that money isn't everything and friends are far more important than material possessions without being preachy or didactic.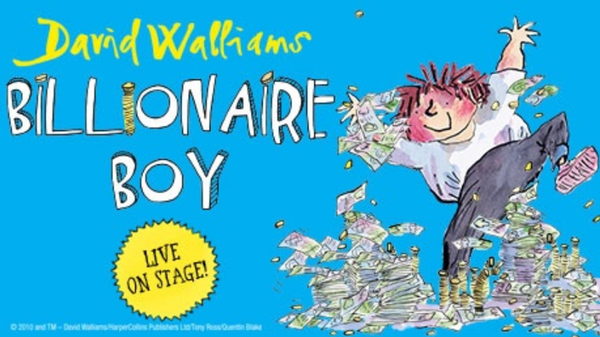 The story is slight and the adaptation does little to bolster it aside from some engaging songs and three stand out performances. Jason Furnival, complete with a wide selection of toupees, is excellent as the billionaire father but it's his turn as a school boy bully when his comic skills really take off. Aosaf Afzal as the shop keeper, Raj, is delightfully comic but it's Emma Mathews as Mrs.Trafe who really wins the night. Her shop of foul food and its accompanying menu song of the gross delights on offer are undoubtedly the highlight of the show. She has a deft comic timing and squeezed every ounce of goo from the role.
The company is completed by Davy Bell as Bob, Rosie Coles, Bernard Mensah, Mared Lewis and Joe Sangha all of would play a myriad of supporting roles both large and small and create a sense of much larger cast than the final bows revealed to be the case. Jacqueline Trousdale's imaginative and flexible set, twists and turns, opens and closes to unfurl a wide selection of places hidden behind large towers of toilet paper and Neal Foster's solid direction make this a competent and entertaining evening which hooked its audience from the start and really took flight in the second act.
Reviewer: Peter Kinnock
Reviewed: 20th November 2019
North West End UK Rating: ★★★