Opening night at Robbin' Hood is a little more dramatic than anyone expects when leading lady Jessica Cranshaw is murdered during the final bows. Theatre-loving homicide detective Frank Cioffi is assigned to solve the crime, in this musical whodunnit set in 1950s Boston. While Cioffi hunts down Jessica's killer, he also works alongside his suspects to improve the show within the show, Robbin' Hood, helping cast and creatives alike realise their dream of taking the show to Broadway. Curtains is one of the lesser known productions written by Kander & Ebb, who also wrote Chicago and Cabaret, although now that I've seen it, I don't know why it's not performed more often. It's full of catchy tunes and clever lyrics, and is the perfect antidote to the dreary winter.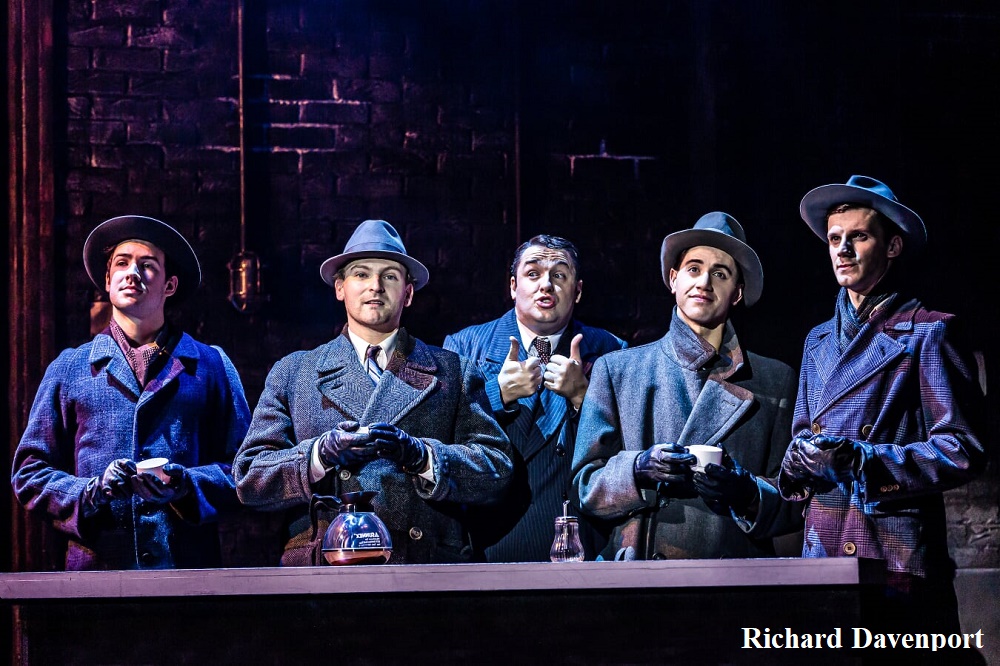 The book, written by Rupert Holmes, is laugh-out-loud funny in many places, and even more so on press night, as several jokes are directed entirely at the critics in the auditorium. Many of the best one-liners were expertly delivered by Samuel Holmes, as the acerbic director Christopher Belling, and Rebecca Lock, as the brassy Broadway producer Carmen Bernstein, but the comedy is a thread woven throughout the story and every cast member plays their part. That, of course, requires the whole production to be seamless, which it was.
Andy Coxon as composer Aaron Fox is a welcome addition to the company, and his solo 'I Miss the Music' was easily one of the highlights. That said, the whole company is excellent, and Rebecca Lock in particular provides a masterclass in owning a stage with big production numbers and powerful vocals as well as in her character's rare moments of vulnerability.
For those unused to seeing Jason Manford on stage for anything other than stand-up, you mustn't let that put you off a visit to see this show. He has a great voice, and the role of Frank Cioffi really suits him. His character may not get the punchiest lines, but he gives a performance that is both fun and honest, ably showing off the various sides to the loveable detective.
However, it wasn't just the cast that impressed, the choreography by Alistair David effectively flows from the world of theatre (The Woman's Dead, Show People) and a beautiful fantasy sequence (A Tough Act to Follow) to the Western style of the snippets from Robbin' Hood (Kansasland, Thataway!). I especially loved the pas-de-deux performed by Alan Burkitt and Emma Caffrey in the second act; Burkitt looks like he would be equally at home in a professional ballet troupe as with this touring company. The costume and set design (by Gabriella Slade and David Woodhead) perfectly complement the production, which I imagine must have been a challenge when designing for a tour that spends only five days in each theatre before moving on to the next.
So, is this one for you? Well, if you like musicals and you like a good mystery then this is definitely a show you should see! As well as keeping you guessing the identity of the murderer until the very last moment, this is a show that celebrates all things theatre, and the show people that make it happen. It was a joy to watch; get your tickets now!
Curtains continues at the Regent Theatre, Stoke-on-Trent, until Saturday 7th December ( https://www.atgtickets.com/shows/curtains/regent-theatre/ ). It then plays at the Wyndham's Theatre in London's West End from 13th December 2019 to 11th January 2020 ( https://www.delfontmackintosh.co.uk/tickets/curtains/ ) before going back out on tour round the UK until April 2020 (https://curtainsmusical.com/uk-tour/)
Reviewer: Jo Tillotson
Reviewed: 3rd December 2019
North West End UK Rating: ★★★★