Self-proclaimed 'story collectors' Paper Birds bring their latest piece of theatre to the Birmingham Hippodrome. Ask Me Anything is a combination of devised and verbatim theatre tied together with some clever AV design - courtesy of The Media Workshop.
This is a show inspired by teenagers (the letters they sent in having been encouraged to ask anything propel the show) but it also resonates with adults in the audience as the performers (Georgie Coles, Rosie Doonan and Kylie Perry) address their own bias and explore their own questions.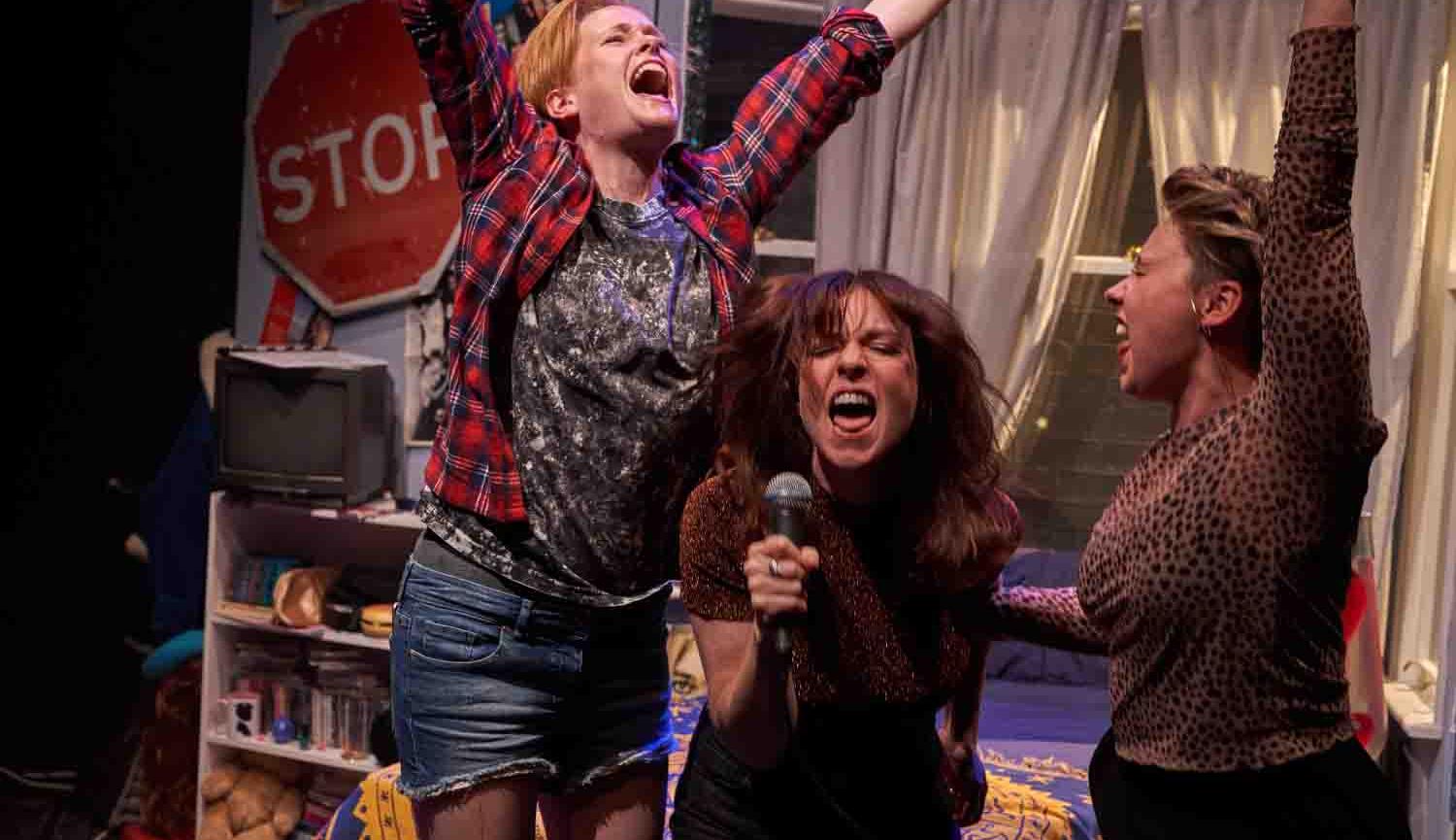 The performers have decided to respond to the questions submitted by channelling their teenage selves, so stage has been converted into their achingly familiar teenage bedrooms - although as Coles points out these aren't totally accurate as she didn't have a drum kit on her bed growing up! Coles (the youngest member of the trio) who grew up with the internet, is tasked with bridging the generational gap and responds to the questions by reading extracts from her own teenage diary.
Perry spoofs shows like Blossom and Clarissa Explains It All and Doonan writes songs. Doonan's songs are the piece's emotional epicentre; nuanced, angry, beautiful and moving they disrupt the piece when it becomes too indulgent. There is also input from the show's virtual assistant, BRIDGE-IT, who provides helpful statistics and definitions. Ask Me Anything avoids schmaltz, staying the right side of nostalgia. It uses humour to get its audience thinking and never patronizes.
There are moments when the company appear to be avoiding answering the tricky questions, indulging their own perspectives instead. This is frustrating until you realise that their point is to challenge the idea that adults have all the answers and encourage everyone to listen and be heard. This is a production that acknowledges its flaws, it - like it's intended audience - is a work in progress with the ability to evolve as new questions are asked of it.
Reviewer: Clare Chandler
Reviewed: 3rd March 2020
North West End UK Rating: ★★★★