Jeremy Sams' translation and direction of Alexandre de la Patelliere and Matthieu Delaporte's French comedy may at first sight seem slight and light but in the assured hands of this director it proves itself a vibrant and beguiling comedy. What begins as a somewhat slow moving piece before long modulates into an hilarious, intriguing and engaging play. Le Prénom (to give its original French title) premiered in Paris in 2010 and in the intervening ten years has become a juggernaut of European theatre with 30 productions playing in Germany concurrently.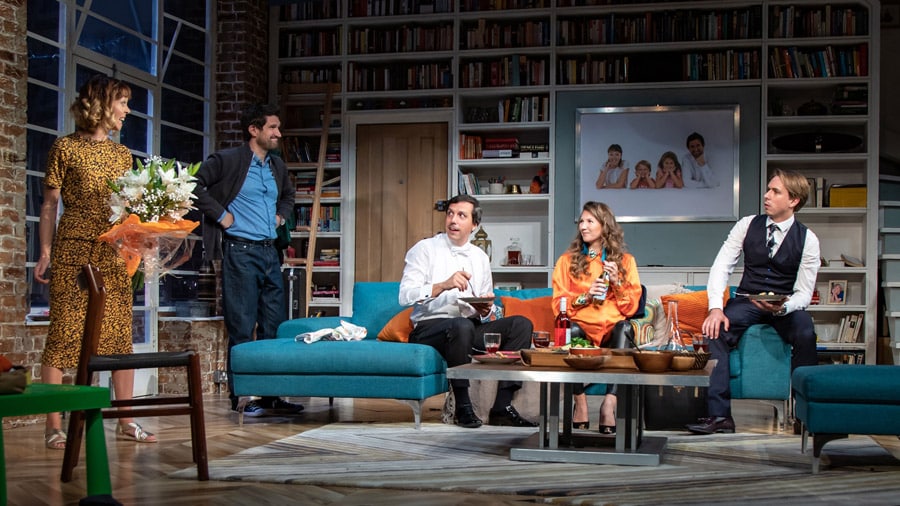 The story begins as slick, egocentric Vincent (deftly and precisely played by InBetweeners' Joe Thomas) reveals his plan to name his new child, Adolph. That's Adolph with a 'ph' so as not to confuse it with the well-known dictator. This bombshell leads to a series of arguments and heated discussions on the morality of the decision which in turn lead to a series of life-changing revelations from each member of the tight-knit group of friends. The plot is deployed with forensic accuracy and each moment, each incident and each revelation proves compelling and fascinating as each performer is given ample scope to unfold the background and frustrations of their character.
Emma Carter as Elizabeth, the hostess of the evening, is wonderful and provides a virtuoso monologue of annoyance and hidden domestic dissatisfaction climaxing in a cathartic flounce rightfully earning a joyous round of applause. Bo Poraj, as her husband and host of the evening, proves an equal match and has some of the funniest lines of the evening. Louise Marwood as the pregnant Anna, wife of Vincent, holds her own amidst the maelstrom of misunderstanding, but it is the quiet understated performance of Alex Gaumond as Carl, which begins quiet and slowly, so slowly, which provides the greatest revelation of the evening and adroitly guides the audience through laughter into edge of the seat intrigue and back to laughter again.
This is an intelligent play which respects its audience, demands our attention and expects us to meet it as equals. Judging by the audience last night at the Alex that is exactly what happened. Such a joy to uncover a piece which is intelligent, without being exclusive, comic, without being farcical, and engaging, without resorting to melodrama. https://www.atgtickets.com/shows/whats-in-a-name/the-alexandra-theatre-birmingham/
Reviewer: Peter Kinnock
Reviewed: 11th March 2020
North West End UK Rating: ★★★★