Where to start when you've just seen a piece of theatre that truly exceeded all expectations? But wasn't it just a musical about a bunch of kids in Bristol who have nothing worth striving for in their lives, so end up making a playground together? Well as a basis, yes, that's what it was, but really Junkyard was so much more than that, a new musical which needs to be seen by the masses.
The thing that strikes you upon entering the auditorium is the complex set. A mish mash of old materials, such as wood, tyres and ropes etc. with a sort of structure to it. Big and invading, you know it's going to be integral to the musical, but you don't realise just how much the actors are going to physically move and build with it throughout, and it was unique to watch. They don't just talk about building this adventure park, we see them doing it in front of us. We see it grow and develop, and not just for a visual purpose, but a practical one too. The materials they use are the ones they all climb and stand on during the performance, and at quite a great height too, so it's vital it's done properly which must have been a real challenge for the performers, who manage to make it look effortless.
This musical is fresh, it's different and it pushes the boundaries.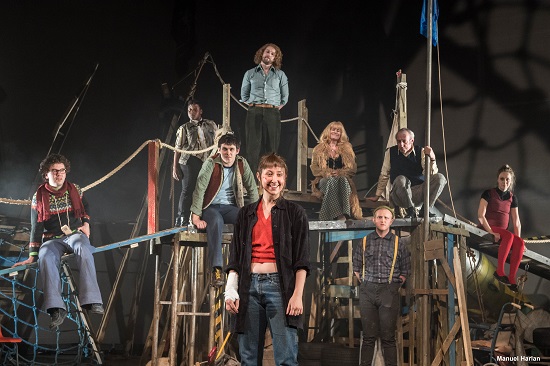 The fact that the three musicians, Akintayo Akinbode, Nadine Lee, and Dario Rossetti-Bonell provide all the music between them, with some of their instruments being made of 'junk' is a perfect fit for the piece. They impeccably support the live action in their playing and their continuation as the audience were leaving was a welcomed touch.

The whole cast were thrilling, from the genuinely kind hearted Rick, played by Calum Callaghan, to the angry and hilarious Ginger, played by Josef Davies, they all brought something different to the stage. The breaking of the fourth wall made the audience feel involved, and it enabled us to join them on their journey.
It was the outstanding Erin Doherty who played Fiz however, that stole the show. She was a bundle of energy, and her comic timing was second to none. Her character was without doubt, the driving force of the piece, and whenever she wasn't on stage you were eagerly awaiting her return. The dialogue she had to deliver was none stop, yet you never missed a word she said.
The scene changes were seamless, with the use of boards to inform us where we were next, it was a simple yet inventive idea, which worked perfectly.
Jack Thorne (writer) Jeremy Herrin (director) and Stephen Warbeck (Composer) have clearly given the performers such a staggering framework to work from. The fact that this musical is based on a true story makes it even more substantial, and the underlying message can give audience members a lot to think about.
I must state that there is quite a lot of swearing in the dialogue and songs of this musical, so if that sort of thing makes you uncomfortable then it's probably not for you. To anyone else however, you're doing yourself a misjustice if you don't go and see Junkyard. I believe it is one for the future, and I hope it finds a place in the bigger theatres soon, as it will most certainly stand its own amongst many of the greats. https://www.theatrclwyd.com/en/
Reviewer: Sara Woodruff
Reviewed: 30th March 2017
North West End Rating: ★★★★★