This evening I was transported into a world of social media and technology over load in the Emlyn Williams theatre at Theatr Clwyd.
"Have you seen this?" A line that is sung throughout the musical and something I was asking myself as I witnessed this incredible piece of theatre. The first thing that struck me were the two huge LED screen that hung ceiling to floor. These were no ordinary screens, these were 4664 pixels worth of screen with 2340 lighting units.
Technology is huge part of life nowadays and this is portrayed this evening with all the cast entering the stage with a mobile phone, checking social media to see what is happing in the world. But is technology taking over the world? Is social media used for so much more than just socialising?
The Assassination of Katie Hopkins delves in to the use of numerous media avenues – Facebook, Twitter, YouTube – and how they impact on people's lives and the consequences they can have when used in different ways.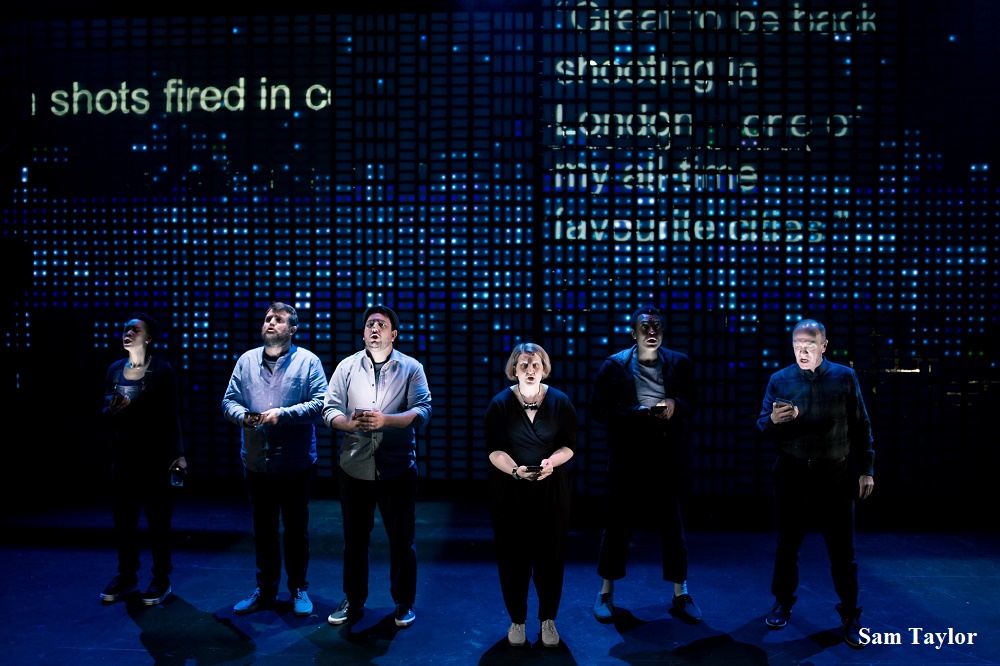 It follows two different stories, one about a famous, high profile person and the other about 12 normal, everyday unknowns and how the importance of these people change dependant on who they are. Should someone be classed as more important because of their status? Everyone is human after all!
As well as the two main stories there are sub plots woven in that address sexual harassment in the work place and racism in everyday life. Should someone be treated differently because of the colour of their skin or their religion?
The way the dialogue was delivered in some scenes, especially so at the beginning seemed off putting at first, characters not finishing lines or lines broken, but you come to realise that this is how the world is becoming via technology. Only reading parts of a status or a tweet before scrolling on as it doesn't seem important.
Apart from the main screen the set was quite simple with two sets of stairs that were moved around and a rostrum that went from one side of the auditorium to the other. The screens were a huge part of the piece, used to stream videos, live feeds from video cameras, mobile phones, and laptops to playing YouTube videos and even relaying text messages and emails that were being typed out.
This cast were phenomenal. They played numerous roles between them, singing throughout a lot of the show, some of the songs overlapping yet delivered so passionately and confidently.
The cast were made up of Amy Booth-Steel, Rakesh Boury, Che Francis, Derek Hutchinson, Genesis Lynea, Maimuna Memon, Bethzienna Williams and Matthew Woodyatt, all of whom gave an outstanding performance and were utterly professional even when a cast member was taken poorly and the rest of the cast covered her lines for the last 40 minutes of the show as if it was written that way. Hats off to them for pulling together as a fantastic team and showing how united they are to just carry on as normal and without the audience noticing.
The score and the songs were so well written and really brought the whole show together. Matt Winkworth has done a wonderful job of creating songs that have real meaning to them and made you think hard about the actions you take and what it right and wrong. The band were on stage throughout and sounded fantastic.
Chris Bush has written a great piece of theatre that is not afraid to tackle issues that need to be tackled like who is more important and who the government should help or not?
James Grieve has done a wonderful job of directing this fabulous piece of work to keep it going and draw your attention to different parts. My only qualm was that in the early parts, dialogue was delivered from all over the stage and I felt I was constantly turning from side to side to look at who was talking. This venue is a great space, but I feel maybe if the audience were a little further away from the action, you may get a better overall impact as you can miss things on one side while watching the other.
If there is one thing I will take away from this experience it is to be careful what you write on social media or even email, it may come back to haunt you in the future.
Reviewer Damian Riverol
Reviewed: 26th April 2018
North West End Rating: ★★★★