A collaboration between Theatr Clwyd and the National Theatre, the premiere of Laura Wade's Home, I'm Darling opened at the Emlyn Williams Theatre at Theatr Clwyd. Delivered by an all star cast who pull together wonderfully to bring this story together.
The era is set with the music that is played before the play starts and really helps get you in the mood.
The first thing you notice is the incredible set taking over the whole stage. A full-sized house complete with sitting room, kitchen, stairway, bedroom and bathroom. The way the show starts is wonderful, with Judy starting her day, setting her house up and literally opening her house to the audience.
We're in the 50s, home grown produce, cooking from scratch, large dresses and jiving. Judy is a stay at home wife and Johnny is the breadwinner. But not is all as it seems. Are the 50s as wonderful as it says in the books?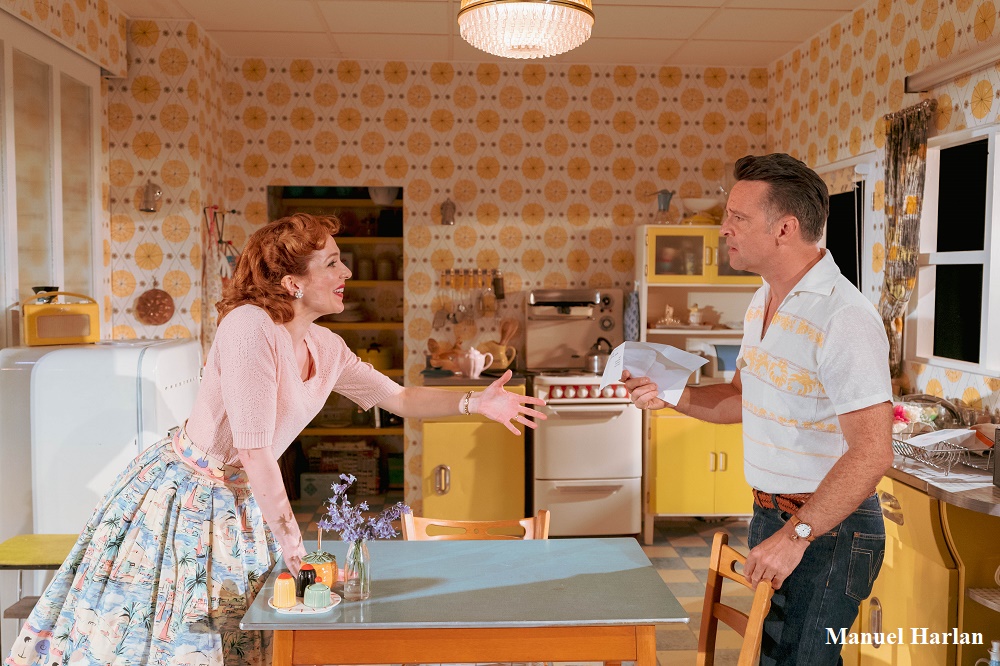 The IT Crowd's Katherine Parkinson is wonderful as Judy. A real homemaker, a 50s wife, looking after her house and her husband but living in your own bubble doesn't always bring happiness and Parkinson delivers a whole range of emotions throughout the story. Parkinson is the heart of the story and is a joy to watch, constantly on the go in her perfect costumes and wonderful hairstyles which are perfect for the era.
Husband Johnnie played by Hinterland star Richard Harrington brings a great sense of reality to the piece. He works hard and just wants a normal life back. He's tired of the pretence and wants his Judy back. Harrington takes you on a journey of emotion to fight to get back to where they once were.
Husband and wife Marcus and Fran (Barnaby Kay and Kathryn Drysdale) add light and comedy to the story. Kay and Drysdale dance their way around the set, clearing and setting along the way keeping the story flowing and adding a sense of the 50s with dance and costume as they go. Marcus and Fran seem a happy couple who have everything they need but you learn to discover that there's more to them that meets the eye and behind the façade there is a deeper story that they are trying to get passed.
Sara Gregory as manager Alex and Sian Thomas as Judy's mum Sylvia add an extra depth to the story that help to bring it right back to date.
Theatr Clwyd Artistic Director Tamara Harvey along with writer Laura Wade have collaborated so well to bring this story to life. The attention to detail is incredible with real food and drinks to contend with.
Designer Anna Fleischle has created a wonderful set and they have worked so hard to build a house that looks completely authentic to the 50s. So clever that in parts it could be changed to show a different time in the story and then with the help of the cast, with a move or turn, it brings it back to how it should be.
Lighting by Lucy Carter is very cleverly used, and this is no normal lighting, after all you are in a house and it was so well lit the whole way through.
Choreography by Charlotte Broom was very well set and helped deliver the era and sound by Tom Gibbons was used extremely well. From the records being played to the kettle boiling.
This play has a lot of dialogue and uses an awful lot of props and with all live theatre, some things can go not quite to plan. There were a few stumbled lines and a glass, and a cup went astray but the recovery from the wonderful cast was brilliant.
It just goes to show, no matter whether it's the 50s or now, being true to yourself and the people around you and communicating can help you work through anything. After all, the housework will still be there when you get home.
Reviewer: Damian Riverol
Reviewed: 3rd July 2018
North West End Rating: ★★★★