For anybody who knows me, it's no secret that I have had a strong dislike to the musical Cats for many decades. For me I just never understood it as a musical, its bizarre concept of how, on one special night of the year, all Jellicle cats meet at the Jellicle Ball where their wise leader, Old Deuteronomy, choose which cat will go to the Heaviside Layer and be reborn into a new life. Jellicle cats, or simply the Pellicles, are a type of feline mentioned in T.S. Eliot's book "Old Possum's Book of Practical Cats, which Andrew Lloyd Webber thought would be the purr-fect basis of a musical, as Lloyd Webber has stated that the book on which he based the musical is one of his childhood favourites. The book itself was written in 1939 but it was decades later, in May 1981, when Cats first made its West End Debut, following the following year on Broadway.
As of 2016, Cats is the fourth longest running West End musical and has been performed around the world many times and has been translated into more than twenty languages and in 1998 it was turned into a made-for-television film. This current tour is fresh and revamped yet still holds its retro charm. I entered the theatre with major doubts but left with a reborn love for this rather bizarre yet visually spectacular musical.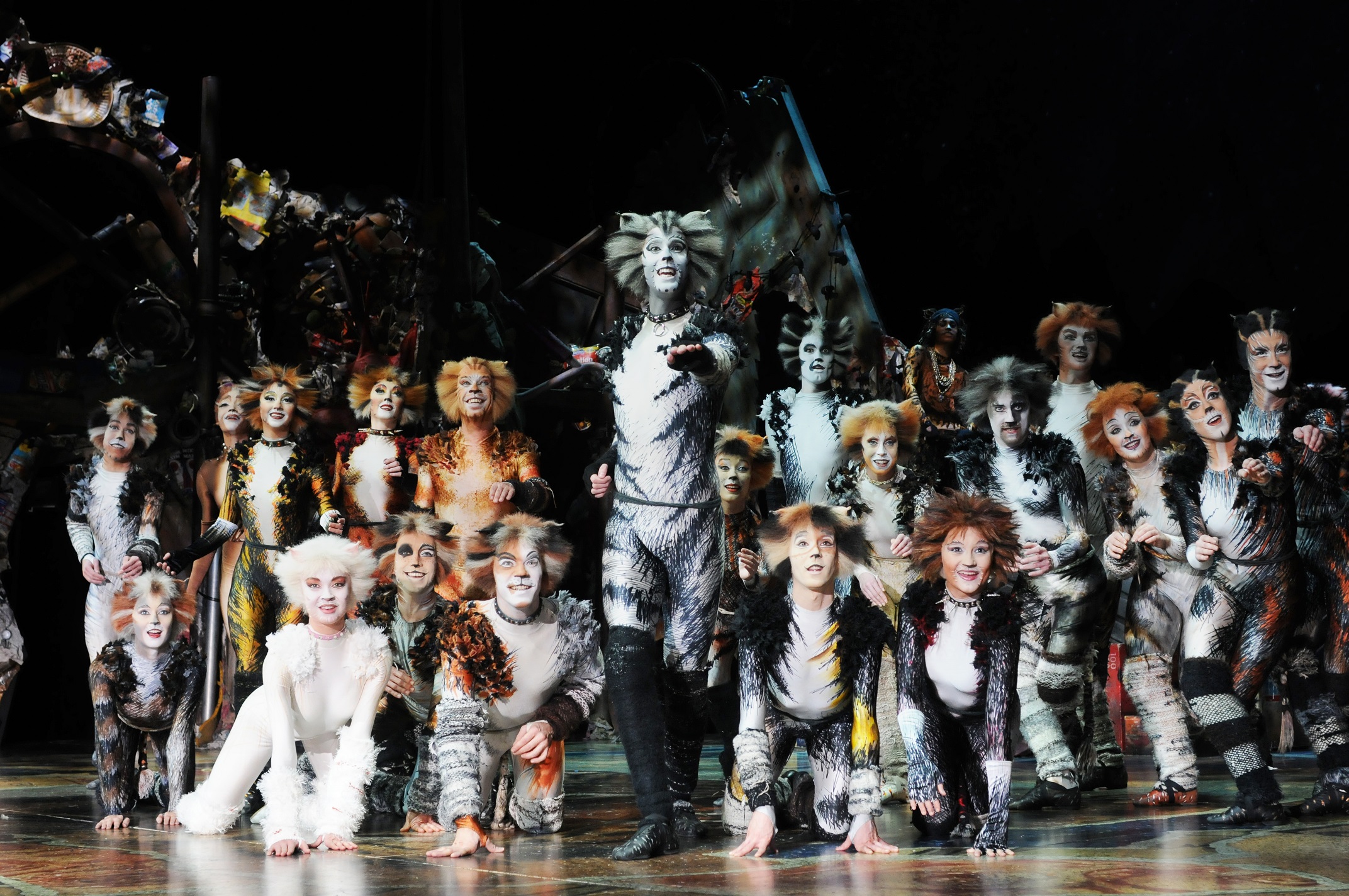 Set in a scrap yard, the stage was donned with everyday dumped objects but done to the scale portrayed by cats; an oversized car tyre, a metal framed bed headboard, large packets of Felix cat food, Dorito's wrappers and a car bumper. The amount of detail on stage even before the cast entered was totally mesmerising and I couldn't help but keep noticing different items throughout the show. The cast make clever use of the isles in the stalls and use them throughout the performance, from the overture right until the end of the performance. As the overture starts, the stage is plunged into darkness and what appear to be cats eyes fill the stage drawing the audience's eyes to the stage whilst the "cats" enter from the back of the stalls, creeping up on the audience with perfect feline movements. Being sat on the end seat of a stalls aisle I was face to face with the cast throughout the evening and my crazy cat lady radar must have been turned on high tonight as I seemed to be a attract a lot of "feline" attraction! At first this felt quite daunting and somewhat intimidating a little, but this soon wore off and I no longer sat frightened in my seat but lapped up chance to see the stunning costumes and makeup close up and see the stunning details.
Although no real lead characters as such, other than the well loved Grizabella, remembered mainly for the well known musical number "Memory" - made famous by Elaine Paige, who originated the role of Grizabella in the original London cast in 1981; we get to meet various cats, and learn more about their personality and life experiences. A few of my favourites in this evening's performances include Gus: The Theatre Cat (Connor McAllister) whose claim to fame was the he "once understudied Dick Whittington's cat" - Gus, an elderly cat who looks like his nine lives are pretty much spent, reminisces about his days in theatre. Then there's my favourite - Skimbleshanks, the railway cat. Skimbleshanks is an active orange tabby cat, who lives on the trains and acts as an unofficial chaperone to such an extent he is considered rather indispensable to the train and station employees. The clever use of props to form the life sized steam train during his song was definitely one of my favourite parts of the show, probably due to my love of steam trains! But in all honesty there was just too many fabulous parts to mention and I soon found myself eating my own words (or should that be fur?) and taking back my previous views and opinions of this spectacular musical. Okay, so the storyline isn't that fantastic but what it lacks in storyline it makes up for on the wonderful stage set and costumes but it is the choreography (Gillian Lynne) which really makes this musical sparkle.
I particularly loved the fabulous rapping cat Rum Tum Tugger (Marcquelle Ward) who really added a modern spin to the performance and was definitely an audience favourite.
Marianne Benedict as the former Glamour Cat Grizabella, the cat who has lost her sparkle and now only wants to be accepted, gave such an emotional performance of the well-loved song "Memory" that it left me an emotional wreck in Act One but during Act Two myself and the rest of the audience were totally blown away.
When we finally said goodbye to the chosen cat on their "Journey to the Heaviside Layer" - which was a spectacular sendoff but I am giving NOTHING away on this - you really have to see it for yourself, was the purr-fect ending to a purr-fect night, and this performance will be in my MEMORY until my own journey to the Heaviside Layer.
I went in with such doubt but came out higher than a cat on catnip. This production plays at Sheffield's Lyceum Theatre until Saturday 15th October with ticket sales already close to sold out, however there is some availability and I cannot urge anybody enough to go and see this sensational sparkling performance for themselves.
Reviewer: Lottie Davis-Browne
Reviewed: 3rd October 2016
North West End Rating: ★★★★★