It's very rare that the star name in a touring production doesn't turn out for press night – so rare in fact it has never happened to me. There must have been a really good reason for former Girls Aloud star Sarah Harding's unprecedented non-appearance as Molly, but by the end no-one gave a damn. That's because like the plot of many a musical her understudy Kelly Hampson stepped into the breach, and she absolutely nailed it from start to finish banishing any memories of the supposed big name. It is no exaggeration to say a star was born tonight, and I suspect no-one who had paid hard earned cash for their seat really cared about Harding's absence as her 'understudy' delivered all night long.
It helps Hampson has had proper stage training so she can nail the big numbers as if she had been the lead all tour bringing a forlorn charm to the tricky role of the heartbroken Molly, but never making the character mawkish as she mourns her murdered boyfriend Sam.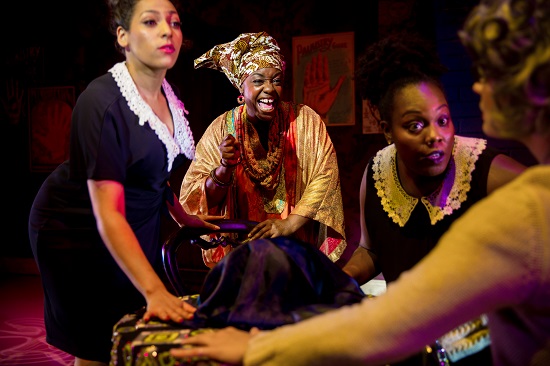 Bruce Joel Rubin's book and lyrics stay ruthlessly close to his Oscar winning script for the mega hit '80s movie that made stars of Patrick Swayze, Demi Moore and another Academy winner Whoopi Goldberg. He took some convincing that the musical version would work, and he certainly gives the crowd exactly what they want with all but one of the highlights of the multi-million grossing movie present and correct.
Banker Sam is in love with potter Molly and is all is going swimmingly in their chic Brooklyn loft until he is murdered in what appears to be an accident. Sam is left as a ghost trying to contact his one true love from some sort of limbo full of lost souls like himself.
Along the way he discovers his best friend Carl is implicated in his murder so uses fake psychic Oda Mae Brown, who can hear the ghostly Sam, to help him find justice and closure. This production has dropped many of the big stage tricks, instead using the big and flexible set to try and fool the senses, with mixed results, especially in the rather lame subway scenes.
After an underpowered start, former Hollyoaks regular Andy Moss starts hitting the right notes as Sam, and although he lacks the raw sexuality of Swayze, he sketches out a much more tender and lost figure desperately trying to keep Molly safe when his spirit body can't even open a door.
Whoopi Goldberg also seized her chance for stardom in the movie so it takes a big talent to fill those boots, but the charming Jacqui Dubois is up the task shaking the foundations of this venerable theatre belting out a joyous Are You A Believer? Oda Mae's comic interplay with Sam is well judged by both actors scoring plenty of well-deserved laughs.
Although former Eurythmic Dave Stewart and multi-Grammy winner Glen Ballard have produced a solid score there are no huge showstoppers in this show. Unless you count Unchained Melody which is the other star of this show, although inexplicably the iconic hugely sensual scene from the movie. where the ghostly Sam makes a pot with his heartbroken Molly is absent, which is like not doing the lift at the end of Dirty Dancing. An utterly bonkers decision.
Some people might have felt short changed that the 'star' name wasn't onstage, but it was far more fun to watch a talented understudy take her chance with such power, panache and confidence. Make no mistake, Kelly Hampson will not be the understudy next time she appears at this theatre.
Reviewer: Paul Clarke
Reviewed: 14th November 2016
North West End Rating: ★★★★