Based on the 1990 romantic drama movie of the same name, Ghost tells the story of Sam Wheat (a banker) and his lover Molly Jenson (an artist) two young successful people that we first meet as they move into their new apartment in Brooklyn, New York.
With books and lyrics by Bruce Joel Rubin and music and lyrics by Dave Stewart (former member of the eighties duo The Eurythmics) and Glen Ballard, the musical first premiered at the Manchester Opera House, Manchester in 2011 and followed on with a West End premiere in the Summer of 2011. The production is currently touring the UK, and from Monday 6th February to Saturday 11th February, it is time for the people of Sheffield to #Believe.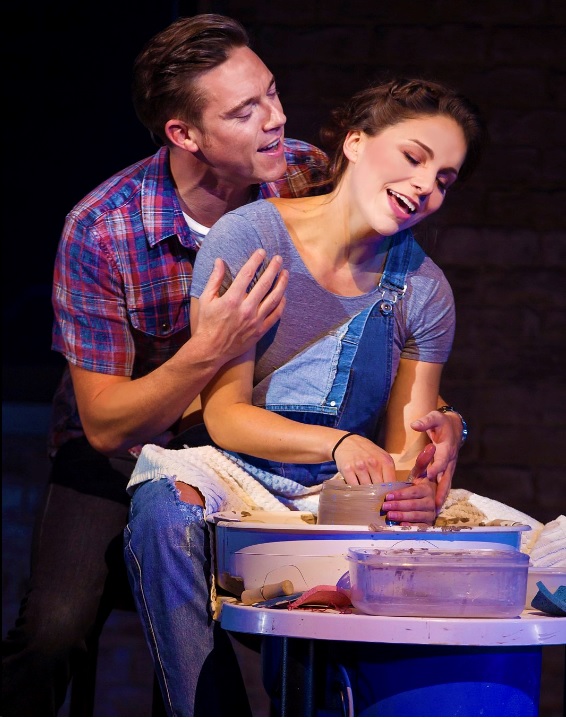 Sam (Andy Moss) and his work colleague Carl (Sam Ferriday) are successful city bankers, but when Sam realises there's an error with one of his accounts that he cannot get his head round, Carl kindly steps in to offer help. After a night out admiring some of Molly's art work at an exhibition, Sam is mugged and murdered. Due to having unfinished business, Sam's spirit is trapped in the living world, where he knows that time is running against him to protect Molly from danger. Knowing she is in impending trouble, he sets out on a mission to uncover the truth and save his lover from a what transpires is a man seeking revenge. Along his journey, Sam encounters others that have not yet crossed over to the other side - be it heaven or hell, including an angry, aggressive subway ghost (Garry Lee Netley) and the kind-hearted hospital ghost (James Earl Adair, whom appears throughout in various other roles), but it is the living phony Clairvoyant Oda Mae Brown that becomes Sam's savior to reconnecting with Molly and racing against time to bring justice his killer and ensure Molly's ultimate safety.
With a fantastic cast and ensemble, the musical numbers range from upbeat with a modern feel ("Here Right Now", "More") to slower tear jerkers including the penultimate "Unchained Melody" and "With You", the show is an utter delight to watch from start to finish. Carolyn Maitland gives a gut-wrenching performance at all the right points, and at various parts throughout her performance you could clearly see the tears in her eyes and she hit every emotion and had the audience in floods of tears.
The heat is on with Maitland and Moss during the famous pottery wheel scene and they are convincing as a pair of a deeply in love young couple, and Moss is enthralling to watch as he becomes accustomed to being part of the spiritual world, where he has to re-learn to move objects, and walk through doors and walls. However, the real showstoppers is most Jacqui Dubois as the eccentric Oda Mae. From the moment she first graces the stage she OWNS not only the stage but the entire audience. Her two songs "Are You a Believer?" and "I'm Outta Here" are by far the two big numbers of the show and earn Jacqui the biggest cheers at curtain call.
My only gripe is with some of the special effects, however this is a touring production and therefore limitations will apply. Other than that, I am totally smitten by the show! I am a Believer!
Book now to avoid disappointment! https://www.sheffieldtheatres.co.uk/whats-on/ghost
Reviewer: Charlotte Browne
Reviewed: Monday 6th February
North West End Rating: ★★★★