When, five minutes into the play, the nose on the severed head of Sir John Hotham wrinkled and sneezed, allergic to the white rose his laughing widow had placed by his noggin, we in the packed audience knew we were in for a laugh-a-minute experience, when The Hypocrite took to the Hull Truck Theatre stage on Wednesday evening.
While taking our seats we had already been entertained by a wandering minstrel, a brazen strumpet, an oyster seller and fruit girl vociferously and amusingly, calling out their wares while intermingling with the audience – all playing their part in getting us into the right mood for a bit of Shakespearean shenanigans.
Written by Hull man Richard Bean and presented by Hull Truck Theatre, Hull UK City of Culture 2017 and the Royal Shakespeare Company, the stellar cast includes Mark Addy (Game of Thrones, The Full Monty) as Sir John and Caroline Quentin (Jonathan Creek, Doc Martin) as his wife, Lady Sarah.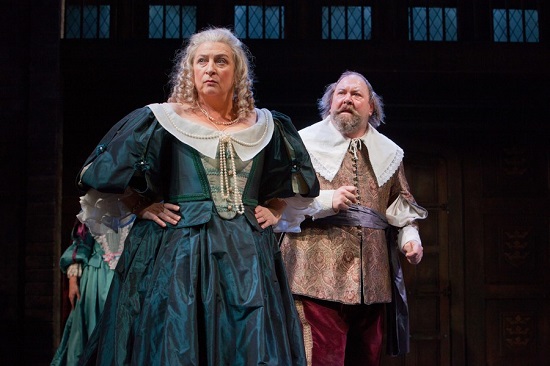 This rollicking comedy, a world premiere, launches an exceptional year of drama for the UK City of Culture 2017, and relates the downfall of Sir John, the MP for Beverley and Parliament's Governor of Hull.
Torn between his loyalty to Parliament and the Crown, the beleaguered knight needs the protection and favour of both for his own ends. But on April 23, 1642, Sir John - a vocal critic of Royal policy - refused entry to the city to King Charles I, an act of treason that resulted in him losing his head.
This most momentous event in our city's history was presented in such a localised way that will especially delight those born and bred in Hull. In jokes abound ("Q: Who do Hull folk hate the most? A: People coming in from Beverley telling them what to do." The biggest laugh coming when Lady Sarah says: "I'm going to take advantage of the shops, now we're in Hull") – this riotous, bawdy affair turns slapstick into a cultured art form.
Richard Bean's script throws light on Sir John's troubled mind and his home life (a flighty, grasping wife who hates his guts, a weird son and a daughter he has to marry off for money) while secretly educating us. This was the most fun I've ever had in a history lesson.
So much energy is expended (Mark Addy must surely lose weight each performance - he was like a Duracell Bunny, unstoppable. And the antics of Danielle Bird as old manservant, Drudge, were amazing), but the accomplished actors' voices never lose their clarity or strength. In their splendid costumes, with mannerisms exaggerated and acting purposefully overdone, it wasn't difficult to imagine the atmosphere in Shakespeare's Globe Theatre centuries ago. And music from performing minstrels on guitars and double bass added to the ambience.
This magnificent romp through history had it all. I found myself laughing all the way through, sometimes for no reason. And I totally lost it when King Charles I (Ben Goffe) came riding through on his horse – just one of many laugh-out-loud moments.
And laughter was the royal order of the day when Prince Charles visited our fair city recently, enjoying a sneak preview of the play. Luckily, he was amused and everyone kept their heads.
Reviewer: Jackie Foottit
Reviewed: 24th February 2017
North West End Rating: ★★★★★