All great art takes us to places we wouldn't ordinarily visit or understand and Inua Ellams offers an entrée into barber shops run by and offering haircuts to African men.
This work started as a short piece in the Playhouse's Transform Festival and a visit to a barber shop in nearby Chapeltown helped form a complex story about six shops across two continents.
Barber shops are where men gather to have a trim, but is really an excuse to chill, debate, wind each other up, confront each other's demons and form loving bonds in ways they wouldn't even acknowledge let along talk about.
You have to pay attention as the action interweaves personal stories from South London to Ghana, Nigeria, Uganda, Zimbabwe and South Africa, but the uncanny things is that whilst each country is different the way the men interact is very much the same. There is a rhythm and pattern to their chats that seems inbuilt.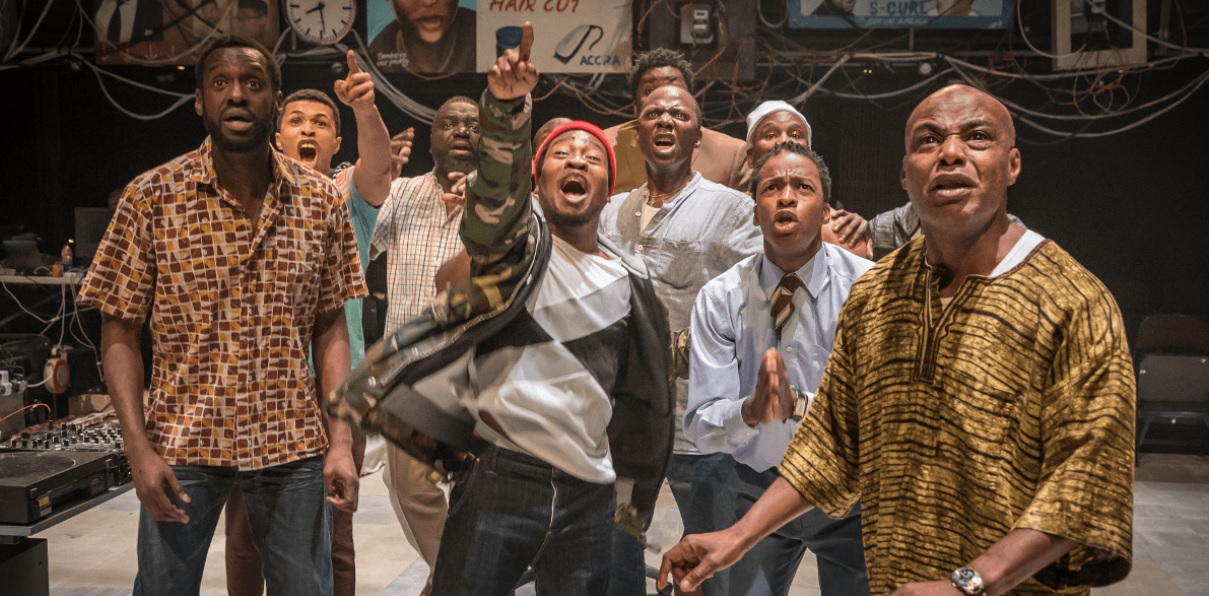 They all offer an African variation on the hoary old Englishman, Irishman and Scotsman joke which is just one of the many laughs as we trot round the globe where Ellams explores not only what it to be a strong black man, but how to be true to who you are even when you are a long way from home.
The action is fast paced ranging from a heated debate about the oppression of the LGBT community in Uganda to whether Robert Mugabe is a good president or not - which might help understand why someone like Trump can still command widespread.
The barbers are actually running confessionals, and non-stop talking shops, and in a powerful scene the customers hotly debate the merits of using the N word forcing the audience to consider their own attitude to a word that sharply divides opinion in the shop.
Bijan Sheibani's energetic direction keeps the pace fast as the 105 minutes without an interval flies by as the cast swap roles manoeuvring the tatty barbers chairs around knitting the complex narrative together with some exuberant dances, including one where they use the barber's cloaks like urban matadors.
Rae Smith's wonderfully flexible design is the best use of the Courtyard theatre I have seen turning the space into a transcontinental gladiatorial arena that sits well with the sharp wordplay.
This is a crack cast mixing veterans and young guns. Cyril Nri, who was so moving in Channel 4's Cucumber, holds everything together as the dignified London Nigerian barber Emmanuel hiding not one, but two, secrets that are poisoning his relationship with Fisayo Akinade's fiery young crimper Samuel.
David Webber is sensational as the drunken South African Sizwe mourning his lost son who thinks the tainted Winnie Mandala should have been president, and was so poor that he used to charge white South Africans to racially abuse him.
Of the young performers the hugely talented Hammed Animashaun nails all his different roles especially as the gobby womaniser Mohammed holding court in London, and a desperate young jobseeker who can't afford a haircut in Lagos. Anthony Welsh convinces as chilled barber Winston refereeing the conflict between Samuel and Emmanuel.
This inevitably a masculine play in a male world but Ellams shows that even the most masculine of customers is riven by doubt about who he is that can only be revealed in the bosom of the shops.
Reviewer: Paul Clarke
Reviewed: 13th July 2017
North West End Rating: ★★★★★