When Barrie Rutter announced he was leaving Northern Broadsides after a row over Arts Council funding it was only natural all eyes would be on his final role for the company he founded 25 years ago.
Thankfully he goes out on a high playing dodgy bank manager Fuller who is raining presents on glamorous local widow Rose to win her affections in this deliciously amoral show full of not very bright chancers. Fuller plays to all Rutter's strengths full of cocky physicality, smart comic timing and all those years of hard won stagecraft when he allows the avuncular mask to slip.
Rutter also cannily brought on board his long-term collaborator Blake Morrison to adapt Alan-Rene Lesage's Turcaret which attacked corrupt financiers during the reign of French monarch Louis XIV. Morrison has wisely transplanted this rogues gallery to a small Yorkshire village in the 1920s, and his witty reworking is packed full of long lost local vernacular like chatter-watter, but despite the often farcical antics on stage has retained a subtext revealing the amorality of the banking industry.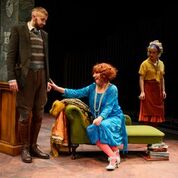 Despite that very pertinent subtext For Love or Money is very much played as a farce, and there is something wonderfully liberating to watch an energetic production where all the characters are on the make doing anything they can to get one over each other.
Sarah-Jane Potts on her Broadsides debut grew in confidence as the vacuous Rose who has a number of con artists circulating round playing on her vanity, and none more so than handsome opportunist Arthur energetically played by company regular Jos Vantyler.
Rutter also directs the chaos with a firm hand other than Jordan Metcalfe's cunning con man Jack who occasionally drifts towards over the top as he literally bounds round the stage running rings round his foes. Mind you, you can't take your eyes off him as he scampers round Jessica Worrall's sparse set scheming with Kat Rose-Martin's maid on the make.
Broadsides veteran Sarah Parks was in the very first Rutter/Morrison collaboration The Crack'd Pot and contributes an amusing cameo as Fuller's spiteful wife.
Only the sort of fool you find in this production would doubt Barrie Rutter's massive contribution so it is fitting when embarking on his last tour with Broadsides that he conjured up a final hurrah that sent his faithful followers home with a big smile on their faces.
For Love or Money is at The Viaduct Theatre, Halifax until Saturday 23rd Sept.
Tour dates:
Tue 26 - Sat 30 Sept – West Yorkshire Playhouse, Leeds
Wed11 – Sat14 Oct – Lawrence Batley Theatre, Huddersfield
Tue 17 – Sat 21 Oct - Theatre Royal, Bury St Edmunds
Tue 31 Oct – Sat 4 Nov –Rose Theatre Kingston
Tue 7-Sat 11 Nov – New Vic Theatre, Newcastle -Under-Lyme
Tue 14-18 Nov – Stephen Joseph Theatre, Scarborough
Tue 21-25 Nov – Liverpool Playhouse
Tue 28 – Sat 2 Dec – York Theatre Royal
www.northern-broadsides.co.uk/4351-2/
Reviewer: Paul Clarke
Reviewed: 19th September 2017
North West End Rating: ★★★★