Raucous seagull squawks (the port of Hull in its heyday?) serenaded us as we took our seats at Hull New Theatre on Tuesday night, for the world premiere of playwright John Godber's comedy, The Kings Of Hull.
Before us, the stage was set with candlelit tables bedecked with floor-length white tablecloths – convincing me we theatregoers were in for a night of sophisticated celebration of some sort.
How wrong I was – about the sophistication, anyway.
The cause for celebration became clear as the lights went up to reveal huge golden balloons hailing 50 years of married life for Malcolm King (Martin Barrass) and his long-suffering wife Becky (Jane Thornton).
Surrounded by family it was a time for Malcolm - a true red-and-white Hull Kingston Rovers rugby league fan – to regale us in the audience (who he addressed as if we were guests at his do) about the ups and downs of his life in east Hull, in Rovers' heartland.
Malcolm and Becky told us – in broad Hull accents, aitches deliciously dropped – of how proud they were that "we didn't 'ave to get married".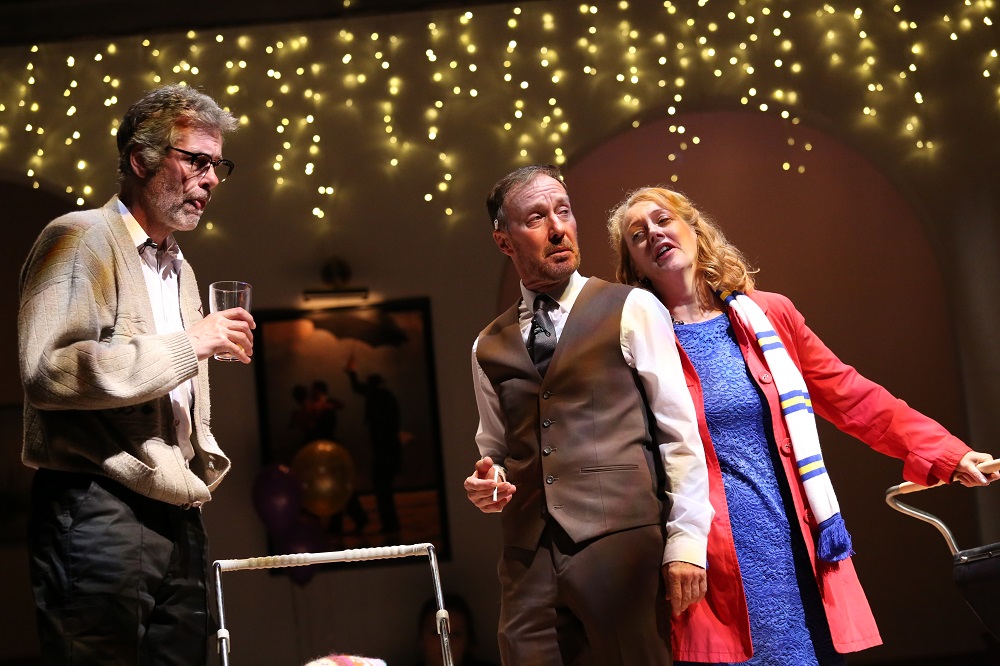 The year was 1967, says Malcolm – remembering how he left his bride halfway through their first dance, to go see Hull vs Rovers in a Yorkshire Cup Final, taking with him his best man, two bridesmaids and Becky's dad.
Rovers won 8-7 so, for Malcolm, it was worth risking being the guilty party in the world's speediest divorce.
The other guests - Malcolm's Hull prison officer brother, Trevor (Robert Angell); younger brother, the shady Karl (Peter McMillan); Malcolm's two daughters, salon owner Kealey (Pippa Fulton) and lesbian Jenny (Josie Morley), a prison officer with her Uncle Trev; Kealey's two children, aspiring singer/student Lily (Grace Christiansen) and the "6ft 10ins tall" Luke (Joe Hall), who ran a bar in "'ezzle" much to Malcolm's disgust (for the uninitiated, Hessle is to the west of Hull, in enemy territory – rugby league-wise) – amusingly chipped in when they felt they had to make fun of, disagree or agree with, Malcolm's ramblings.
The one consistent thread running through Malcolm's reminiscences was his love of Hull Kingston Rovers and his life in the east of the city - he firmly believed the west was where "the other half live".
We learned of his life, long marriage, job, health and family worries, through the fortunes of his blessed rugby team – he never forgot a try, an up-n-under or a score. And he never let anyone forget that he tried out for Rovers, but they never picked him.
Every now and then the onstage musical trio (Ruby Macintosh, Jake Marsden and the aforementioned Grace Christiansen) amusingly aided and abetted Malcolm's reveries.
The laughs – too numerous to mention - came thick and fast (for me, Uncle Trev was a scream from start to finish), but there was also a serious side to the shenanigans. Malcolm's east Hull-west Hull prejudices were so ingrained that he had difficulty coming to terms with a world in which the younger members of his close-knit clan, especially his two daughters, held very different beliefs from his own. But most of all he blamed every bad thing in his life on the fact Rovers never picked him.
You didn't have to be born and bred in east Hull to thoroughly enjoy, and "get" this production. I was, so could relate to this story every step of the way. The only difference is, my dad was picked for Rovers. Sorry Malcolm!
Reviewer: Jackie Foottit
Reviewed: 3rd October 2017
North West End Rating: ★★★★