I may be old enough to be Joe McElderry's mother, nay grandmother, but the vision of him in his little silver skirt warmed the cockles of my heart on Tuesday night, as the 2009 X Factor winner wowed a packed Hull New Theatre in the lead role of Joseph.
There was a short delay before curtain up, but the talented orchestra kept us entertained, even inviting a teeny bit of audience participation. Maybe the delay had something to do with our bags being searched on entry – a necessary step in these uncertain times.
But when the pharaoh-decorated curtain did rise, it was well worth the wait. With a starry night as a backdrop, palm trees and pyramids – it was easy to imagine we were basking in the warmth of a middle-eastern night. We were – in Canaan – home to Joseph, his 11 brothers and his father, Jacob (Henry Metcalfe).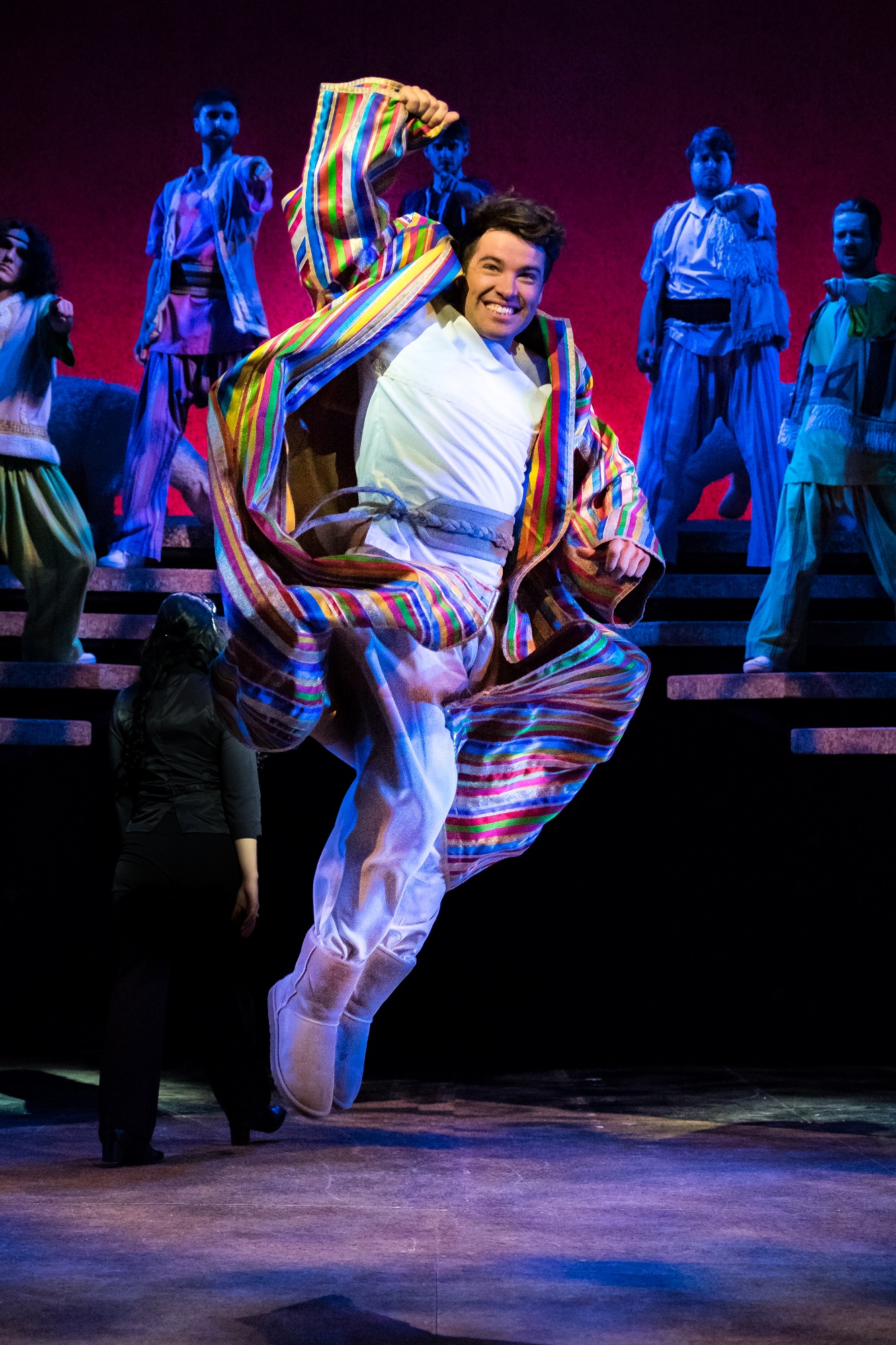 For those unfamiliar with the Biblical story, dreamer Joseph is Jacob's favourite son, a fact that annoys the other 11. And when Jacob has a colourful coat made especially for Joseph, brotherly love goes right out of the window.
After Joseph tells of a dream in which he will be more prosperous than his siblings, his scheming brothers sell him into slavery in far away Egypt, to a rich merchant called Potiphar (a dual role for the aforementioned Henry Metcalfe).
Poor Joe, oops, I mean Joseph, was a pitiful sight in slavery, his little silver skirt being replaced by a drab cotton one (damn!) and life isn't good at all.
Meanwhile, his brothers are whooping and a-hollerin' singing a very amusing version of One More Angel In Heaven. With cowboy hats on they sang it in a country and western style that was hilarious.
Life for Joseph gets worse after some shenanigans with the naughty Mrs Potiphar (the long-legged Sallie Beth-Lawless) and, being imprisoned, he sings Close Every Door with such emotion, we feel his pain.
However, one day his dream premonitions come to the attention of the Pharaoh (Ben James-Ellis), who dresses and sings like Elvis - after all he is the King.
Joseph's glowing premonition wows the Pharaoh who thanks him by showering him with riches.
Back home, the starving brothers are regretting getting rid of their dreamy brother. Hearing there is food aplenty in Egypt, off they go, finding themselves begging a masked Joseph - by now in golden trousers (where's the silver skirt!) and very powerful - for clemency, after their youngest brother is caught stealing from Joseph.
Joseph unmasks himself and the brothers fall into each other's arms. All is forgiven. Father and son are reunited and all's well that ends well.
This fabulous production had everything – comedy, colour, dancing, music (calypso, country and western, disco and everything in between), a huge golden motorbike (you had to be there) – plus one of the best singing voices I have ever heard, in Joe McElderry.
Also in fine fettle was the story's Narrator (Trina Hill) whose beautiful, loud voice bounced off the theatre walls.
In fact, everyone up there on the stage sang well, including the youngsters of the Joseph Choir from Stagecoach Beverley.
I can't fault anything about this production. A good 10 minutes from the end we were all on our feet, clapping and singing along to Any Dream Will Do, sung with relish, repeatedly, by Joe and the cast.
Their happiness was infectious. I bet I wasn't the only one who sang all the way home.
Reviewer: Jackie Foottit
Reviewed: 31st October 2017
North West End Rating: ★★★★★