From the moment I started reading books as a child, Roald Dahl became my all-time favourite author. His creative writing stretched the mind and transported me to worlds of giants, magic and pure imagination. His works have gone on to grace both the big screen and television, from Matilda, Charlie and The Chocolate Factory, Esio Trot and The BFG to name a few, several have also been adapted for stage. The latest book to get the stage treatment is one of the shorter books, George's Marvellous Medicine.
The latest collaboration between the Curve (Leicester) Rose Theatre Kingston, is currently embarking on a UK tour, with Sheffield being the first destination following the debut at Leicester's Curve Theatre. George, along with his eccentric mum and dad plus farm animals, all lead a relatively calm and tree free life. George is currently enjoying the summer holidays, choosing to spend his days engrossed in book of stories of magical worlds, because unfortunately for George none of his school friends live close by so he spends his summer alone. Just as George is starting to embrace the long school holidays, his mum comes in a distressed state - George's grandma is coming to stay with them? What's that you say? Grandmas are lovely, kind and doting people? Then you obviously haven't met George's Grandma…….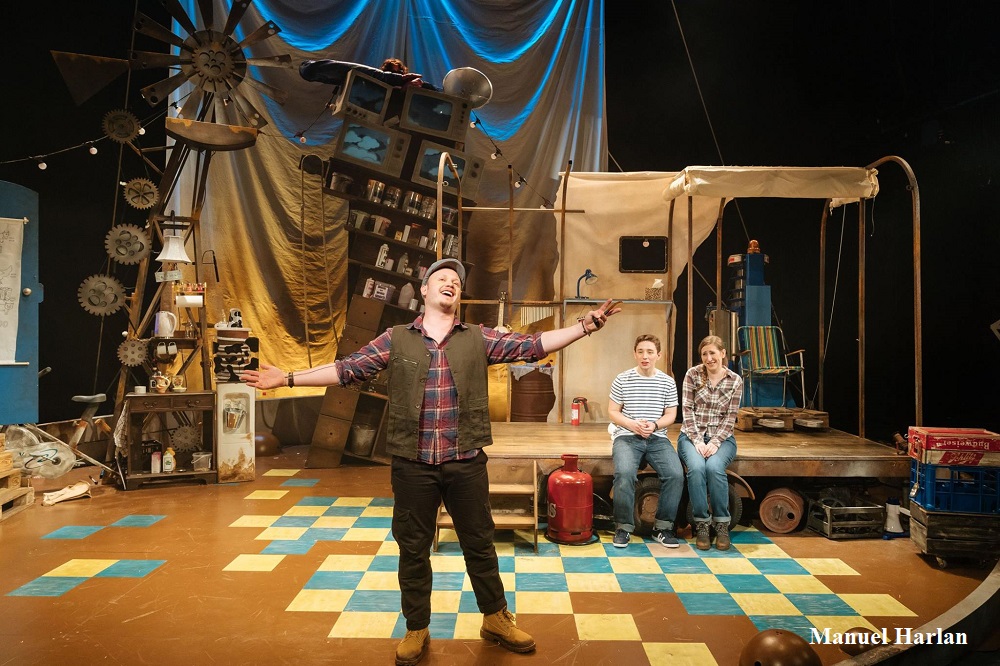 Even before George's Grandma arrives at the farm, we get a clear picture of just what a horrid mean old witch she really is and it even shows in her looks what a nasty vile creature she is "but she has a mouth like a dogs' bottom" remarks George's dad when he hears of the uninvited arrival of "the mother-in-law". Grandma (Lisa Howard), arrives within three minutes of announcing her arrival, wizzing in on her mobility scooter. Grandma is a city girl at heart and despises the countryside, she doesn't understand why George's mum chose to live on a farm. "It's like living in a lavatory" she retorts as she holds her nose, breathing in the smell of the pigs, the bull and the chickens. Armed with an ear bursting red buzzer she explains that whenever she needs them for something, she will buzz them. Unfortunately for the poor family, this turns out to be every few minutes. Grandma hands over some medicine and gives firm instructions of when to give it to her.
When George is left alone to look after the grizzly grunion whilst his parents go into town, using inspiration from his books of magical stories, he engages with the audience to create a magical potion to swap for Grandma's medicine. Because what if like the characters in his books, he could magic Grandma to be a normal, nice loving Grandma?
Preston Nyman (George) soon has the audience under his spell, encouraging them to shout "in" as he asks if he should put a certain household ingredient into the mixture. Nyman is likeable from the moment he enters the stage and says hello to the audience (mostly which were aged under twelve years old this evening - and loving every second of the performance). Lisa Howard (Grandma) is both scary and horrible as Grandma, and as the production has kind of a pantomime feel (with audience participation) I found it hard not to shout insults at her for being such a nasty evil old witch! My favourite performer of the production however comes from Chandi Mistry as the Chicken.
Will George succeed in turning Grandma into a loving Nan or will he regret messing with products not intended for children to use?
From start to finish George's Marvellous Medicine embraces the inner child and soon the audience are drawn into Dahl's magical tale, as if they were hearing the story for the first time. I have been somewhat disappointed with other stage adaptations of Dahl's books….until now!
Reviewer: Charlotte Browne
Reviewed: 23rd January 2018
North West End Rating: ★★★★