Following the success from the West End production, "Beautiful" - the musical telling the story of the huge success of singer/songwriter Carole King, from her humble childhood beginnings to becoming an international star, is now well into its UK tour and has arrived at Sheffield's Lyceum Theatre for the week.
The story opens in the 1970s, Carnegie Hall, NYC, following the huge success of her seminal solo album "Tapestry", with Carole finding it hard to believe that so many people are in the audience to see her despite how successful she was by this point of her career. We are then transported back some fourteen or so years where we meet the shy, geeky sixteen year old Carole. Wise beyond her years, she has already skipped two grades at High School. Despite her already eagerly writing music and lyrics, her high school major is Education, as her mother believes "Girls don't WRITE music, they TEACH it!" Despite her mother's lack of support, King convinces her mother to let her approach Donne Kirshner, a producer, with some of her songs and she is soon writing for artists from Little Eva to The Drifters, The Shirelles and The Monkees. Whilst at school Carole meets Gerry Goffin, her first love and song-writing partner, whom she later marries and the pair become parents in their late teens.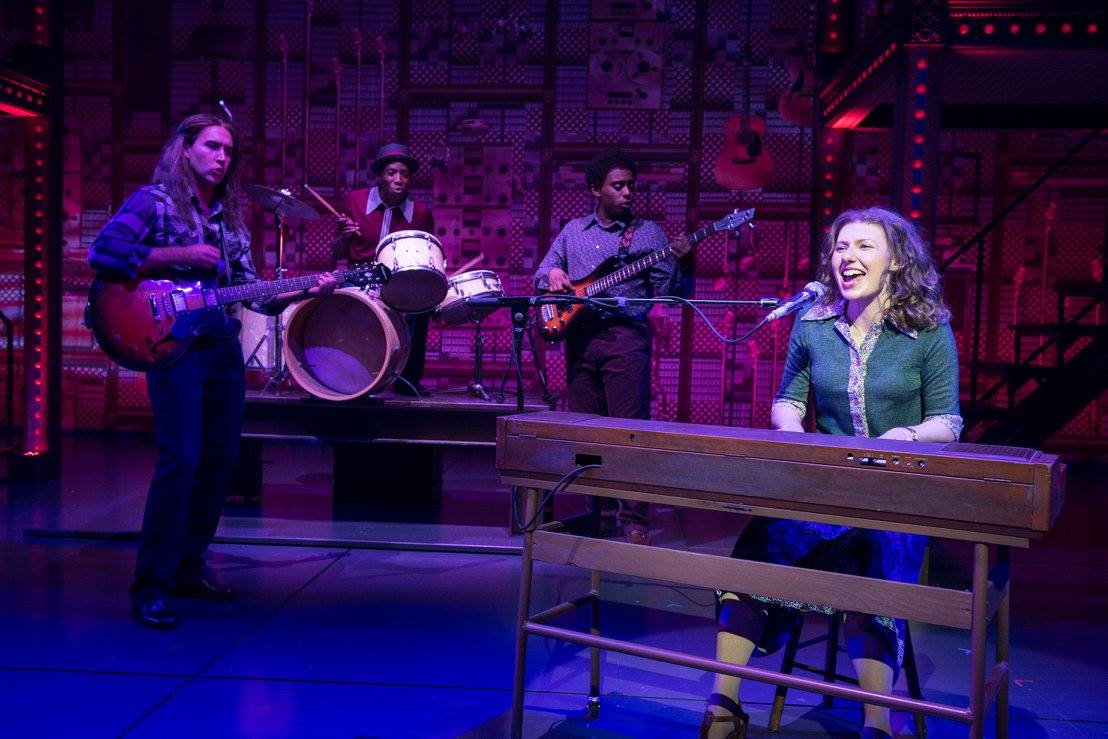 A real highlight of this production is seeing the fantastic ensemble form The Drifters, The Righteous Brothers and Little Eva, to name but a few as King's songs continue to hit the charts and her career grows from strength to strength.
Bronté Barbé, who's career I have followed from appearing on televisions "Over The Rainbow" many moons ago, to playing Sharon in the stage adaptation of cult classic Grease 2, titled "Cool Rider Live" at the Lyric Theatre, London, Princess Fiona in the last UK Shrek tour, to most recently appearing in "The Wild Party" at The Other Palace, London and most recently appearing on an episode of "Call The Midwife", captured Kings' geeky, awkward shyness perfectly. The chemistry between her and first husband Gerry Goffin (Kane Oliver Parry) is convincing, as she sticks by him at first even though he finds it difficult to stay faithful to her, she still supports him following his nervous breakdown and gives him a second chance. But it is when King decides enough is enough and stops giving him chances that she really finds her true voice, continuing to write on her own and being convinced to record her first album, her first many.
Comedy comes from King and Goffin's competitiveness against fellow couple and rival songwriters Cynthia Well (Amy Ellen Richardson) and Barry Mann (Matthew Gonsalves). Gonsalves is funny as the hypochondriac Mann, whilst Richardson is glamorous and oozes seductiveness as we watch her character embrace the changes of fashion throughout the storyline, opting for figure hugging clothing, looking ever more the odd couple next to the somewhat plain Mann. King on the other hand opts for clothes and a quieter life style, wanting to stay home on the evening with the children, which eventually leads husband Goffin to call her "an old lady" whilst he opts for heading into the city in the evenings to find artists whom they can write for (not to mention the attraction of other women in the city).
A real highlight of the production for me was The Righteous Brothers (Grant McConvey and Ben Morris) performing "You've Lost That Lovin' Feeling", along with the encore "I Feel The Earth Move" which got the audience up and dancing along.
Overall "Beautiful" is just that - a beautiful step back in time through the history of Kings' career and how she became one of the most successful singer/songwriters of all time.
Reviewer: Charlotte Browne
Reviewed: 6th February 2018
North West End Rating: ★★★★