Alice Howland has the perfect life - a successful job as a linguist's professor at Columbia University, a doting husband who also has a successful job as a Physician, and two grown up children, John and Lydia - a budding actress. In June 2015, Alice celebrates her 50th birthday surrounded by her family. A month later, believing she is menopausal, she visits her GP and admits she has forgotten things lately such as names and on occasions has become disorientated. A few years ago Alice's mother and sister were killed in a car accident and the GP thinks it could be depression but organises blood tests and an MRI scan.
One morning Alice wakes in the early hours of the morning, adamant it is day time and is about to go to work in her night clothes and slippers. However her blood tests and MRI tests come back clear but after her family have started to notice worrying signs, she is referred to a neurologist. Alice and her family are later given the devastating news that she has early-onset Alzheimer's, aged just 50 years old.
Her family rally round to support her and she tries to maintain her memory by writing things in her phone, setting up questions to ask herself daily and keep active - she is a keen jogger and the Neurologist encourages husband John to go along with her to keep her safe which he embraces with enthusiasm, determined to support his wife the best he can. A few months later it's the office Christmas party - Alice is introduced to a colleagues wife and jokes that "oh so you DO exist!" She engages in conversation with them for a few minutes but when they bump into each again later that same evening, Alice introduces herself to the colleague's wife again and asks whom she is. It's clear at this stage she has kept her secret quiet and colleagues are confused about her behaviour, assuming she is drunk.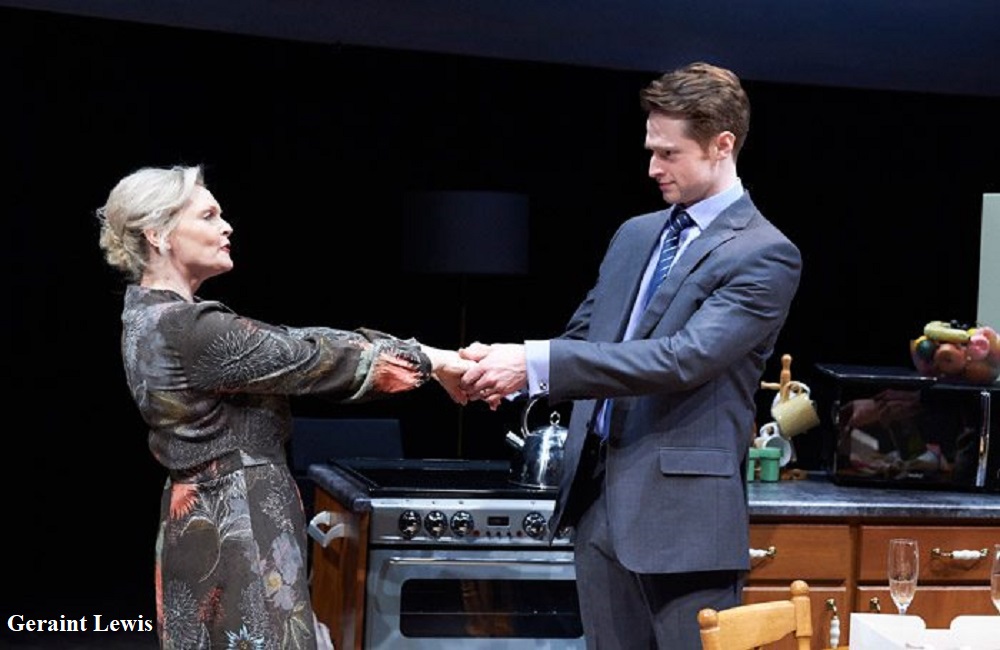 The story starts in June 2015 pre diagnosis and ends at the present day, and is a real clear insight as to just how devastating an illness Alzheimer's and Dementia are. Over the three years we see Alice have to give up her career, her social life and finding she is unable to recognise her family at times. Sharon Small gives a moving and convincing performance as to how these cruel illnesses devastate lives. Dominic Mafham in supporting role of husband John, son Thomas (Andrew Rothney) and daughter Lydia (Alais Lawson) shows how Alzheimer's not only changes the person with the diagnosis' life, but how it impacts the whole family. Although at times the family show some signs of frustration when they have to keep explaining things or repeating things, and although at times the family distance themselves to carry on with their own lives, from bringing Alice's first grandchild into the world, to working on stage after breaking into their acting career goal, to taking a new job resulting in a house move, the family are still a vital part in Alice's daily care plan and continue to show full support.
Although only 90 minutes long "Still Alice" gave a moving and thought provoking insight into a yet incurable terminal condition, however, as Alice said by the time her children become at risk (after being tested and one of them having the gene) of showing any symptoms, she is confident that there will be treatments to put into remission, as there is with cancers if treated early enough. With awareness of Alzheimer's and Dementia being more of a major focus over the last few years, I too live in hope that in the next decade or so there will have been breakthrough research to help combat the early stages, if not to totally cure the disease, to at least be able to rapidly slow down the symptoms.
I took along a family member who works as a Dementia Support Worker (supporting the Carers and Family) - but as Alice herself found out whilst researching for support groups online, she found lots of groups that support the carers and family but nothing to suit patients, particularly younger patients with onset-Dementia. Alice became frustrated when she was unable to find support groups and even suggested setting up a group herself but her family decided there was too many risk factors.
A moving story and powerful performance, although I felt the ending somewhat abrupt, almost as if someone had torn the last chapter out of a book I was reading. However, definitely worth a watch.
Until the 3rd March - https://www.wyp.org.uk/events/still-alice/
Reviewer: Charlotte Browne
Reviewed: 14th February 2018
North West End Rating: ★★★