It was a big night in Hull on Monday when Hairspray hit the New Theatre stage – make that Big with a capital B.
Big hair, Big voice, Big heart, Big body and Big talent – and that was just one member of this energetic cast, young Baltimore schoolgirl, Tracy Turnblad.
Tracy (take a bow, Rebecca Mendoza) is a chubby dreamer who lives with her (here's that word again) Big mom, Edna (Matt Rixon), and much smaller dad, Wilbur (Norman Pace of Hale & Pace fame).
While Edna takes in laundry for a living and Wilbur runs his own joke shop, there's nothing Tracy likes better than to watch the Corny Collins dance show on her family's small black and white TV, where young boys and girls dance to the latest pop tunes.
The year is 1962 in an America where segregation – by skin colour – is the norm. Each week, Corny (a slick Jon Tsouras) appears on screen surrounded by slim, white, dancers, but that doesn't deter our Tracy from wanting to strut her sizeable stuff among them. Tracy's dream is to appear on national TV on her fave show and when the chance comes, she grabs it with both chubby hands.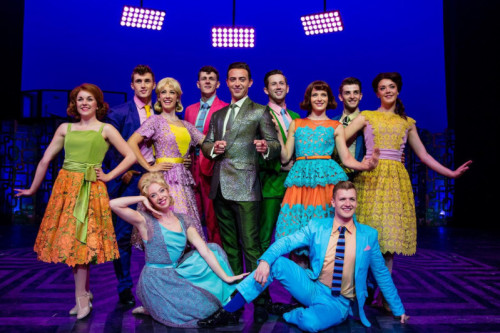 Egged on by her slim best friend, Penny Pingleton (a comical Annalise Liard-Bailey), Tracy gets to dance, despite being ridiculed by the show's slim, glamorous producer, Velma Von Tussle (Gina Murray). The insults only make our heroine more determined to win the upcoming Miss Teenage Hairspray 1962 crown, going out live on the Corny Collins Spectacular - whose main advertiser is Ultra Clutch, the hairspray of the title.
Tubby Tracy's determination and sense of fair play lands her in all kinds of trouble, including a spell in the "Big Dog House' aka prison. She hasn't a racist bone in her young body, and the injustice she witnesses spurs her on to, not only win the coveted title, but to end the segregation on the Corny Collins show, allowing her to dance with her new-found non-white friends, including Seaweed (Jordan Laviniere) – at the same time managing to win over the prejudiced "Baltimorons".
And bless her little, cotton, school socks, she finds love along the way, in the sexy form of heartthrob dancer, Link Larkin (a dreamy Edward Chitticks).
From curtain up this entertaining extravaganza enthralled the capacity audience. The super-talented cast engulfed us in their sheer joy at performing. The imaginative lighting magically transformed the stage, so very little scenery changes were actually needed, making the whole thing glide seamlessly from scene to scene.
Sing-along numbers (backed by talented on-stage musicians) included Good Morning Baltimore, You Can't Stop The Beat and I Know Where I've Been – an unforgettable rendition by Brenda Edwards as Motormouth Maybelle.
The laugh-a-minute pairing of Rixon and Pace, as Tracy's mom and dad, was a stroke of comic genius. They "lost it" at least three times, struggling to carry on through their giggles. And, of course, we in the audience lapped it up.
I sat in the circle and every word uttered, and sang, on stage was loud and clear. In fact, so loud, sometimes I couldn't quite grasp what was said or sung. But I'd rather that than have to strain to hear. And amidst all the glittering sequins, bright lights, sparklers and the singing and dancing, racial segregation (a theme running through the show) was (thanks to Tracy) shown the door.
At the finale, the audience rose as one to cheer, clap and sing along, reluctant for the night to end.
And as I and my theatre buddy sister, Chrissy, joined the crowds walking back to the car park, all we could hear were people singing "Good Morning Baltimore" – and, of course, we sang along, too. A fun ending to a fun night.
Running until Saturday, April 28th. Tickets from £20. Call (01482) 300396; www.hulltheatres.co.uk
Reviewer: Jackie Foottit
Reviewed: 23rd April 2018
North West End Rating: ★★★★