My giggles started within minutes of this talented, all-female, cast hitting the Hull Truck Theatre stage, on Thursday night, when Whisky Galore came to town.
The moment Christine Mackie, as Donald MacKechnie, opened her (his?) mouth, I was a goner. And I, along with a packed house, never stopped laughing for the next two hours.
Playing 26 characters, just seven women told this well-known story of a whisky-laden shipwreck off the Scottish coast, in such a way, in the end I was simply laughing - at anything and anyone. Thank goodness I was wearing waterproof mascara.
Most of the characters were male, and the seven ladies were so convincing, sometimes we forgot they weren't men. The aforementioned Christine Mackie and Shuna Snow were especially convincing as Doctor Maclaren and Donald MacKechnie (Mackie) and Fred Odd and Major Quiblick (Snow).
But all seven got the male mannerisms just right, man-spreading like good 'uns. When I didn't quite understand a word uttered in a strong Scottish accent, it mattered not a jot, because the exaggerated gestures spoke volumes.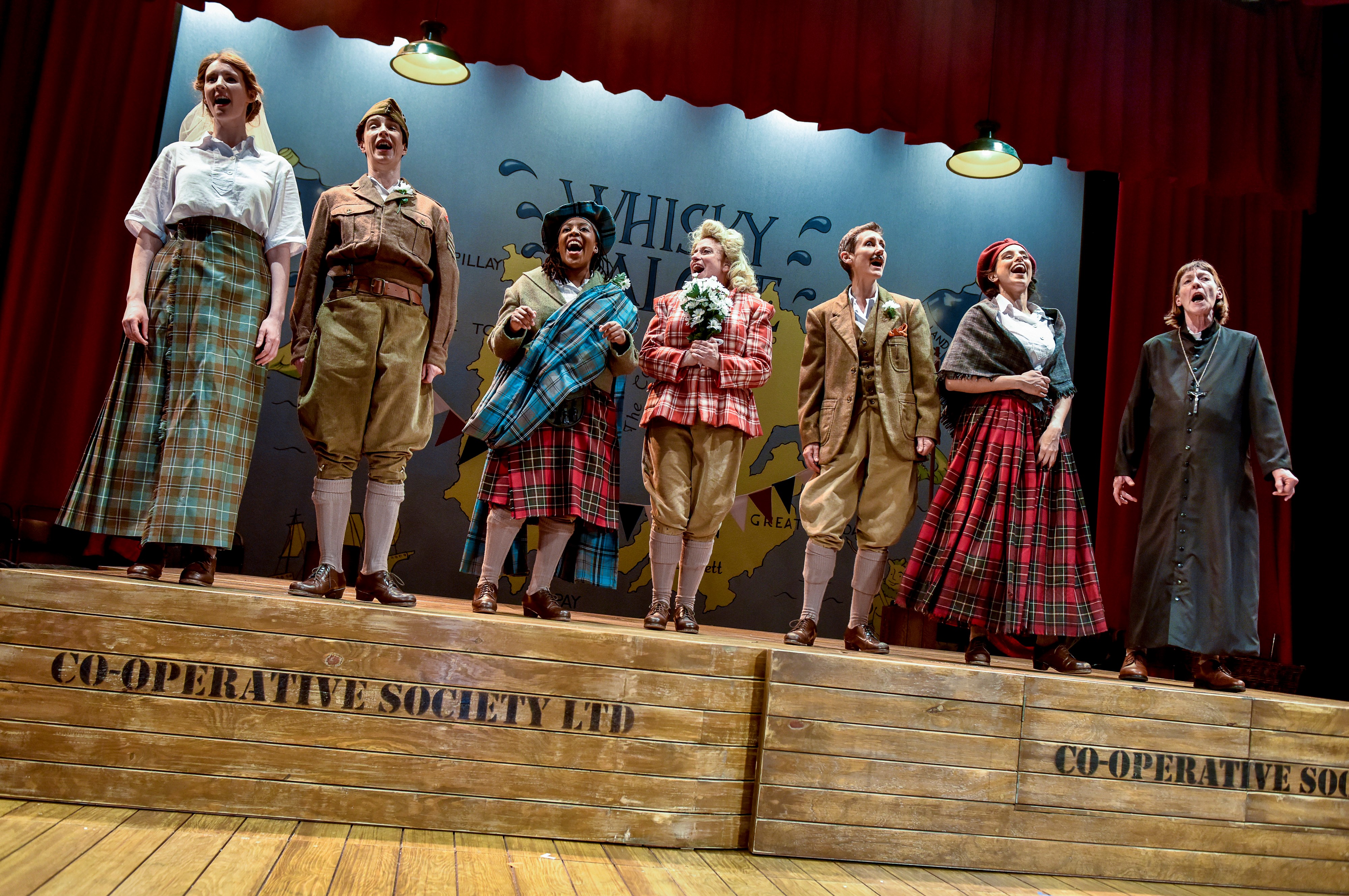 This hilarious adaptation of Compton Mackenzie's classic introduces us to the fictional Pallas Players, a group of strong women dedicated to the adventure of touring theatre. Based on the real-life Osiris Players, who brought theatre into the heart of communities up and down the country between 1927 and 1963, we witness the true story of Whisky Galore through their theatrical, all-female, eyes.
The story unfolds on a simple, yet very effective, stage setting in which the actors themselves unobtrusively shift scenes, as events take place.
It's 1943 and the inhabitants of Scottish islands Great Todday and Little Todday, are suffering a shortage of their favourite tipple, whisky, because the British Government has diverted all stocks to America, hoping for its help during the Second World War.
When a ship runs aground just offshore, the islanders make it their business to "rescue" its cargo - 50,000 bottles of whisky. In true Dad's Army style, Paul Waggett (Isabel Ford) of the Home Guard tries to exert some influence in stopping the "rescue", but it's a losing battle.
Waggett's wife, Dolly (Alicia McKenzie) flits alluringly around the stage and, apart from typing a few letters for her husband, is of no help whatsoever in his quest. Neither is the lovable family dog, Paddy (Joey Parsad), who breaks wind at the most inopportune moments, as well as furrily smothering every guest.
The emphasis is not just on the liquor, though. Two weddings are planned – one between tongue-tied, scared-of-his-mum, George Campbell (Lila Clements) and Catriona Mcleod (Parsad), and the other between Fred Odd (Snow) and Peggy Macroon (Clements again).
At the same time the flirty, peroxide blonde, Annag (Ford) tries her best to bewitch Doctor Maclaren (Mackie) with her obvious talents.
Sally Armstrong as the redoubtable Flora Bellerby, director of the Pallas Players, relates proceedings to us along the way, as well as playing several other roles.
Thirsts well and truly quenched, the islanders are reunited with their favourite drink; at least one marriage takes place and all is well with the world again on Great and Little Todday.
As a seasoned reviewer, I couldn't fault a thing with this production. Every word could be clearly heard, and, as far as I could tell, not one woman on the stage forgot to adopt male postures when the need arose. Even a moustache coming unstuck didn't put them off their stride.
Ladies and "gents", you were magnificent.
Reviewer: Jackie Foottit
Reviewed: 3rd May 2018
North West End Rating: ★★★★★