In the same genre as recent musical adaptations such as 'Dirty Dancing' and 'The Bodyguard', using an extensive and repurposed catalogue of music from the period, this jukebox of the beloved 80's film classic - 'An Officer and a Gentleman' is touring the UK before hopefully heading to London. Written by Douglas Day Stewart and later adapted for stage alongside Sharleen Cooper Cohen, the raw and raunchy story is set in Florida 1982. It tells the story of both autobiographical naval officer recruits and a group of female factory workers at a time when Ronald Reagan sowed the seeds of a new America. These characters collectively, regardless of class and gender, all have their demons and bindings to escape. This production has a gritty examination of these relatable characters but still remains a Cinderella story of 'love conquers all'. We are reminded from the pre-show video projections of all that was 'The 1980's' from popular culture to politics and projections are sued effectively throughout to depict sweeping land and seascapes and flashbacks.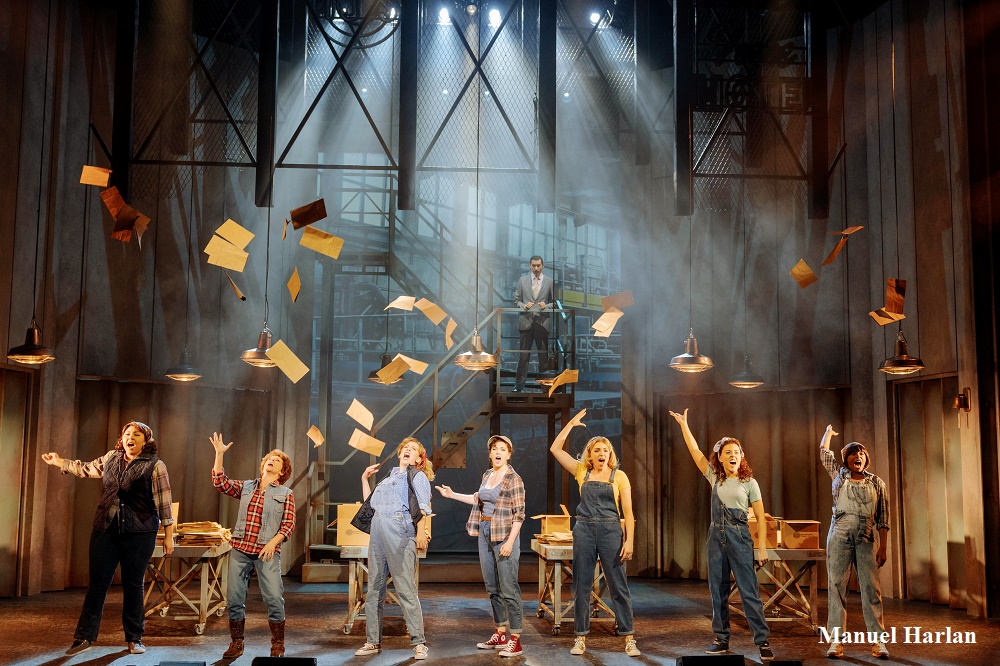 This stage version was 15 years in the making and this is the second attempt. Superbly directed by Nikolai Foster, the staging, technically demanding set (Michael Taylor) and lighting designs are stars in their own rights in this show. The use of moveable steps is exquisite to witness, flawless, slick and prominent. The transitions between scenes of cadet base camp and factory with stops at the bar and bedroom are almost balletic in their fluency. Foster's directing places even scenes with very few performers on stage, into positions of aesthetic brilliance - A master craftsman at work. The choreography by Kate Prince is a real strength of this production and has a more modern edge, I adore the brutal representation of the 'training sequence' with influences of martial arts and boxing to 'Hearts on Fire'. 'Jody Call' is the first time I have seen mathematical equations choreographed to music, wonderful!
The first act 'manages' to simmer along, as extensive back stories are painstakingly relayed but do feel like they drag on just a little too long. But, it is not until the second act that this show delivers the sucker punch. Fasten your seatbelts, it's break neck speed with dramatic and emotional impact, leaving the once shimmering now sizzling with passion, nostalgia and the essential 'feel good factor'.
Once Gere's role, Zack Mayo is now portrayed by Jonny Fines, who adds a brooding interpretation to the scarred character. Fines never fully captures the bad boy charm that is needed, he does however deal very effectively with the demands of this very physical role. His female counterpart Paula Pokrifki is played by the vocal powerhouse Emma Williams. Williams creates just the right combination of desperation, dignity and pride and her rendition of 'Alone' is a show stealer, emotional, edgy and staged to perfection.
The roles of Sid Worley and Lynette Pomeroy are worthy of particular mention, played by Ian McIntosh and Jessica Daley, their hapless lover's story really does rival that of the lead characters and their sincerity and soaring vocals are riveting. One of note is 'Family Man' where McIntosh is tragic and heartfelt. The repurposed 'Kids in America' is exceptional, McIntosh alongside Darren Bennett as Byron Mayo and Corinna Powlesland as Aunt Bunny deliver a pain ridden and perceptive piece of acting through song. An ironic lament of post war Vietnam....Wow!
However, It is the women that steal this show and the big emotive ballads are rightly left to them. From the heart wrenching duet between mother (Rachel Stanley) and daughter (Emma Williams) of 'Don't Cry out Loud' to the female ensemble of delicious harmonies 'It's a Man's, Man's World', the female cast command the stage.
Yes, this show is a little 'cheesy' as times but, it know it. Yes, the gender issues are definitely dated. Luckily the show doesn't end with a 'megamix' and dancing in the aisles, it is better than that. This show is uplifting and loveable, tell me, how can anyone resist the iconic scene of Richard Gere taking Debra Winger in his arms and carrying her off as he saves her from the doldrums of monotony and she saves him right back - all to the soaring 'Up where we belong'? We are not to be denied, so as the final scene unfolds, there's a cheer from the audience... and Fines does not disappoint, in his pristine white naval uniform he appears at the top of the factory stairs, bathed in light... (spoiler) As it's a modern Cinderella story; there's not a white charger in sight; but Williams gets her prince, her Officer and a Gentleman, in a jet plane!
Catch An Officer and a Gentleman while you can.......!
Reviewer: Tracey Bell
Reviewed: 4th June 2018
North West End Rating: ★★★★