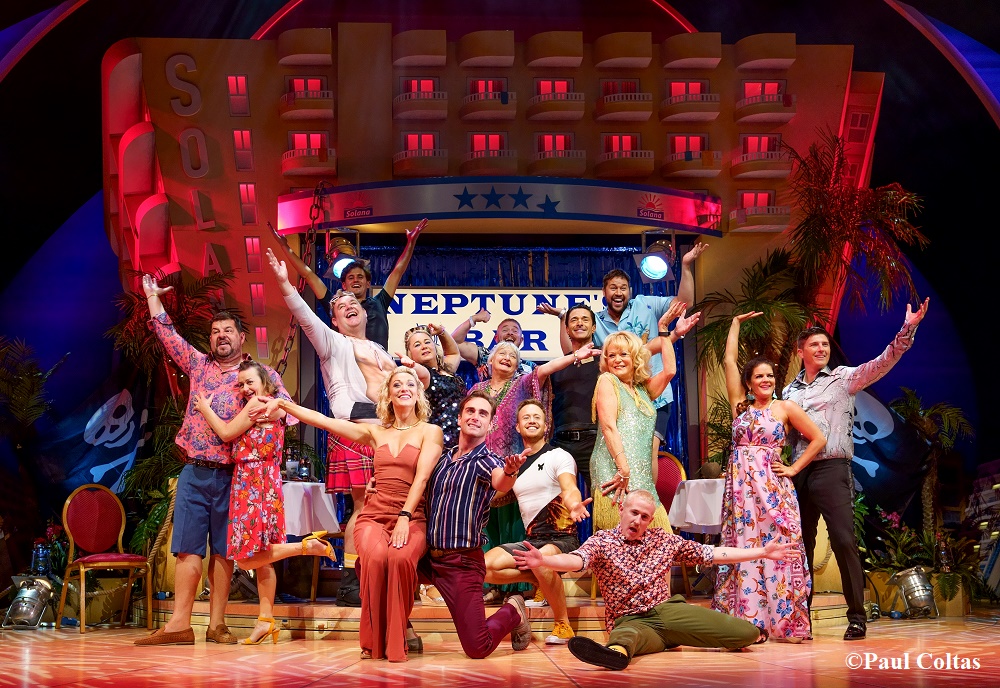 That old saying "You learn something every day" certainly rang true for me on Monday night when I learned that Jacqueline's late husband could fit three fingers into his nostril.
Impressive eh? But not something I'll be trying in a hurry.
The Jacqueline in question is one of the lovable characters in Benidorm Live!, showing at Hull New Theatre this week as part of a national tour.
New escapades of the smash-hit TV series, Benidorm, have been written by Hull man, Derren Litten. And if Monday's shenanigans are anything to go by, theatre-goers will be rolling in the aisles, up and down the country.
I'm a Benidorm virgin, but my theatre buddy sister, Chrissy, never missed an episode on TV and she assures me the stage version is absolutely spot on.
Starring all the original cast members (who each got a huge cheer as they appeared on stage), the show was a riot from start to finish.
Act 1 is set at the (in)famous Solana hotel. The beautifully lit stage was a cheery sight with its glass entrance doors and bedrooms with balconies. One room had the blinds drawn and at one point my sister swears she noticed towels had been draped over some balconies. Cute little touches that meant someone had put a lot of thought into the setting (take a bow Mark Walters).
The show opens with "posh" couple Sophie (Tricia Adele-Turner) and Ben (Bradley Clarkson) turning up at the Solana for a two-night stay. Expecting a luxury 4-star establishment "with facilities", Sophie's disappointment at the 3-star hotel was plain to see … and hear.
Not getting any attention from the desk clerk, "Diego, aka Ricky, aka Ricardo" (Will Jennings) - whose Spanish accent had us in stitches – a loud cheer came from the audience when manageress Joyce Temple-Savage entered to see what the commotion was.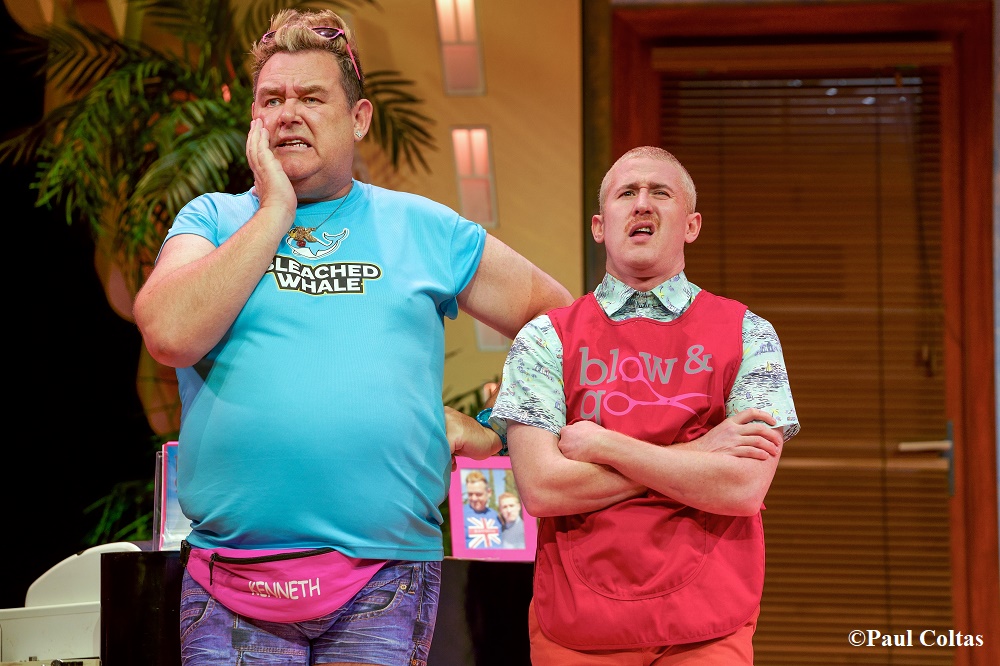 The loud cheer, of course, was for actress Sherri Hewson, who plays the hapless manageress.
Posh Sophie and the trying-to-be-posh Joyce, trade insults from the start, but Joyce has more on her mind than appeasing stuck-up, disgruntled guests – she has discovered there are two hotel inspectors on the premises. And if their report is bad, she and the rest of the loyal Solana staff will be out of a job.
Sophie and Ben being the obvious infiltrators, Joyce sets out to kill them with kindness – free champagne and a £3,000 bribe (out of her own meagre savings) to name just two dangling carrots.
Sherri Hewson is just one of the six main characters that have made Benidorm such a huge success, the other five being Jake Canuso as Mateo, a Spanish waiter and ladies' man; Janine Duvitski as the aforementioned Jacqueline, a swinger who comes out with the most vile, but hilarious, expressions; Shelley Longworth as Sam, a local rep; Adam Gillen as the goofy Liam, son of a transvestite barman, and last but not least, my favourite, Tony Maudsley, as "blow-and-go" hairdresser, Kenneth.
These six seamlessly gel together. With loud, clear voices they bring their TV personas to the stage so perfectly, I never missed a word.
Each character has his/her own little story going on, but there's only one thing on their minds – will the hotel inspectors see them all out of the jobs they love?
With singer Asa Elliott, playing himself, there are songs aplenty – Livin' La Vida Loca and Shang A Lang to name just two; but it was Janine Duvitski's hilarious version of Rubber Ball that brought the packed house down – not just her singing, but her actions.
Jacqueline's friend, "gay Derek" (Damian Williams) also did a grand job with his poetic description of what he'd witnessed at the hotel. I won't reveal how he said the hotel was run, but the last word rhymed with mite.
Act 2, set in Neptune's Bar, sets the scene for the unmasking of the hotel inspector(s). Who will it/they be?
This talented, energetic bunch make entertaining look so easy. The knowledgeable audience revelled in seeing their favourites in the flesh and the stars, in turn, seemed to revel in the well-deserved standing ovation they received, as we all joined in with them singing Viva Espana – what else!
Reviewer: Jackie Foottit
Reviewed: 8th October 2018
North West End Rating: ★★★★