I am lucky enough to see a lot of Theatre, I am also lucky enough to perform in Theatre. It's an environment whereby you can leave your stress and worries behind, immerse yourself in the piece for 2 and a bit hours and just have a bit of 'me time'. What I witnessed last night has to be one of the best pieces of theatre I have seen in a very long time! The Band, the latest in a long line of writing for Tim Firth, was exceptional from start to finish.
I think one of the main reasons it had such a profound effect on me was because I didn't really know what to expect! Well, ladies and gentlemen there is a new stand out show in town. This musical is not what I expected. With the knowledge that the production was written around the music of Take That, I was convinced I was going to see a story about the forming of the household favourites. But that couldn't be further from the truth. The Band is an incredible new musical which celebrates the power of female friendship.
Despite it starting its story in the early 90's, this musical is relevant, it's poignant and it's so relatable to everyone! It's a story about the power of friendship in general. It reminds you just how important friendship is and how they keep you going during the good, the bad and the ugly.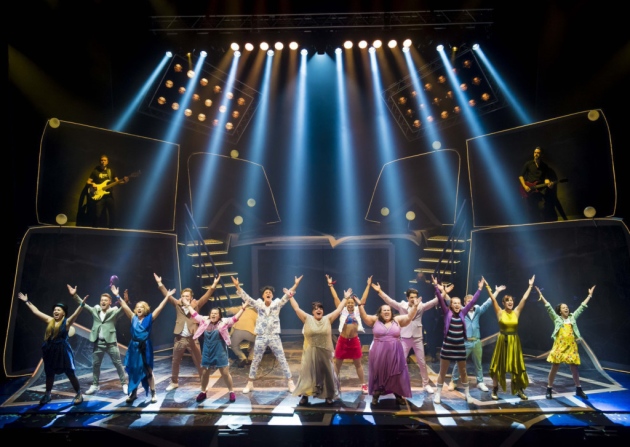 This musical is very pleasing on both eyes and ears, its charming, has a lot of heart and is incredibly funny! I was also delighted to hear that it's landing in the West End in December of this year albeit for a limited run.
The Band takes us on a journey with five 16-year-old girls, Rachel, Debbie, Claire, Zoe and Heather, for who "the band" is their sole reason for being. Having watched them on 'Top of the Pops' the girls go to watch 'The Band' in their first ever concert together. Afterwards, the girls take a trip to their favourite beauty spot. With the stars shining the girls forge a pact to remain 'friends forever'. Sadly, shortly after tragedy strikes and the girls lose touch. Fast forward 25 years and having won a radio competition to go to Prague to see 'The Band' Rachel decides to contact the girls in the hope of rekindling their childhood friendship.
There's a girl everyone can relate to. There is the sweet one –Rachel (Faye Christall) sporty one Claire (Sarah Kate Howarth), the clever one –Zoe (Lauren Jacobs), the boy-mad one – Heather (Katy Clayton) and the music obsessed one – Debbie (Rachelle Diedericks)
The Young actresses playing these roles are all extremely talented throughout. Katy Clayton as young heather is the standout of the five for me. Yes, in Tim Firth's clever writing she receives the lion's share of the jokes and one liners, but it's her delivery which ensures she stands out.
There is a lot of cliché in the dialogue, however, it seems writer Tim Firth is mindful of this and each time it wavers too close to cringe, he reigns it back with a joke or sentiment we're not expecting. This makes it all the more enjoyable.
The band themselves better known as Five to Five, winners of Gary Barlow's Let It Shine which aired on TV in 2017 appear as shadowy figures throughout, which personally I think works extremely well. They occasionally pop up to perform rousing numbers and then fade back into the background and weave their exceptional vocals into the story line.
Standouts of the performance have to be Alison Fitzjohn as adult Claire, Martin Miller as Jeff and Every Dave – absolutely hilarious, and Katy Clayton as alluded to earlier.
The staging of this musical was equally as impressive as the story itself and there was a surprise on every corner, with projection, levels, excellent lighting and impressive choreography.
Is this just another Jukebox Musical to add to the ever growing list? Absolutely not! This is unapologetically British, it's relevant and I'd like to think, will be around for a very long time! The band runs until 20th October before moving on to Wimbledon. Book now whilst you can. 0114 249 6000 or www.sheffieldtheatres.co.uk
Reviewer: Chris Hanlon
Reviewed: 16th October 2018
North West End Rating: ★★★★★