Adapting a hit movie for the stage is always a tricky task especially one as iconic as Rain Man which won Dustin Hoffman an Oscar for his portrayal of an autistic savant taken on a road trip by his feckless brother.
For better or worse, Dan Gordon's adaptation for the newly formed Classic Screen to Stage Company solves that problem by simply offering a virtual word for word and scene by scene recreation of the movie much to the satisfaction of a virtually full house.
If you can't remember this you clearly weren't going to the movies in the 1980s as this was one of the key movies of that era, which the creatives are keen to hammer home with dodgy hair and outfits from that decade, plus contemporary hit songs blaring out for no real purpose.
Brash salesman Charlie Babbitt – played in the movie by Tom Cruise doing his very best alpha male – finds out he has a long lost autistic bother Raymond who inherited $3 million from the dad he hated. His solution to getting his half is to virtually kidnap Raymond taking him on a road trip that changes both their lives.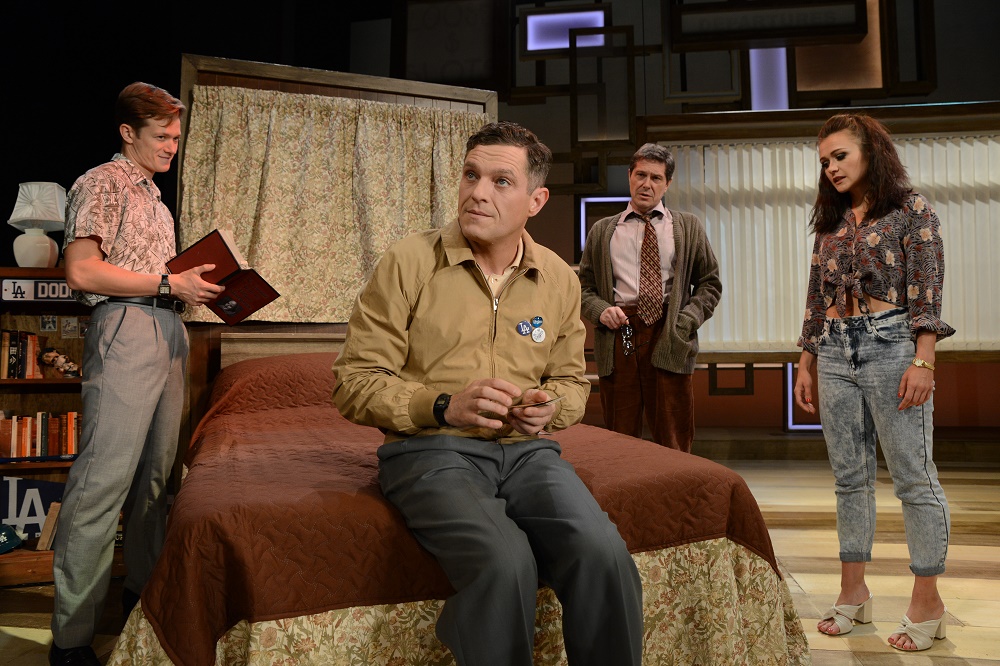 The lack of either a car or the movie's beautiful scenery for the pair to cruise through creates an obvious problem in a theatre, so Morgan Large's simple design simply moves us around a series of rooms as doorways are wheeled on and off, so the cast have to work extra hard to generate some energy.
The biggest problem is awareness of conditions like Raymond's autism have changed dramatically since the 1980s, but if you firmly anchor the action as a period piece then you get attitudes to disabilities from back then. There are plenty of laughs along the brother's journey to something like a relationship, but some of the laughter generated by Raymond's behaviours feels a little uncomfortable.
Initially Gavin and Stacey star Mathew Horne seems a bit too manic, but soon settles in using his comedic experience and confident stagecraft to raise the quietly defiant Raymond above a series of physical and verbal ticks that goes a long way to dispelling the ghost of Hoffman hanging over the role.
Making his stage debut Downton Abbey's Ed Speleers has a lot of work to do as Charlie is the brother who is more obviously showing emotion, which mainly involves shouting through the first half. After the interval he cleverly dials it back subtly playing off Horne as the brothers use Raymond's gifts to make money in Vegas.
Elizabeth Carter had to battle sound problems as she gamely breathed some life into the woefully underwritten Susan, who helps her arrogant, angry boyfriend see his brother Raymond for who he is. The kiss between Raymond and Susan could have been mawkish, but was beautifully realised by Carter and Horner.
You might ask yourself what is the point of all this when you are really just recreating a movie onstage, but the standing ovation at the end from an audience who got exactly what they paid for renders that question redundant.
Rain Man is at Leeds Grand Theatre until Saturday 3rd November. To book 0844 8482700 or www.leedsgrandtheatre.com
Reviewer: Paul Clarke
Reviewed: 29th October 2018
North West End Rating: ★★★