A stage setting of a tumbling dry-stone wall, a wooden gate, distant hills and a massive sky meant we could only be in one place – God's own county, Yorkshire.
This simple, but very effective, scene greeted a packed-to-the-rafters Hull New Theatre on Tuesday night, when the musical Calendar Girls came to town as part of a nationwide tour.
The well-publicised story of a group of intrepid Yorkshire women, all members of the Rylstone and District WI, who set about raising funds after the death of one of their husbands, has been set to music by none other than Take That's Gary Barlow, in collaboration with Tim Firth, who co-wrote the smash-hit movie of the same name.
Let me introduce the seven brave souls who dared to bare on a wild and windy, rain-soaked night in Hull. We have Marie (Fern Britton), Annie (Anna-Jane Casey), Ruth (Sara Crowe), Cora (Karen Dunbar), Jessie (Ruth Madoc), Chris (Rebecca Storm) and Celia (Denise Welch).
After a lively, joyful opening with cast members singing their hearts out to Yorkshire (another year in Yorkshire), the merriment switches to the angst felt by Annie, whose husband John (Phil Corbitt) is having hospital tests for what turns out to be Non-Hodgkin's Lymphoma, an illness he eventually succumbs to.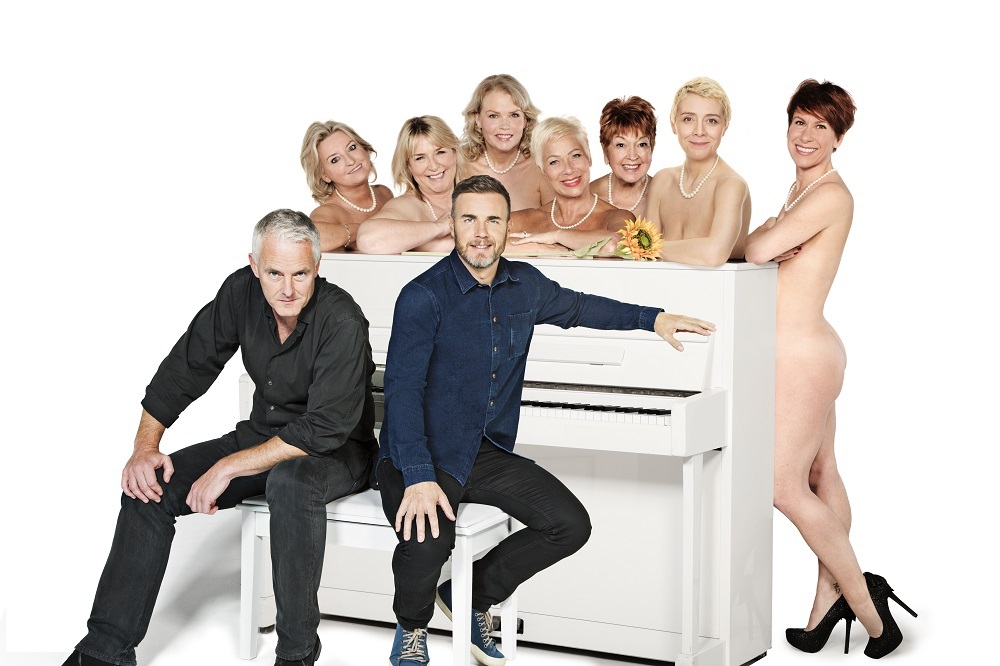 Because of their time spent at Skipton hospital, Annie mainly in the waiting room, the idea of raising funds for a sofa to be placed there in John's memory, culminates in the nude calendar idea (after much soul-searching and frivolity by all concerned, it has to be said). And the theme of sunflowers, John's favourite, runs throughout.
Although the first half centres around John and his illness, and Annie's reaction to it, it is by no means mournful. It's only as John's condition deteriorates and begins to show in his physical appearance, that reality kicks in. His "funeral", where he stands up from his wheelchair, puts his flat cap on his head and walks through a gate, is so cleverly done, and quite moving.
Things liven up in the second half, as plans for the calendar get under way.
The women start to question everything about what they are about to do. Secrets come out, and confidences are shared – in Celia's case she sang it out loud in the very funny I've Had A Little Work Done, which brought the house down. Bravo, Denise Welch (Miss July … "and August").
Ruth Madoc's face is a picture when, as Jessie, she is handed two large balls of red wool – her props for the calendar.
Fern Britton as the group's stuck-up leader played her role so perfectly, I laughed at every word she uttered. But the really laugh-out-loud moments came courtesy of the inhibited Ruth. The sight of a vodka-soaked Sara Crowe (Miss November) staggering around the stage before stripping off, was simply hilarious.
I must mention the three lovelorn (make that lust-lorn) teenagers who had some of the funniest lines – take a bow Tyler Dobbs as Tommo, Danny Howker as Danny and Isabel Caswell as Jenny. I loved it when they appeared on stage.
The actual calendar shoot was the highlight of the show, of course, and not much was left to the imagination. Good on 'em.
This isn't a fussy production; it has a village hall feel to it. There are no flashy stage props, no glittery costumes (well, no costumes at all in one scene); just a heartfelt true story shot through with every kind of emotion – many we can identify with.
Although totally different characters, the one thing these Yorkshire gals all have in common is a determination to overcome their embarrassment, husbands' negative feelings and fear of what others may think, to pay homage to John, a much-loved village member; to lift his widow out of the deep grief she has sank into, and to raise money to help find a cure for the leukaemia that killed him.
I take my hat off (but that's all), to everyone involved in this entertaining production, including the talented musicians in the orchestra pit, whose music enhanced, but never overshadowed, events on stage.
Hull New Theatre played its part, too, in cheering us all up on a dark, wintry night. Around every corner we were greeted with a huge vase of sunflowers (fake, but this is November) - a sight to gladden anyone's heart.
Running until Saturday, November 24th, 2018. Tickets from £19.50. Call (01482) 300306; visit www.hulltheatres.co.uk
Reviewer: Jackie Foottit
Reviewed: 20th November 2018
North West End Rating: ★★★★