I first saw 'Ghost' in 2011 when it made its world premiere in Manchester. I was blown away by the special effects, by the soaring powerful score and the truthful and touching performances. It had the audience in both laughter and tears and left you feeling uplifted. It managed to stay true to the charming 1990 classic without being cheesy; Bill Kenwright's UK tour achieves none of those things.
'Ghost' follows a young man named Sam whom after being shot and killed remains on earth to solve the mystery of his murder and to protect his girlfriend Molly.
The show feels cheap, lazy and seems to have an astonishing lack of attention to detail. The set is clunky and unimaginative, most of the special effects are just abandoned. The props are rushed and show a real lack of time or thought. Sam's portrait which plays quite a vital role in the show, for example, was clearly just an actor's headshot placed into a garish gold frame.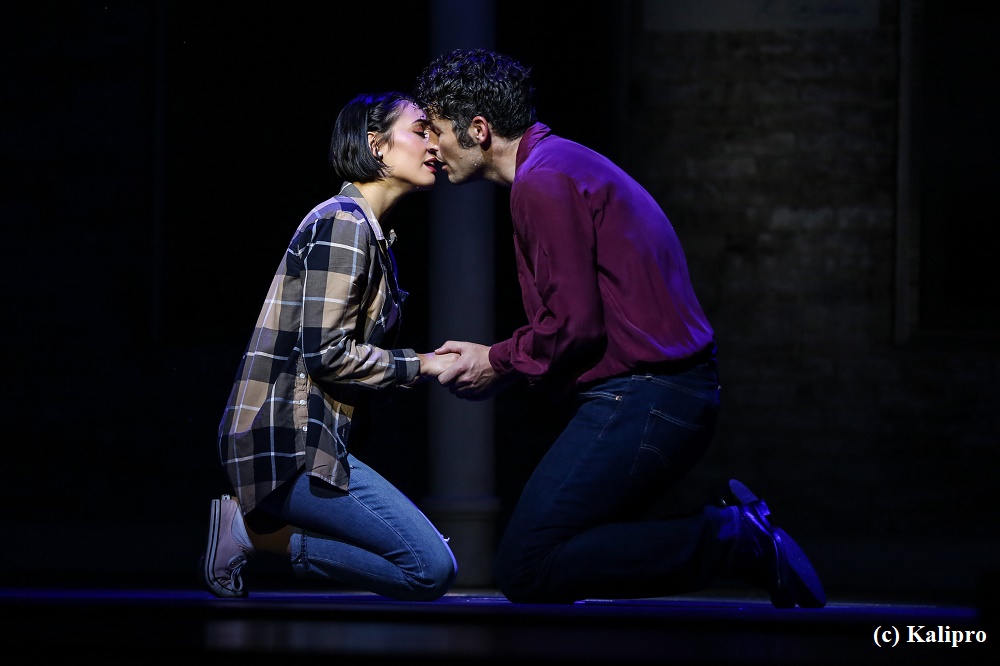 The costume is unflattering and on some of the actors seems to fit badly. The show's design as a whole is incoherent. From the gauze curtain at the start which bares the lyrics to the film's anthem "Unchained Melody" to the swirling star gobos which whizzed around the stage, this production had cheese written all over it. It almost felt like it had been changed for a regional audience into something which felt more like a film tribute than an epic standalone musical.
Bob Tomson's direction was loose and at times quite bizarre and the choreography even though basic was often out of time and messy.
Even though some of the cast clearly had talent, the three principles Rebekah Lowings, Niall Sheehy and Sergio Pasquariello as Molly, Sam and Carl especially with stunning vocals from all three, any authenticity drowned in this tacky production. Lowings and Sheehy had very little romantic chemistry and Pasquariello's death felt almost farcical.
Jochebel Ohene MacCarthy and Chanelle Anthony were stand outs amongst the rest of the cast but the general energy on stage was flat.
In the final scene of the musical where Sam finally departs for the afterlife ripples of laughter were rumbling through the audience due to bad direction and strange blocking. I have seen Ghost 3 times and this is the first time the scene hasn't moved me to tears never mind laughter.
I cannot help but feel angry. This is a great show, the book and music speak for themselves. Yes, it can be a hard show technically, but I have seen this performed on a far lower budget by an amateur company with more love, care and attention paid leading to a far more successful and moving show. With people paying £40 a ticket this feels like another example of a show being churned out for financial gain presenting regional audiences with a far lower quality performance than you would receive in London.
I can only hope that the people of Sheffield are paying to go and see the amazing fresh work coming out of theatres like The Crucible and Theatre Deli which allow them to be excited and inspired by live theatre rather than this.
Reviewer: Rita Bryce
Reviewed: 15th January 2019
North West End Rating: ★★