Hilarious nonsense and high-wire pratfalls abound in this delightful comedy at the York Grand Opera House, brought to you by Mischief Theatre (written by Henry Lewis, Jonathan Sayer, and Henry Shields) and Tour Directed by Kirsty Patrick Ward. The production is lavish and lots of fun, piling on both the nostalgia for those who love classic American heist stories and the elements of farce with over-the-top physical comedy, with musical interludes and impromptu puppeteering.
Career criminal Mitch Ruscitti (Eddy Westbury) plans to escape from prison and pull off a once-in-a-lifetime jewel heist in the bank of Minneapolis with his loveable and very camp associate Neil 'Coop' Cooper (David Coomber). Fortunately for them, the bank's security is shambolic, managed by the geriatric and idiotic Robin Freeboys (Damian Lynch), his put-upon secretary Ruth Monaghan (Ashley Tucker), and his hapless, sixty-five-year-old intern Warren Slax (Jon Trenchard). What's more, Freeboys' wayward daughter Caprice (Julia Frith) is Mitch's former lover, offering him a way into the bank. But things get complicated when Ruth's own pickpocket son Sam (Sean Carey) falls for Caprice, with much hilarity and many cases of mistaken identity.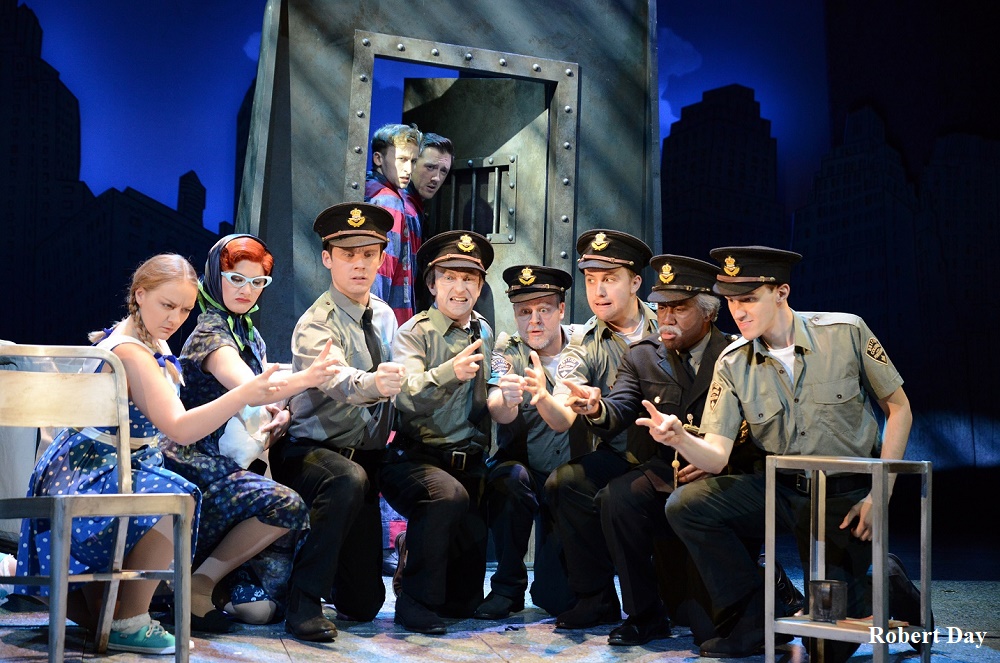 Quite simply, this is a seasoned and brilliant production. It takes risks it doesn't have to and should be applauded all the more for doing so. The cast works amazingly well as an ensemble, with each performer trading quick-fire barbs and witticisms with absolute confidence. What's more, each member of the cast clearly relishes their caricatured and over-the-top role. It's difficult to single anyone out for praise, as the entire cast is superb. However, Seán Carey brought an insane amount of energy and warmth to the character of Sam; Damian Lynch's Freeboys always brought a laugh whenever he was on stage; Jon Trenchard played what could have been a rather pathetic character with hilarious sympathy and comic timing; and Ashley Tucker as Ruth was understated but effective, with an enchanting singing voice. What's more, George Hannigan was outstanding, playing every other role, imbuing each character with its own personality and displaying a gift for physical comedy. In addition to this wonderful cast already mentioned, a special mention must also go to Eddy Westbury for playing the 'straight man' - a much more subtle and in control character surrounded by physical farce.
The lighting and set design were also fantastic and did an excellent job of disorientating the audience to the point of making them readjust their perception. One high-wire sequence where characters were literally climbing the walls was visually spectacular, as was a more understated scene in which two characters were underwater. The production team deserve an enormous amount of praise for coordinating the actors' movement and for making the atmosphere of the play so believable while remaining comically absurd.
This is usually the part of the review where criticisms are mentioned, but there really isn't anything to criticise about this production. If you go the theatre expecting an evening of comedy drama, or perhaps more of a Wildean comedy of manners, then you might be disappointed. But even then, the sheer joy of the production will likely overwhelm you and you'll leave with a smile on your face. Simply put, it's a joy from start to finish, and is essential for anyone who simply wants a fun night out at the theatre.
Reviewer: Amanda Hodgson
Reviewed: 5th February 2019
North West End Rating: ★★★★★