Playwright John Godber wrote the final version of Bouncers in 1984 and it's been doing the rounds, and winning awards, ever since.
And I'd never seen it until Wednesday night, when four likely lads performed it at Hull Truck Theatre.
This updated version has been rebooted by the author, with a younger cast, and inclusions such as Instagram and selfie, along with more modern music, all being more pertinent to today's tastes.
We were under the scrutiny of the cast long before the play started – they walked among us in the audience, scrutinising, glaring and looking quite scary. It was quite exciting, I must admit.
The stage setting – well, there wasn't one, really – did nothing to give me a hint of what was to come. I mean what can you glean from two metal crowd barriers?
As the Bouncers of the title menacingly strolled on to the stage, the atmosphere lightened when they started dancing – one even flossing. That set the tone of the night, which ended up with me wishing I'd worn waterproof mascara.
The four – Judd (Peter McMillan), Ralph (Lamin Touray), Les (Duncan Riches) and Lucky Eric (Frazer Hammill) – kept a packed theatre thoroughly entertained.
They were drunken lads on the razzle; they were drunken girls on the razzle. They were bouncers. They were posh toffs, off their heads with drink.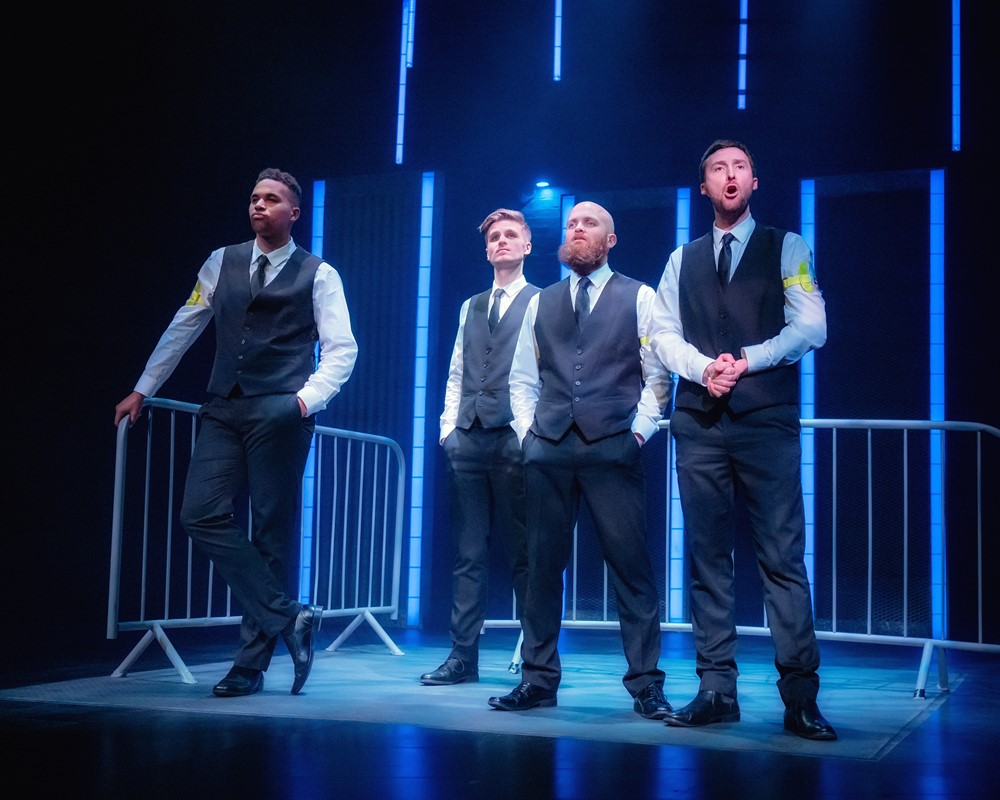 And in one absolutely hilarious scene, two of them were the stars of a porn movie, as a Swedish housewife and her late-night punter, Nobby.
But every now and then – four times to be exact – Lucky Eric stood in the spotlight and the fun atmosphere changed as he spoke of how he really felt at what he witnessed during boozy club nights. Young girls, acting and dressing much older, letting men slobber all over them; over-30s on "grab a granny night" desperately trying to attract the opposite sex; a young girl, totally drunk in a pub, being pawed, kissed and ravished in full view of everyone in the pub, who did nothing to stop the leering perpetrators.
They were all scenarios most of us would abhor, but just as we realised this fun-loving prankster was actually serious, he was back to his jokey ways … and the shenanigans continued.
The four bouncers brought to life all the people who frequented their club and the pains they went to, to look their best. As the girls, they were being preened in a hair salon. As the men, a trip to the barbers was in order.
Their version of the lads' pre-club drinks was very funny. I cringed at their performance at the urinals – too much information. But I couldn't help but laugh.
These were working class lads, but even funnier were the posh chaps from "St Luke's", demanding to be let into the club.
It was here that I nearly lost it. The bouncer nearest to me was Judd and I swear if I hadn't been among the public, I would have kicked my legs in the air with laughter, especially when he announced: "I pwedict a wiot."
As a posh git he was hysterical and from then on he was my favourite character. Although looking nothing like him, his facial expressions really reminded me of the late comic actor, Kenneth Williams.
To my mind, the whole premise of the story is that Judd, Ralph, Les and Lucky Eric are bored out of their minds, standing out in the cold, night after night. So people watching – well, women watching – is their main preoccupation.
Looking smart in their dark trousers and waistcoats, they wield the power over club-goers – deciding who gets in and who is rejected. But when the club closes at 4am, they are back to their sad, ordinary lives. Nobodies once again, until they don their bouncer uniforms.
And it all starts again that night.
With voices loud and clear, this very talented cast of four, on a practically bare stage, gave us all a very entertaining insight of what I'm sure is still happening in clubs up and down the country. I loved it – couldn't fault a thing.
Running until Saturday, February 16th, 2019; 7.30pm nightly with 2pm matinees on the 9th, 13th and 16th. Tickets from £12.50. Call (01482) 323638; visit www.hulltruck.co.uk
Reviewer: Jackie Foottit
Reviewed: 6th February 2019
North West End Rating: ★★★★★