A Bill Kenwright production of the legendary film of the same name beckons you to put on your 'Boogie Shoes' and join them at the 'Disco Inferno'. The story is set in Bay Ridge, a coastal area of Brooklyn where the 19 year old, good looking Italian-American Tony Manero has a dead end job in a paint store. On a weekend he heads of to'2001 Odyssey', a local disco, in his sleek, figure hugging white suit to be king of the dance floor, admired by all. His talent is bigger than his environment but his fear keeps him from pursuing his dance future. The story focuses on the competition for Tony's affections between two girls during a dance competition.
The Grammy award winning soundtrack to the film by the Bee Gees became the bestselling movie soundtrack of all time and the stage show is dominated by this with iconic songs such as 'Tragedy', 'How Deep in your Love' and 'Jive Talking'. In the production, the Bee Gees themselves are seen on stage on a raised platform above the onstage action.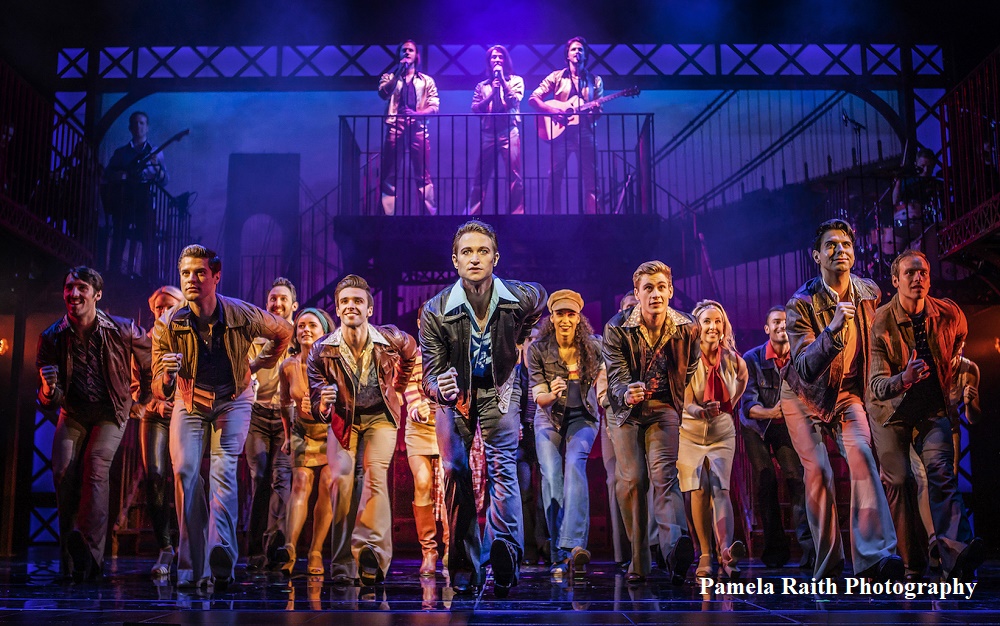 Their vocals are flawlessly true to the originals and you could be forgiven for thinking that 'Barry' Edward Handoll, 'Maurice' Alastair Hill and 'Robin' Matt Faull were miming, however they weren't. The set itself transformed from house to disco, dance studio to paint shop at breakneck speed and was very ingenious in design with a basic structure of moveable metal staircases and gantries.
The story of Tony Manero stayed true to the film but in a somewhat watered down version, thus making way for a massive array of ensemble dance numbers that did become quite repetitive. The show, at times, as a feel of a tribute act, although I understand this highlighted the importance of dance in Tony's life it also did not allow us to follow the story of the characters. Tony's character played by Robin Windsor was the only one written to expose any depth, whilst the other characters disappointingly never had a through story to fully engage the audience. Windsor can without doubt dance but he lacked the charisma and sinuous, yet streetwise, persona of Tony and seemed to sneer his way through the show. However, his solo dance at the end of the second act was a beautiful piece of storytelling. The standout performance for me had to be Kate Parr in the role of Stephanie Mangano. She was sassy and fierce with scenes of exquisite vulnerability and her dance skills were stunning. 'What Kind of Fool' was a heartfelt rendition with Parr and the 'Bee Gees'.
The ensemble worked very hard in this production and several other cast members really caught my eye, Javier Cid in the role of Caesar, both mesmerising in role and standout in the dance numbers and Rhianne Alleyne, a beautiful dancer who really owned the stage even during ensemble numbers. and their dance duet at the competition was electric. I have to make a special mention of Faizal Jaye playing DJ Monty, who had the audience totally in the palm of his hand and stole the show from his DJ platform with his snakelike hips and velvet voice, more than once. A real hit with the ladies!
In reflection, whilst this show has a great foot tapping 70's soundtrack, expertly sung live on stage and copious amounts of nostalgic dance numbers, in my opinion it lacks something, not from the performers but from the writing. The scenes seem to jar and the dialogue particularly in the first act seems almost tokenistic and an interruption to the dancing. I went along as a fan of the film really hoping to be blown away and I left feeling like I had seen an almost cabaret tribute band. A very good, no expenses spared tribute band. This show really does need to equalise the dance with the story to fully engage its audience. In an era when it seems very much in vogue that films are made into stage shows, some are more successful in this transition than others. 'Ghost' and 'An Officer and a Gentleman' are great examples of this, where the writing maintains its integrity but unfortunately 'Saturday Night Fever' in my opinion falls short.
Reviewer: Adele James
Reviewed: 26th February 2019
North West End Rating: ★★★