Tremendous. Very smart. Fantastic. No complaints. Big hands. These are all words which Donald Trump has used to describe himself, and they also apply to this wonderful satirical musical based on the self-regarding (to put it charitably) personality of the 45th President of the United States.
The year is 2020 and The Donald is up for re-election. To boost his poll numbers, he plans a visit to his old friend King Nigel Farage of England, who plans to sell off Scotland and its golf courses to Trump. Meanwhile, a dejected Vladimir Putin is drinking vodka alone in the Kremlin, feeling slighted that Trump hasn't returned any of his phone calls and plans to get revenge. A spanner is thrown into the works, however, in the form of Kimmy, the North Korean dictator who just loves launching nuclear missiles at the West. Events soon spiral out of all control (and sanity) and the Donald is forced to consider that maybe he isn't the greatest, most smartest person in the world after all… or is he?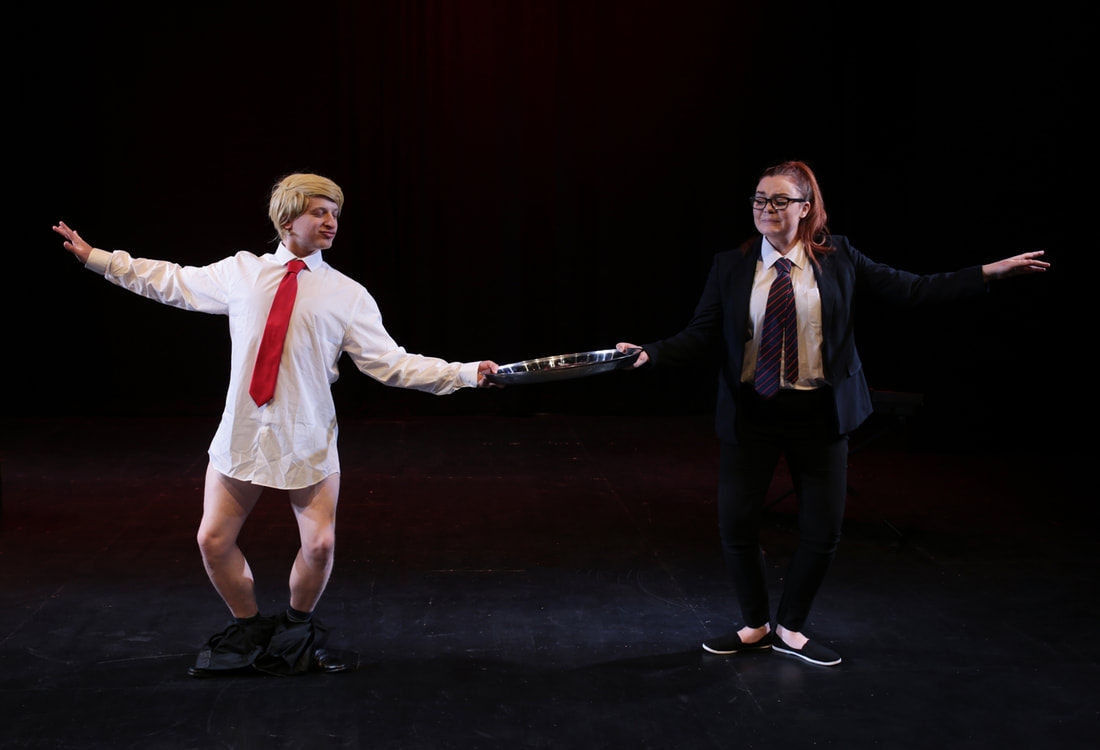 You would be forgiven for approaching Trump The Musical with some apprehension. So much satire has been produced at the expense of The Donald in the past few years that it would be easy to go for the most clichéd jokes and do a passable impression of the man himself. However, to say that the production surpasses these expectations would be a tremendous understatement. Once you turn off your political brain and realise that you are entering an alternate dimension that doesn't try to be realistic, full of absurdist humour, insane plotlines and wonderful music, then it's easy to be swept away on a tidal wave of horrifying fun.
While the plot is minimal and doesn't technically make sense (not that it matters) this is overpowered by the stellar performances. Every member of the cast is energetic and confident, giving themselves completely to make the insanity of what is transpiring seem believable and emotionally grounded (this is especially important in later/scenes, which involve Trump on the toilet and Nigel Farage in a gimp mask).
Polly Bycroft-Brown gives an assured performance as Trump, making a gender reversal seem entirely natural. Similarly, James Ringer Beck is hugely sympathetic as Rod, Trump's hapless new press secretary and witness to his increasingly disgusting acts, but who serves in the administration because he has a touching faith in democracy and American values; Beck creating a very engaging and all-round quirky captivating character. However, it is Natasha Lanceley (Putin and Kimmy) who steals the show (or should that be the election?), embodying both her characters with a dynamic energy and natural charisma that left this reviewer rootin' for Putin!
The set design was minimal to non-existent, but this mattered not a jot. The cast did such a credible job in performing the various set pieces, that any added scenery would only take away from the experience. This was more than compensated for by the inventive use of lighting and, in particular, the music that transported the audience to the White House, Trumpingham Palace, and the Kremlin. Special credit must be given to musical director Dominic Lo, who not only performs musically throughout but multi-roles as various henchmen. The song lyrics are infectious ('It's Putin!' is an impressive earworm) and the audience left the theatre humming along.
In sum, audiences everywhere should ignore the fake news and vote with their feet for this fantastic piece of absurdist musical theatre. If you leave feeling disappointed, then you probably voted for Crooked Hillary.
Reviewer: Amanda Hodgson
Reviewed: 2nd March 2019
North West End Rating: ★★★★★