The 2001 movie starring Reese Witherspoon was initially a novel by Amanda Brown, which was partly based on her experiences at Stanford Law School. After several film sequels, the 2007 musical version was born; as we know it; premiering on Broadway and it was with this that the story was given a new lease of life.
Don't be fooled, his story has a strong underlying moral, disguised as heavily as the lead character herself. It follows Delta Nu sorority girl, from UCLA, Elle Woods and her efforts to wear the engagement ring of the college dreamboat Warner Huntington 111. Elle loves fashion, shopping, small handbag sized dogs named Bruiser, Oh! and the colour pink. After a romantic evening with Warner, instead of the expected proposal he tells Elle she isn't 'serious' enough and breaks up with her. Warner states that as he will be attending Harvard Law School he needs a more substantial girlfriend who will help him succeed! Elle prepares her own application in an attempt to win him back. Her application is anything but conventional but she is accepted into Harvard. Once there, she is looked down on and laughed at, humiliated and ostracised. Enter Emmett Forrest, the assistant to Prof. Callahan and the only person to show Elle any kindness.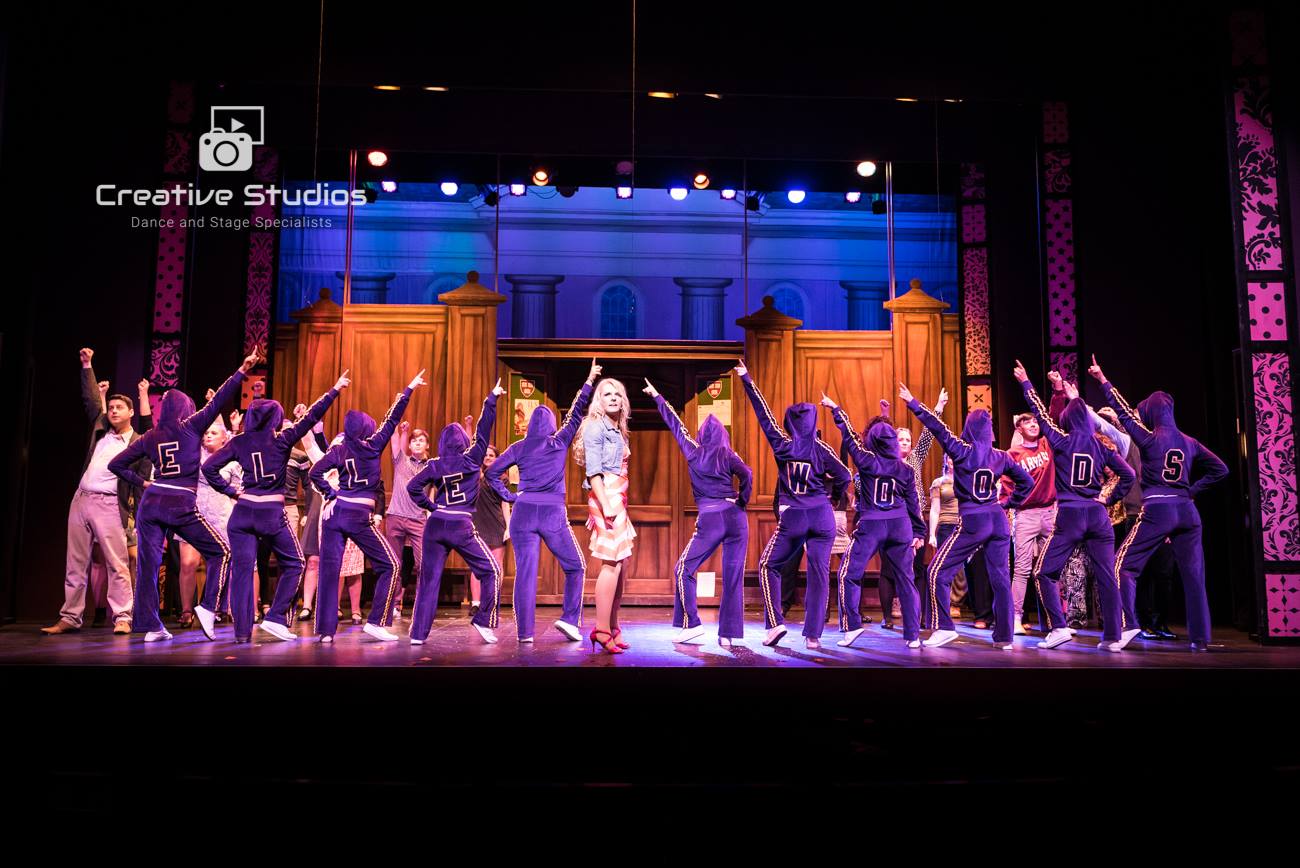 Whilst Warner takes another 'more appropriate' girlfriend to boost his chances, Elle does all she can to win him back, to the point of obsession. Emmett, Paulette (the hairdresser) and her Delta Nu sorority friend's aid in Elle's realisation that she needs to win Warner's respect and she sets about proving her perceived worth in the field of law. What Elle has is instinct, that can't be learned... and to find out what happens you need to see the show. No spoilers here!
I was delighted to be at the wonderful Cast theatre once again at the invitation of the Doncaster Stage Productions to see their opening night of Legally Blonde, directed by Amy Coates. After watching DSP's production of 'Sister Act' last year I knew I was in for a treat and I was not disappointed in the slightest. The cast of Legally Blonde was predominately new but to my delight I was able to spot a few familiar faces. Trish Lampard and Frances Lister once again made me smile, so much obvious love for the stage.
The set was impressive and elaborate with flying scenery that took us from Law school to Court room, Shopping mall to Elle's 'pink' room but it never detracted from the story. The costumes were perfectly in keeping with the piece and no expense was spared. The lighting design was unobtrusive and added to the ambience well. There were a few gremlins with the microphones, popping and interference but this can be almost expected on opening night with a short set up period.
The role of Elle Woods was played with great energy and vigour by newcomer Megan Leigh Bassett. Her vocals were on point and her characterisation developed beautifully to show some much needed depth to the role, an impressive performance. The Delta Nu sorority girls were all sassy and well drilled and credit must go to choreographers Sue Teale and Gemma Wigham for some wonderful routines and Ian Gude for the Musical Direction. The large band under Gude's direction sounded great, if a little too loud drowning out the vocalists initially, but that was quickly rectified and the lyrics were much clearer afterwards. I do have to make a special mention of the mesmerising Hannah Kennedy in the sorority sister role of Margot, this young woman is electric - what a talent! She pulled my attention whenever she was on stage with her stunning vocal and great stage presence - a pocket dynamite! Add Sarah Powell as Pilar and Skye Fretwell-Parker as Serena and this trio were very strong. A further mention must go to Samantha Scott, an unnamed ensemble member with great sass and focus, a very beguiling young lady in performance. Chris Webster as Emmett Forest was a delight, his sincerity and soaring voice made him an instant hero with the audience and Jack Hodgson as Warner Huntington III played the superficiality of his character to perfection. Kyle O'Boyle as Brendan Culshaw was a class act and oozed professionalism as well as providing the 'eye candy' for the female cast and audience! A strong accomplished performer and so nice to see professional and amateur performers sharing a stage. His new found love Paulette Bonafonte is played by Ria Westhead with a great rocky musical theatre voice and real strength as a character actress.
My two favourite production numbers in the show had to be Brooke Wyndham's (played by Emily Wallbank) version of Whipped Into Shape. This young lady has great gusto and flexibility!
But the crowd pleaser of the night had to be the fabulously politically incorrect 'Gay or European', this scene was played to perfection and Stephen Snaith and Jack Poskitt were hilarious, I haven't laughed that much for a long while in the theatre! Thank you for that DSP!
So if you haven't got tickets yet what are you waiting for? I can promise you 'DSP's Legally Blonde is a great evening's entertainment that will leave you questioning your own perceptions of people and just maybe it will make you take time to look a little deeper next time. There isn't a weak link in this 5 star cast and it goes to prove local theatre is very much alive and kicking! I will definitely be seeing DSP's 'Our House' - the Madness musical in March 2020, it's one of my favourites!
Thank you the Cast theatre and DSP for a wonderful evening once again.
Reviewer: Tracey Bell
Reviewed: 28th March 2019
North West End Rating: ★★★★★