Cast your minds back to the year 2000 when the movie Billy Elliott was breaking box office records at cinemas worldwide. Do you recall the finale, where a grown-up Billy (dancer Adam Cooper), now a trained ballet dancer and resplendent in feather trousers, leaps into the air while performing in Swan Lake at a London theatre?
Well, when Matthew Bourne's Swan Lake came to Hull New Theatre on Tuesday night, I counted at least 14 feathery-trousered "Adam Coopers" on stage – talk about ballet heaven!
The skeleton of the original story, composed by Pyotr Ilyich Tchaikovsky in 1875-76, remains the same – a Prince falls in love with a swan and, as you can imagine, happy ending it ain't.
Well, the Prince in this 21st century version, still falls in love with a swan, but the swan happens to be male (cue the above-mentioned feathered trousers, swoon).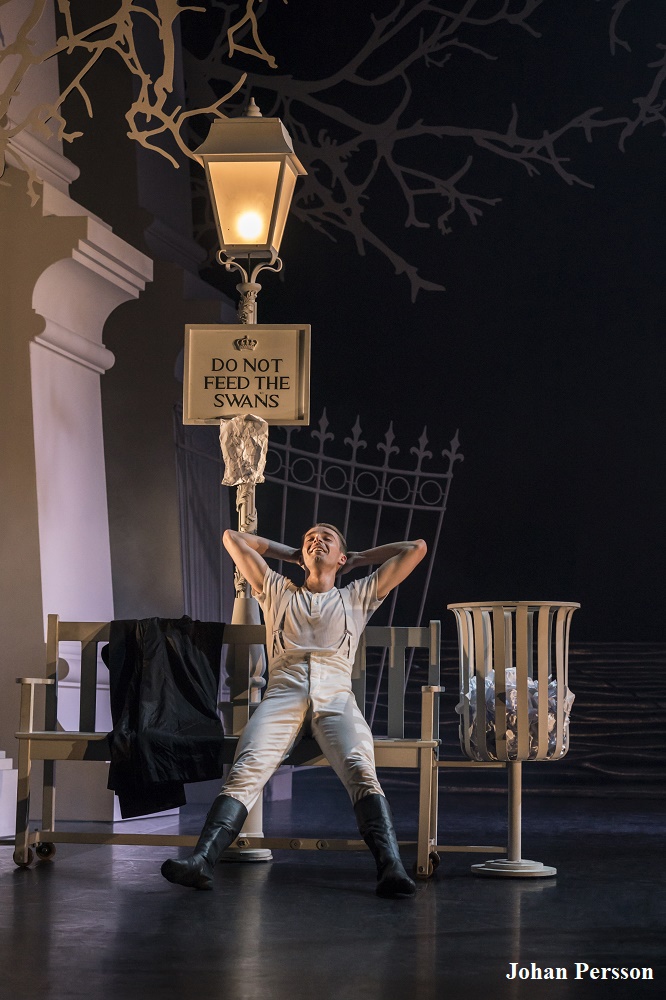 Liam Mower* as the Prince, did his home city of Hull proud. His acting often bettered his dancing – no mean feat, this boy can dance!
Max Westwell plays the male swan (or cob – I Googled) who steals the Prince's heart - and what a team these two make, the magnetism, attraction and tension between them, at all times, mesmerising.
Of course, this being ballet, no words are uttered – but who needs words when Tchaikovsky's fabulous music is playing in the background (according to the programme the music had been recorded by the Swan Lake orchestra, conducted by Brett Morris).
As well as the music, the amazing stage setting, lighting and costumes to die for were the icing on an already too-scrumptious-for-words cake. Nothing could have been bettered in my opinion.
Acted out in four scenes, the first and the last feature the Prince's bedroom, where he first sees the Swan in his dreams. Events in his life from then on sees him perplexed, frightened and bewildered, much to the worry of his mother, the Queen (Nicole Kabera, who looked stunning in everything she wore; her dancing was just as beautiful).
After her, her courtiers and her Private Secretary (Glenn Graham) witness the Prince's very strange behaviour (involving the Swan who only he can see at times), he leaves his mother no choice but to have him undergo electric shock therapy.
This new production of the timeless classic, amused me more than any ballet I've seen before – and I've seen plenty. Comic touches, too numerous to mention them all, ran throughout – in actions and facial expressions.
The Opera House scene was a hoot, thanks to the shenanigans of lovely Katrina Lyndon as the Prince's girlfriend. Her antics in the royal box are really amusing, especially when her mobile phone rings at a crucial moment during the production of The Moth Ballet, being played out on the Opera House stage. We all looked around to see which idiot had left their phone on!
And the antics of the Moth Ballet dancers themselves, many resplendent in the most beautiful winged costumes, made us laugh out loud. Wonderful stuff.
Despite this modern version maybe detracting us by incorporating events in a seedy nightclub, a city park and a busy street, the underlying topic remains uppermost in our minds – the relationship between the Prince and the Swan.
Well-documented ballet history tells us they are doomed, but the final scene, though traumatic, reveals a happy ending of sorts – though not in this world.
Although everyone on stage gave us a night to remember, the two stand-out performers in this unforgettable production are Liam Mower as the Prince and Max Westwell as the Swan.
Their incredible dancing aside, both exude the perfect characteristics of their roles. Liam effortlessly portrays the Prince as boyish, troubled, unsure and innocent, while Max oozes menace and confidence as the Swan. Well, they say opposites attract.
Matthew Bourne could have been accused of meddling with a classic, but to my mind he has enhanced the original with this classy version.
I loved every single feathery minute, as did everyone in the packed theatre who stood, en masse, shouting for more, reluctant to let this super-talented bunch leave the stage.
*Liam Mower is currently scheduled to perform on Thursday, April 25th, 2.30pm; Friday, April 26th, 7.30pm and Saturday, April 27th, 7.30pm. However, the appearance of any particular artist cannot be guaranteed.
Running until Saturday, April 27th, 2019; 7.30pm nightly with 2.30pm matinees on Thursday, 25th and Saturday, 27th. Tickets from £17.50. Call (01482) 300306 or visit www.hulltheatres.co.uk
Reviewer: Jackie Foottit
Reviewed: 23rd April 2019
North West End Rating: ★★★★★