After years of watching touring versions of creaky old whodunits from the last century, starring people you vaguely remember from the telly, it was something of a relief that this modern supernatural thriller was making its way to Leeds.
Based on the best-selling novel by the prolific Peter James, former ad man Ollie Harcourt moves into a rundown Georgian pile on Cold Hill with his wife Caro and teenage daughter Jade. Before long it becomes clear that this is a house with dark secrets and things are probably not going to end well.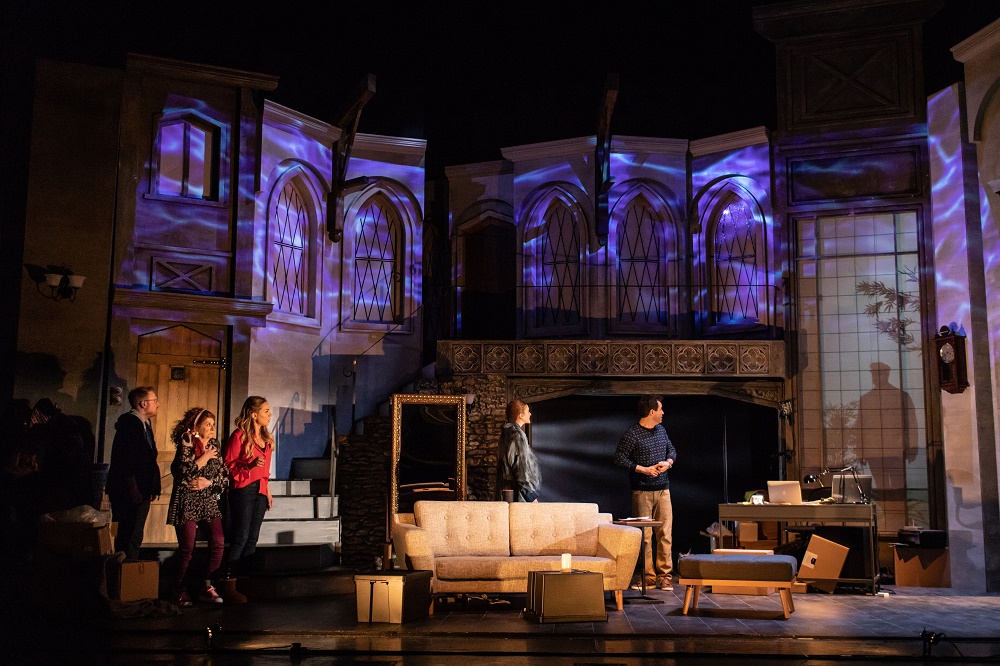 In a tepid first half Shaun McKenna's adaptation is clearly based on a novel as there is far too much attention paid to the faults in the house, including the porch where a previous owner met a grisly end, and not enough spooky stuff despite the family's Alexa having some sort of paranormal breakdown. To be honest the biggest chill was finding out the local builder was charging Ollie 47 grand to put in a damp course.
Things do pick up in a much pacier second half as Ollie, Caro, Jade, the local priest, the village mystic and a geeky ghosthunter are drawn into the quest to find out who, or what, is causing all the mayhem around them as Alexa squawks away spookily. The cast make the most of a big set and some decent special effects that do add to the rising tension. The producers have asked that no-one reveals the twist, but it is a good one that left the audience satisfied.
In keeping with the contemporary feel the cast are strong performers you actually know. Strictly winner Joe McFadden handles the gear change from cocky ad man to terrified dad with great skill. Former Eastender Rita Simons is used to scary stuff and monsters after years on Albert Square, and utterly convinces as the tough lawyer Caro.
Persephone Swales-Dawson makes the tricky move from teen drama Hollyoaks with confidence essaying a suitably insolent Jade, and another refugee from the East End Charlie Clements is nicely twitchy as geeky Chris.
If you want something genuinely theatrically creepy then The Woman in Black sets the benchmark, but a strong cast worked hard to send chills up the spine without sending anyone running for the exit in terror.
The House on Cold Hill is Leeds Grand Theatre until Saturday 4th May. To book www.leedsgrandtheatre.com or 0844 8482700.
Reviewer: Paul Clarke
Reviewed: 30th April 2019
North West End Rating: ★★★