Our House - The Madness Musical is based on a book by Tim Firth and very much takes it inspiration from Willy Russell's Blood Brothers and the romantic comedy Sliding Doors. Originally premiering on the West End in 2002, it went on to win the Olivier Award for Best New Musical in 2003. Using a back catalogue of the ska band Madness as its starting point, the reggae rhythms and emotive lyrics drive the storyline.
This morality tale juxtaposed with hilarity and charm follows the story of Joe Casey, a north London schoolboy who is about to turn 16 and step into the consequences of his own decisions. Whilst taking his girlfriend Sarah out on a 'special' date, he breaks into a block of newly built flats to shelter from a storm. As the police arrive Joe is left with a decision that could take him down two very different paths in life, dependent on his actions at that very moment. Does he surrender or run? Hence, the body double work is deployed; Good Joe and Bad Joe; as we, from this point on, see the split narrative run parallel on stage. It must be said that the storyline can become preachy and contrived at times, particularly with the frequent appearance of Joe's father as a ghost lamenting his son's choices.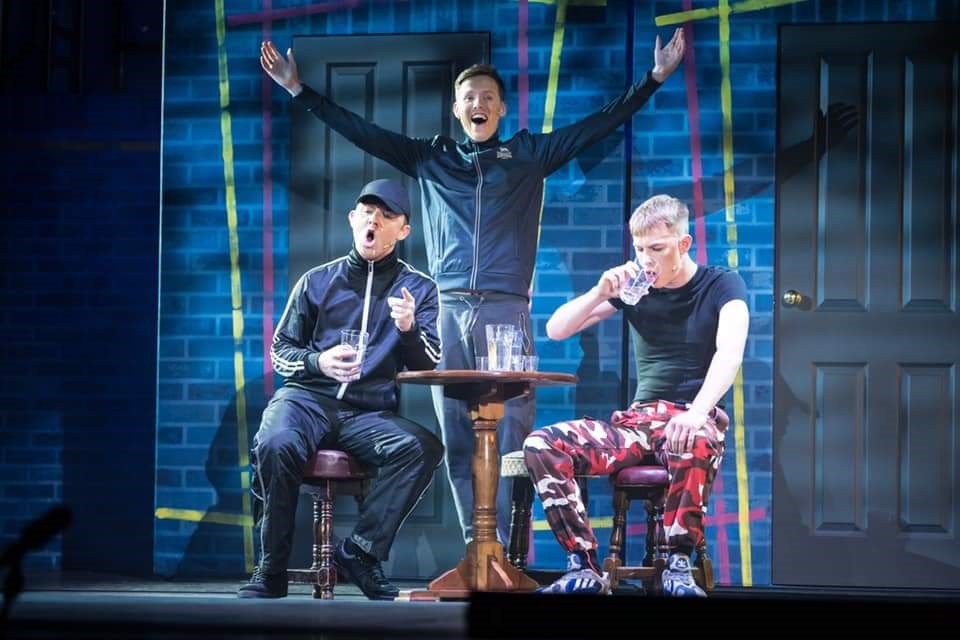 But, the major problem in Our House is that the switch between the two scenarios doesn't always translate to the audience and they become understandably confused. All that said, The Manor Operatic Society tried hard to overcome this inert problem by using the obligatory colour coded costume for Joe, of white for the right path and black for the wrong path, and by marking each moment of transition the audience, sat around me, eventually understood the significance. A massive well done to all in pulling of a beautifully staged and flawless switch at the end of Act one which left the audience aghast.
A sterling job by Director/Producer Richard Bradford and Director/Choreographer Linda Kelly in pulling together and giving the audience a raucous and coherent show that goes 'One Step Beyond'! The 8 piece band under the direction of Andy Collis sounded fabulously authentic, if a little too loud in the first few scenes but that was quickly rectified. I loved the band wearing the Fez's at the opening of Act Two 'Night Boat to Cairo', it's all these little touches that make up a wonderful evening of entertainment.
The set was a joy to behold with sliding flats, a full sized Morris Minor and a splendid 70 foot moving walkway that worked perfectly to sustain and feed the ever changing scenes, 25 in the first act alone! So what did I really like about this production? Where do I start? The ensemble were electric and on par with many professional casts, they were energetic, slick, involved and full of vim and vigour and deserved their place on the big stage. Big numbers such as Baggy Trousers, Our House and Wings of a Dove were simply breathe taking, great attack, I felt tired watching them! It was a delight to see the pure fun and enjoyment and this was contagious as the audience soaked up every moment. If this is the state of play for amateur theatre and young performers, then amateur theatre has a secure future!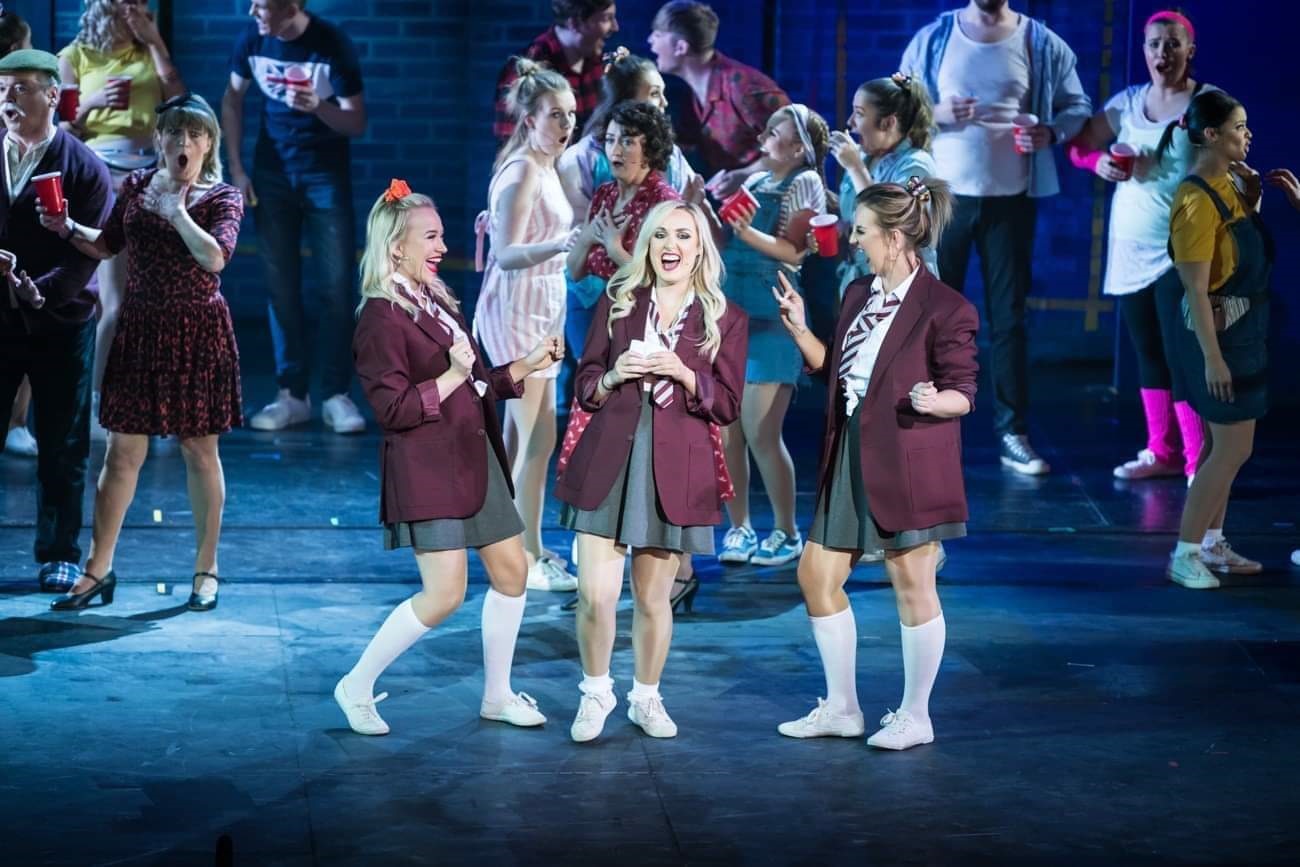 In this show, so much rests on the shoulders of the main character Joe Casey and James Smith was the absolute stand out performer tonight at the City Hall, Sheffield. This young man has great presence on the stage and is totally secure in the role, his London accent never wavered and his pacy delivery was done with crystal clarity, the audience never missed a word or gesture. Impressive and assured and probably one of the best performances I have seen on the amateur circuit for a long time. A mention must go to Conner Povey as Joe's body double for his some slick diversion tactics and sleight of hand.
Simon Hance was commanding as Joe's Dad and had some very touching duets with Smith. Joe's girlfriend, Sarah, was played believably sweetly by Emily Mae Hoyland and her rendition of NW5 was sincere and heartfelt. 'It Must be Love' on the park bench with Joe was another wonderful moment for this young actress. Jack Skelton and Digory Holmes in the roles of Joe's not so bright, lovable friends Emmo and Lewis were very strong in role and they found the perfect place to never upstage but to always support. Their comedic timing and physical comedy was right on the money and they had the audience eating out of their hands. Great skills from these two young men. Chris Hanlon as Reecy was suitably menacing and more than a touch unstable. Kirsty Taylor and Emma Flanagan as Billie and Angie, Sarah's sassy mates, gave us some comedic moments but their accent and pitch at times meant we unfortunately missed some of their hilarious one liners. Another character I feel compelled to mention is Liam Gordon as Callum, great Scottish accent and his Uncle Shabby was a hilarious cameo, I would like to see this young man take on a bigger role in future as he is definitely one to watch out for.
It was heart-warming to see that the Manor Operatic Society were collecting for a local - soon to be - charity, giving back to the community that supports them, I believe that this is something that should remain at the heart of local theatre.
I really enjoyed my evening with The Manor Operatic Society's Our House performance, I left smiling, humming, reminiscing and genuinely happy that we have such talent in our area both on and off the stage. If you haven't got tickets for this show you really are missing out! Go grab some now it would be Madness to miss! https://www.manoroperatic.com/
Reviewer: Tracey Bell
Reviewed: 15th May 2019
North West End Rating: ★★★★★