It seems inconceivable that in living memory 25000 mothers a year were forced to give up their babies for adoption for the sin of not being married and Be My Baby focuses on four teenagers about to undergo this ordeal.
This remains one of the most performed plays around because we recognise the wrongs done to Mary, Queenie, Norma and Dolores who find themselves exiled in a church run mother-baby waiting to give birth under the watchful eye of Matron.
Amanda Whittington's text is tackling class as much as reproductive rights as Grammar School educated Mary tried to hold onto to her baby in the face of her middle class parent's fear of social humiliation, and a brutal The Handmaid's Tale like world where unwed mums with no support are forced to give their babies to the privileged without so much as a cuddle. Queenie, Norma and Dolores from the lower classes are more resigned to what is coming, but as the play goes on no less heartbroken by it.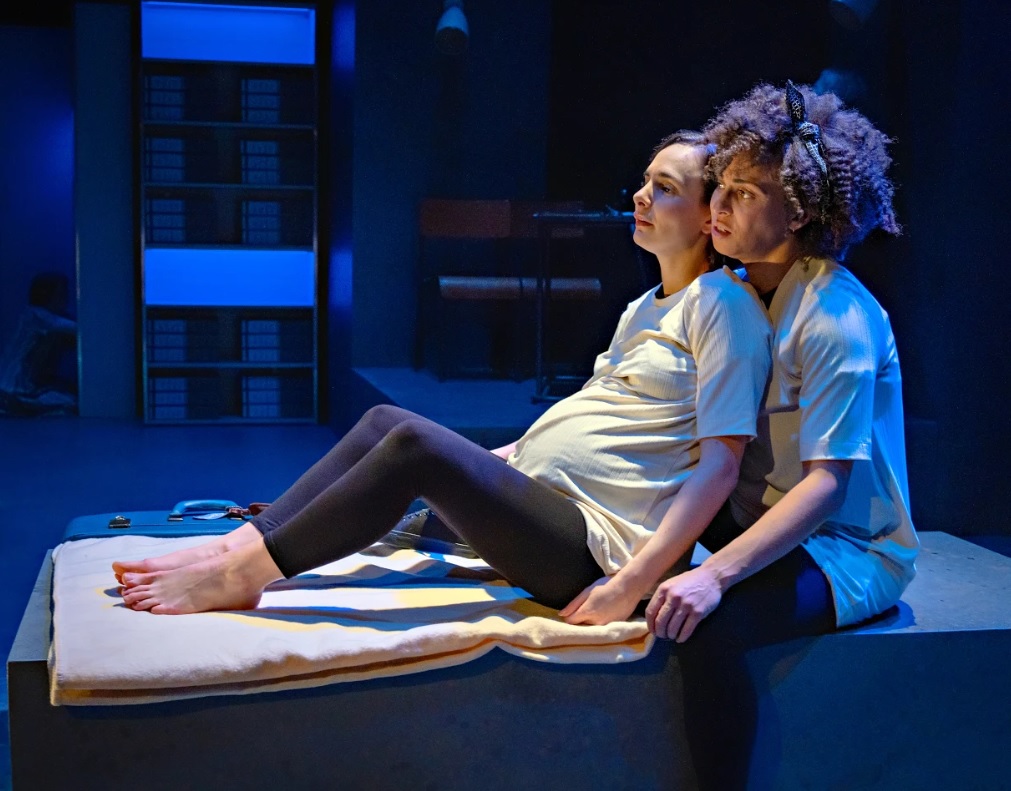 Jacqui Honess-Martin's said she didn't want her production to feel rooted in the 1960s, which Amanda Stoodley's typically stark set based on the women's cell like rooms does, but it would be disingenuous to report that it is not of that period, especially as the cast regularly belt out sixties hits by Dusty, The Supremes and most poignantly The Ronettes' Be My Baby. It is a neat twist to have the cast sing these classic tunes that really exposes their pain rather than just playing them on Mary's Dansette.
That this feels like a period piece is no bad thing as it is reminder that this is becoming the age of Gilead where men want to drag women back to a sexual dark age where these sort of outages were committed in the name of a vengeful god.
This is the final show in the Playhouse's pop theatre performed by the female members of the ensemble brought together to work in this space and they switch between a group of teenagers bonding and having fun in the worse of circumstances before the shadows come rushing in on their due date. Crystal Condie's streetwise Queenie is a compelling mess of contractions switching from bravado to vulnerability, and she can certainly belt out a big number.
Mary is a tricky role as her superior attitude and naivety about the system despite her education can grate, but Simona Bitmate digs under the surface to show a girl blind to her fate, and her agony as she gives birth is utterly convincing. Tessa Parr who was a memorable Hamlet in this space shows her lighter side as dreamy Dolores who perhaps has the most horrifying backstory.
Mind The Gap's Anna Gray does well to seamlessly slip into this well-established troupe, and when her Norma rampages round the home searching for her lost child it is gut wrenching. The vastly experienced Susan Twist resists the temptation to go all Nurse Ratched instead showing a Matron who in her own way is as trapped as her young charges.
It will be sad to see the end of this interesting space where Playhouse creatives have done wonders in making an old warehouse work, and this often funny, sad and pertinent play is a fitting way for the ensemble to bid farewell after a successful year of at times transcendent work.
Be My Baby is at Leeds Playhouse until June 1st. To book www.leedsplayhouse.org.uk or 0113 2137700.
Reviewer: Paul Clarke
Reviewed: 16th May 2019
North West End Rating: ★★★★