Little Miss Sunshine is a widely popular film about a dysfunctional family and their efforts to get their daughter, Olive, to the Little Miss Sunshine competition. It is now a musical written by James Lapine and William Finn and it is currently enjoying its UK premiere UK tour.
Emmerdale's Mark Moraghan plays Grandpa Hoover and he gives an excellent performance. He is likeable and funny, he has a fantastic singing voice and he has an excellent on stage relationship with the other characters. Lucy O'Byrne, who came into the public eye when she took part in The Voice, gives a stunning performance as Sheryl Hoover. Her on stage relationship with Olive is particularly heart-warming and her vocals are sublime.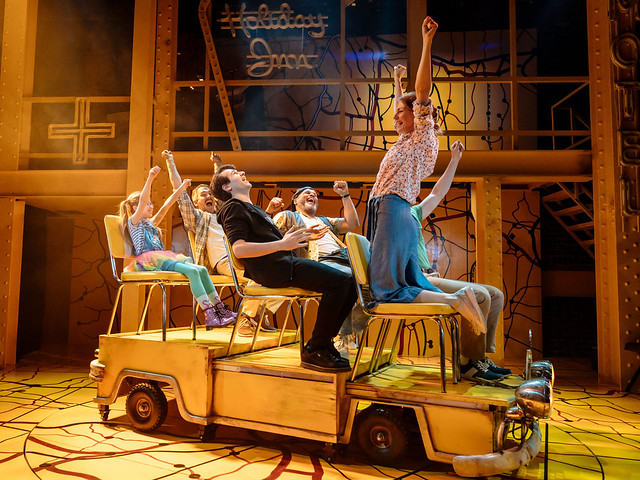 Gabriel Vick makes a great Richard Hoover. His big number in Act 2 is particularly heartfelt. Paul Keating is also wonderful as Uncle Frank. The character is very human and very flawed and Keating portrays this brilliantly. His rapport with Sev Keoshgerian as Dwayne Hoover is extremely believable. Keoshgerian is phenomenal as Dwayne. He is fully immersed into his character and makes an incredibly believable teenager. His performance is made even more impressive by the fact he doesn't speak until about half way through Act 2.
Evie Gibson, Lily Mae Denman and Sophie Hartley Booth share the role of Olive Hoover and for this performance we had Evie Gibson. She was a true star. She is completely at ease on the stage and she has a huge amount of energy. Her voice is fantastic and she immediately has the audience in the palm of her hands.
This show also has a phenomenal ensemble cast. Ian Caryle as Larry and Buddy is great to watch. He gets plenty of opportunities to showcase his wonderful vocals. Imelda Warren-Green is hilarious as Linda and Miss California and her vocals are impressive, even if intended to be comedic. Matthew McDonald is fantastic as Frank's former lover Joshua Rose and gets to showcase his lovely singing voice. He is also hilarious as Kirby – one of the highlights of the show. Alicia Belgarde, Scarlet Roche and Elena Christie are brilliant as the Mean Girls. They have so much energy and they work very well together. It did look slightly strange having adults competing against young actress Evie Gibson though.
The only issue with this production for me is the transitions. There is quite a large number of black outs it feels like and something a lot more creative could be done in these moments I'm sure. This didn't detract from my overall enjoyment of the show too much though. Anthony Whiteman's choreography is fantastic, despite there not being much of it and David Woodhead's design is simple but works wonderfully. The simplicity of this show works very well for this show. It feels intimate and it is refreshing to see a show that doesn't have huge dance numbers and big set pieces. It is a show that is fully grounded in the story and characters rather than the spectacle.
The show is on the road until September so be sure to catch it this heart-warming, feel good, no strings attached production at a venue near you!
Reviewer: Jacob Bush
Reviewed: 9th July 2019
North West End Rating: ★★★★