When you open any dictionary and look up the word Cult the definition should be 'Rocky Horror Show.'
Over the last four decades the ultimate cult show has become something of an adult panto as the audience raucously join in with the antics of insane cross-dressing scientist Frank-N-Furter holed up in a remote mansion conducting bizarre experiments surrounded by his coterie of oddballs. Along come all American couple Brad and Janet who are drawn into his web of corruption.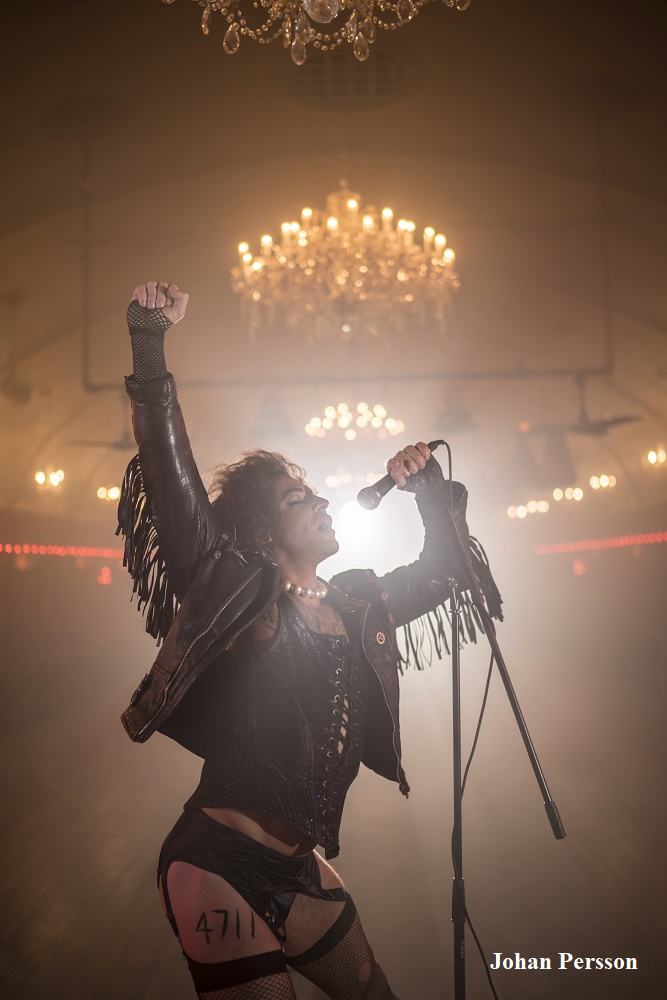 It all sounds terribly serious, but Rocky Horror is a riotous, tongue in cheek pastiche of 1950s B movies as the cast play it wonderfully 'straight' despite the barrage of shouted out interventions from the stalls. Richard O'Brien's score is a spot on collection of rock and roll numbers, plus some big showstoppers, that have stood the test of time.
As usual the Leeds branch of the fan club were out in force wandering around the theatre dressed as a variety of show's menagerie of characters from Frank to his sidekick Riff Raff, who seemed especially popular, including one brave soul in a skimpy pair of gold lame hot pants in a tribute to Rocky himself.
Over the years those diehard fans have become an extra cast member and this audience were particularly lively adding to the mayhem shouting out insults and jumping up mid-way through the first half for a vigorous bop to 'The Time Warp'. The long-suffering Narrator tries to keep things rolling, but even the witty Kristian Lavercombe, who has been in this show over 1400 times as Riff Raff, was wrong footed by some of the quickfire quips fired at him. Not that he cared as he knows more than anyone how vital a spiky audience is.
This show needs a charmingly sleazy Frank and former boyband stalwart Duncan James does enough to keep the faithful happy. His singing is as you would expect strong, especially on a raunchy 'Sweet Transvestite', but he does suffer from a wandering accent sometime Chicago gangster, and then off to Tim Curry's more urbane English tones in the classic movie. The director should have a grip on this by now.
World champion dancer Joanne Clifton is rapidly making the transition to the stage after winning the Strictly Glitterball offering a perky Janet tackling the infamous bed scene with great gusto, and has a strong voice belting out a sparky 'Touch-a, Touch-a. Touch-a, Touch Me'. Champion gymnast Callum Evans is totally ripped as Frank's creation Rocky, and his bulging pecs, deltoids and biceps deserve a credit all of their own.
Set designer Hugh Durrant was one of the hardy 65 audience members sitting in the Royal Court Upstairs for the show's world premiere in 1973, and has clearly poured his heart and soul into creating a schlocky film themed set for the small cast to run riot in.
Rocky Horror is most of all about celebrating difference and being yourself exemplified when Frank sings 'Don't Dream it, Believe it'. In some ways forty plus years on you might think O'Brien's trailblazing call for tolerance and acceptance of different ways to be seems unnecessary in a more enlightened time, but in the current climate it seems scarily relevant.
The diehards would sniff out an inferior version of a show that is such a central part of their identity, so the standing ovation at the end says more than any review.
Rocky Horror Show is at Leeds Grand Theatre until Saturday 24th August. To book www.leedsgrandtheatre.com or 0844 8482700.
Reviewer: Paul Clarke
Reviewed: 20th August 2019
North West End Rating: ★★★★