Everyone associates Saturday Night Fever with white suits and John Travolta pulling his moves on the disco dancefloor, but it was actually a gritty movie that tackled some big issues beneath the glitz.
It is to the producer's credit that in telling the story of Tony Manero onstage they haven't ignored the movie's focus on racial tension, casual misogyny, toxic masculinity, suicide, domestic abuse and even a priest who has lost his faith. Without those elements Italian American Manero's journey from Brooklyn hardware store employee to champion dancer wouldn't be such a satisfying theatrical experience.
Former Casualty star Richard Winsor plays Tony, and there is no disguising the fact he is somewhat older than Travolta was, which does raise the question is this is a coming of age journey, or a more redemptive path for an older man? That said the charismatic Winsor does capture Tony's legendary cocky strut, and as a former lead dancer for Mathew Bourne brings precision and meaning to all the moves, no matter how cheesy.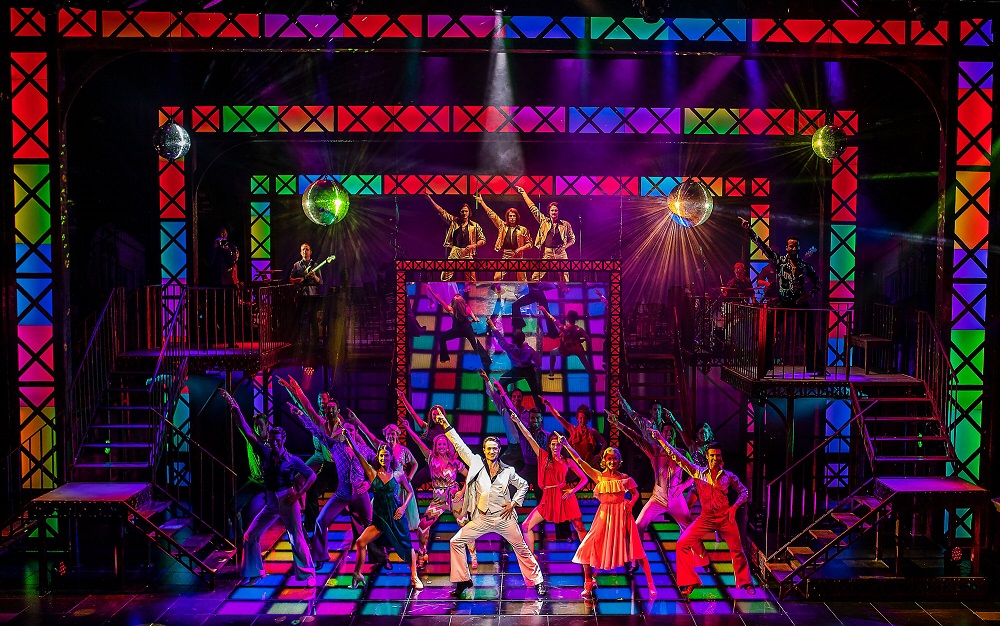 He is a dream casing for Olivier winning choreographer Bill Deamer, who throws plenty of balletic moves in between the classic arm pointing and discos shuffles.
The key to making this show work is Tony's challenging relationship with his dance partner Stephanie Mangano, who is often a victim of his unreconstructed views on women. Luckily there is real chemistry between Winsor and Olivia Fines who offers a haughty, but troubled deep down, Stephanie. Their duet on the mighty More Than A Woman is exquisite.
The other star of this show are the songs which rise way above the jukebox musical simply because the Bee Gees are three of the greatest songwriters of all time. All the Bee Gees classics are here, as well other nuggets from the best-selling soundtrack track of all time. Full marks to Jake Byrom, James Kenneth Haughan and Danny Knott for capturing the distinctive vocals of Barry, Maurice and Robin.
There is something visceral about watching a big gang of trained dancers go through their paces on the group routines, and although Deamer has clearly set a high bar every one of the ensemble executes some complex moves with precision and sass. On the acting side Melody E Jones invests a dignity in Flo Manero trying to cope with her drunken husband, a son leaving the priesthood and Tony's rampant ego. Will Luckett brings pathos to Tony's lost mate Bobbie C whose solo is the appropriate Tragedy.
Gary McCann's big set craftily combines the grime of seventies Brooklyn with the flashing squares of the dancefloor, and legendary impresario Bill Kenwright's direction doesn't pull its punches when it must have been very tempting to just focus on the glamour of the dancefloor.
If you like the X rated version of Saturday Night Fever then this show will work for you, but if you're a fan of the less raw PG version then you can just ignore the social realism sitting back to watch high quality dancing to some of the greatest pop songs ever written.
Saturday Night Fever is at Leeds Grand until Saturday 31st August. To book go to www.leedsgrandtehatre.com or 0844 8482700.
Reviewer: Paul Clarke
Reviewed: 27th August 2019
North West End Rating: ★★★★