Anger, irritation, pity, shock, fear, amusement, horror and disbelief were just some of the emotions I experienced at Hull Truck Theatre on Tuesday night, when The Beauty Queen Of Leenane hit the stage.
Billed as a "dark comedy", it was more dark than comedic. The comedy came in fits and starts, but there was a constant vein of something dark running underneath, throughout.
Taking my seat early gave me the opportunity to marvel at the wonderful stage setting of an old-fashioned country kitchen. A realistic fire flickered in the old stove and a cheap wooden dresser displayed, among other paraphernalia, brown Hornsea Pottery items.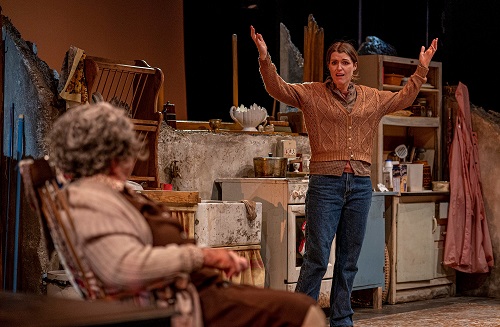 An old chair stood beside the stove; a small TV, a table and chairs and a patterned lamp added to the atmosphere, as did the amazing and lifelike rainstorm towards the back of the stage (the programme tells me this was created by Andy Bubble of the Royal Exchange, Manchester).
Set in the mountains of Connemara, County Galway in the west of Ireland, the story tells of 40-year-old Maureen Folan (Siobhan O'Kelly), a frustrated and lonely spinster begrudging every nano-second she spends looking after her ageing mother, Mag (Maggie McCarthy).
The couple argue continuously and, at first, we can sympathise with both their circumstances. That soon changes, though, and it's Maureen we start to feel sorry for.
Mag is so relentlessly demanding – the first 10 minutes or so had her moaning non-stop about the lumps in her Complan drink. Thinking about this afterwards made me realise how fantastic it was that a storyline about a milky energy drink could keep an audience enthralled for so long. But at the time it was Mag's actual nagging, not what she was nagging about, that made my blood boil.
Poor Maureen, I thought, but that was soon to change.
Seventy-year-old Mag spends most of her time sitting in her chair by the stove. Obviously, not in good health, her badly scarred right hand, according to Maureen, had happened when Mag, after her daughter had stormed out after yet another argument, decided to cook some chips, and scalded herself with the hot fat. Hmm.
When the pair are invited to a do to say farewell to a villager who is going back to America, Maureen spends £40 on a beautiful dress. Next time we see her she looks stunning, heading out wearing the very short, off-the-shoulder black number, her hair loose and sexy.
She returns late at night with a, gulp, man in tow. Local man, Pato (Nicholas Boulton), works in London, but has come home for the leaving do.
Maureen, a virgin, invites him to spend the night with her, and I'm sure we all thought "OMG, what if Mag finds out?".
Well, we didn't have to wait long, because the next morning, as Mag sits waiting for Maureen to get up and make her porridge and Complan drink, who should swagger in but Pato. He gallantly makes the old woman's porridge and drink, and as you can imagine, the pair's conversation is stilted.
I assumed Maureen would creep in, shamefaced, but did she heck as like. In one of the funniest scenes of the whole play, she makes a very grand entrance. I won't spoil it for those yet to see the play, but it will make you laugh out loud.
Pato, a genuinely nice man, reveals to Maureen he has always thought of her as The Beauty Queen Of Leenane. The increasingly neurotic woman takes umbrage at this description and the pair part on bad terms.
Pato does, eventually, write and entrusts his younger brother, Ray (Laurence Pybus) with delivery of his letter – making him promise to place it into Maureen's hand and no-one else's.
The tension really mounts when Ray calls at Mag's cottage only to find Maureen out "feeding the chickens".
Several times the wily old woman almost gets her hands on the letter. I honestly daren't look at times, knowing that she would probably read it, then burn it, ruining any chance of her daughter having a happy life.
Events after this is where the aforementioned horror part of my emotion got an airing. I couldn't believe what I was witnessing and all my sympathies shifted from the downtrodden daughter to the manipulative mother. And I completely understood why she had treated her daughter so.
This supremely talented foursome of Maggie McCarthy, Siobhan O'Kelly, Laurence Pybus and Nicholas Boulton kept a packed house thoroughly engaged with their shenanigans. With their loud, clear voices, every word could be heard. Of course, this was Ireland, so that country's lovely lilt took precedent.
And one shocking scene, in particular, will stay in my mind for a long time. This is theatre at its very best.
Running until Saturday, October 26th, 2019, 7.30pm nightly, with 2pm matinees on October 12th, 19th, 23rd and 26th. Tickets cost from £10. Call (01482) 323638; visit www.hulltruck.co.uk
Reviewer: Jackie Foottit
Reviewed: 8th October 2019
North West End UK Rating: ★★★★★