Yorkshire's best writer Kay Mellor is on a mission to turn her TV hits into theatre pieces, but this is a risky revival of a gritty tale that attracted 15 million viewers back in the day when there were only four channels making stars of its A List cast.
Mellor spend months in Bradford's red light district and that meticulous research resulted in working women Rose, Carol and newcomer Gina who ply their age old trade in an informal brothel run by kept woman Anita. Thrown into the mix of this tough life on the streets in post Ripper 1990s West Yorkshire is a murder of one of the women.
Mellor is too clever a writer to just deliver a Ken Loach style misery fest so as well as believable dialogue from the women - who only aspire to find a punter who 'doesn't smell' - there is plenty of black comedy along the way. There is a hilarious scene where kinky punter Curly - wonderfully played by veteran Steve Garti - dons rubber gloves to get his kicks with Carol to huge guffaws from a really engaged audience.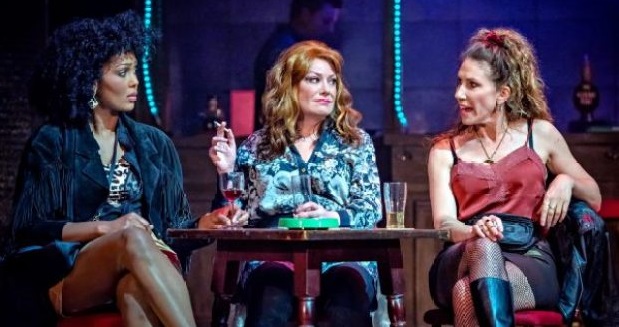 Another plus point in this gripping production is that the men may be violent thugs, or idiots, but Mellor makes them full rounded characters rather than tiresome cardboard cut outs.
Mellor who also directs has essentially compressed the first TV series into two hours of theatre, so Janet Bird's bleak set with moving flats works overtime as the action is very episodic, which ironically really keeps the pace up. Her clever casting utterly dispels any memories of the original actors, but the performances don't spare these hard-bitten women who are just as liable to rip each other off as stand together when one of their own is murdered.
Emmerdale veteran Gaynor Faye really peels back the layers of the damaged Rose who rules the women with a rod of iron, and Sacha Parkinson leaves the grandeur of Mr Selfridge far behind with a moving turn as single mum Gina forced onto the game as she owes money to a loan shark.
Eastenders legend Laurie Brett uses all her stage experience to deconstruct delusional Anita who just can't see any difference between her lifestyle and the women she offers temporary beds to. On her first big tour local actor Emma Osman exudes star quality and has great comic timing as the feisty germophobe Carol who will do anything to protect her child.
Shayne Ward leaves the cosy cobbles of Weatherfield behind to offer a sympathetic take on decent copper Newell who actually sees the women as humans who deserve justice. Dinnerladies' Andrew Dunn works hard as a bent councillor, and on his stage debut Hollyoak's Kieron Richardson is a scarily wound up ball of rage as Gina's brutal husband.
Mellor is a writer who naturally shys away from preaching instead writing relatable, complex characters based on a grim reality she has seen for herself. Despite that you can't help but think watching this timely piece that in a nation where a million people rely on foodbanks just how many more Roses, Ginas and Carols are out there risking their lives just to put food on the table.
Band of Gold is at Leeds Grand Theatre until Saturday 14th December. To book www.leedsgrandtheatre.com or 0844 8482700
Reviewer: Paul Clarke
Reviewed: 3rd December 2019
North West End UK Rating: ★★★★