Rereading my June 2019 review of The Hired Man, my heart sank when I saw that I'd written: "For reasons I can't explain, I found my mind wandering in the first half."
That was in the confines of the Hull Truck Theatre, so what chance did I have of stopping my mind from wandering at home, with the kettle and fridge within easy reach (my two favourite things during the coronavirus lockdown)?
Well, as 7.30pm strikes, I hit the play button on YouTube. I'm going in ….
As the first scene of The Hired Man comes up on my screen, the first thing I become aware of are the subtitles.
Usually a pet hate of mine - I find them distracting - I found them very helpful in this case. They clarified much of what was happening and helped me remember more clearly the events as they happened.
That was the first surprise of the night. The second was how I viewed everything in a different light with this filming - literally. It gave us a different perspective of all the on-stage action. I even found myself counting the buttons on John Tallentire's waistcoat - that would have been impossible from my, very good, seat in Row C at the Hull Truck Theatre.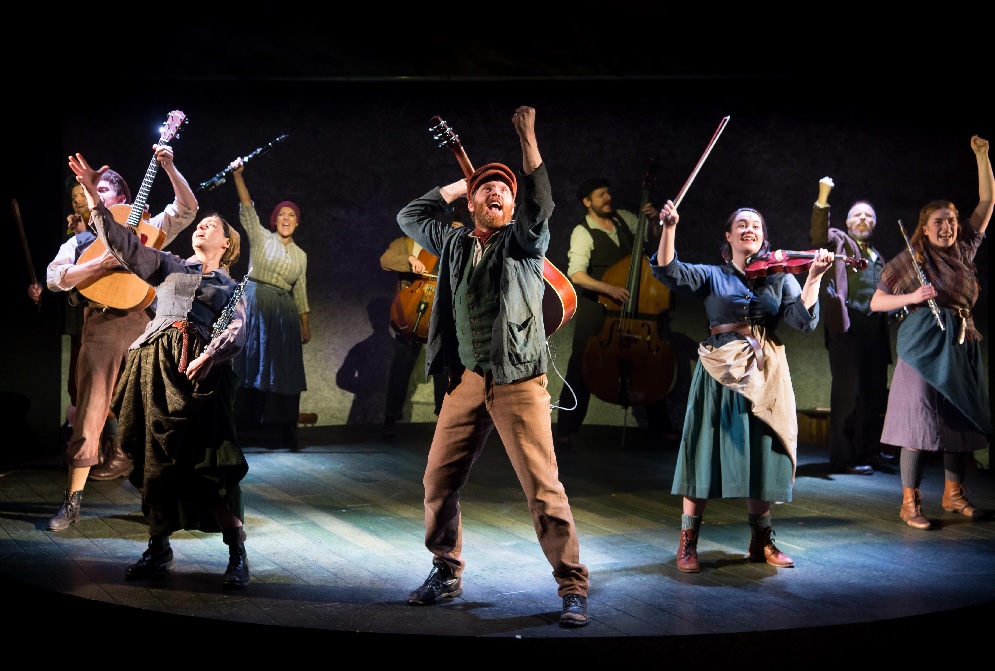 The John in question (Oliver Hembrough, who also played the double bass in the production), is the central character in The Hired Man, along with his wife, Emily (Lauryn Redding, clarinet).
This unique musical features 11 multi-talented individuals who all sing with loud, clear voices; play their individual instruments while acting and dancing. No mean feat.
And all deserve a mention: Jon Bonner (trumpet and guitar), as farmer Pennington; Lloyd Gorman (double bass), as Jackson Pennington; Lara Lewis (violin and cello), as May Tallentire; James William-Pattison (guitar and double bass), as Harry Tallentire; TJ Holmes (cello and accordion), as SethTallentire; Lucy Keirl (flute and keyboard), as Sally; Sufia Manya (oboe and clarinet), as the Landlady; Samuel Martin (violin and viola), as Isaac Tallentire and Tom Self (keyboard), as the Union Chairman.
The action kicks off in a poor farming/mining community in Cumbria, in 1898. The stage setting was just as I remembered it from my first viewing - bare and dark, reflecting the poverty of the times in that part of the world.
Atmospheric lighting, peasant costumes, basic wooden furniture and the bare minimum of props completes the picture; for instance, we had to imagine a viola as a pet greyhound!
The opening scenes see everyone - men and women - in the "Hiring Ring", pleading with Farmer Pennington for a job on his farm.
Along with others, newly-weds John and Emily are hired, and offered the use of a run-down cottage.
John soon turns into a workaholic, leaving his frustrated wife alone all day - scrubbing and cleaning. It isn't what she envisaged married life to be.
Up steps the farmer's son, Jackson. Tall, dark and handsome, he makes a play for the bored young housewife - the sexual chemistry between them is palpable.
Trouble brews when work-weary John is persuaded to spend a night away from his wife, for a night of country pursuits, hunting and drinking. One night turns into two, and it's Jackson who ends up breaking the news to Emily.
Not long after, with the threat of World War I looming, Jackson enrols in the Army, but at his leaving party John hears rumours of a possible tryst between his wife and Jackson. The first half ends with the two fighting it out.
Despite loving Jackson with all her heart, Emily decides to stay with her husband, eventually welcoming a daughter, May, and a son, Harry.
Needing to earn more money to support his growing family, John leaves the land and goes down the dreaded pits, putting his life in danger every day.
With war a definite, John and his brothers, Seth and Isaac, head off to fight for their king and country.
The small stage managed to incorporate the desperate men in the trenches, while at the same time, highlighting the despair of their loved ones left behind. Even more worrying for Emily is the fact her young son, Harry, has signed up to fight.
With war over, the horrors continue with a mining disaster which leaves Emily absolutely devastated and she never really recovers, poor woman.
This production has everything - sadness, happiness, love, temptation, suspicion, frustration, death, life and everything in between.
All this against a background of non-stop live music and singing.
Each and every member of this small, talented cast injected energy and passion into their every line and movement, and their musical expertise was beyond question.
It's thanks to them that The Hired Man is a theatrical experience I am so glad I got to watch a second time around.
A Hull Truck Theatre and Queen's Theatre Hornchurch co-production, in association with Oldham Coliseum Theatre. From the book by Melvyn Bragg
Venue: Hull Truck Theatre, Ferensway, Kingston upon Hull. Live streamed for one week from Monday, June 15th, 2020, on the Queen's Theatre Hornchurch YouTube channel and on Hull Truck Theatre's website, www.hulltruck.co.uk
Directed by Douglas Rintoul, Music and lyrics by Howard Goodall and filmed by All Media Works
Reviewer: Jackie Foottit
Reviewed: 15th June 2020
North West End UK Rating: ★★★★★