The Altrincham Garrick have ended the 2015/16 season on a high with their energy filled production of Hairspray. Based on the 1988 film starring John Travolta this musical burst onto the stage in 2002 and has been delighting audience around the world ever since. Later this year a live television version of the show is to be broadcast in the USA starring amongst others Jennifer Hudson.
In 1962 Baltimore, Maryland, plump teenager Tracy Turnblad's dream is to dance on The Corny Collins Show, a local TV dance program based on the real-life Buddy Deane Show. When Tracy wins a role on the show, she becomes a celebrity overnight, and meets a colourful array of characters. She then launches a campaign to integrate the show. Hairspray is a social commentary on the injustices of parts of American society in the 1960s.
The production at the Garrick has been skilfully and thoughtfully cast and directed by Charlie Tomlinson with each pairing playing perfectly off each other. Tracy (Olivia Tringham) almost steals the show with her high energy portrayal and her relationship with Link Larkin (Michael Twigg) is totally believable from the moment they bump into each other at auditions for the Corny Collins (Jake Robson) Show.
Tracy's best friend Penny (Abigail Harper) is also played well although I would have like to see a little more of a transformation from plain Jane to temptress at the end when she finally gets to dance in public with her coloured boyfriend Seaweed (Stephenson Ardern-Sodje). Penny's mother Prudy is wonderfully portrayed by Christina Williams who also plays the Gym Teacher and Matron during the evening.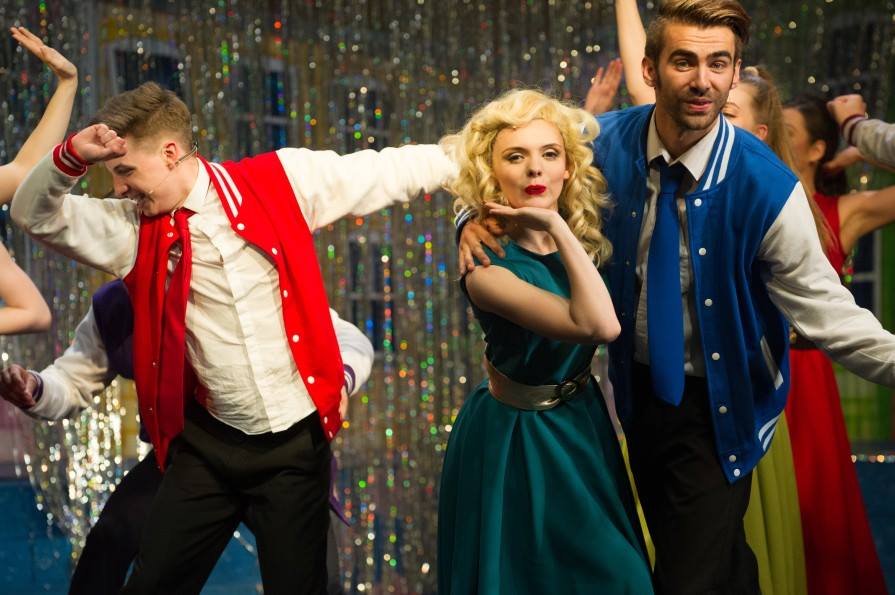 TV producer and villain of the piece Velma Von Tussle (Stephanie Niland) and her spoilt, selfish daughter Amber (Clare Louise Garrett) are an absolute joy to watch throughout and never once stray out of character even when out of the spotlight. I have been fortunate to see many a production of Hairspray and can honestly say these two were one of the best pairings I have seen.
The role made famous on screen by Travolta and later on stage by Michael Ball is that of Tracy's mother Edna. Tonight Andrew Lee took on this role with gusto and confidence. With a great voice and delightful on stage relationship with Wilber (Ivor Farley), her husband, their duet of "You're Timeless To Me" was one of the highlights of the show.
But for me the star of the show was Nicole Battick as Motormouth Maybelle. She commanded the stage whenever she was on it and her performance of "I Know Where I've Been" was by far the stand out performance of the night. As I mentioned above I have seen many a production of this show and Battick's performance of this number is second only to Brenda Edwards who recently starred in the UK national tour.
A simple set, somewhat similar to the last UK touring production served its purpose well and provided ample room to show off the choreography from Debbie Norris which was pretty much faultless in the group numbers. Special mention should also be made to MD Daniel McDwyer and his band. Somewhat too loud in places they sounded incredible and deserved their applause at the end of the night.
There however was a frustrating side to this production, the lighting. It seemed to me that they were trying to do too much with it. At times it completely missed the action it was supposed to illuminate and at times it was way too much with seemingly random flashing lights in the audience. The use of the moving lights as spotlights totally failed also as they didn't keep up with their intended targets on stage in most cases. Good old fashioned hand operated spots would have been so much more effective here.
However, in criticising the lighting this could not take away the passion and drive of those performing on stage. This show was a joy from start to finish and despite the heat in the auditorium (and many more around the country tonight) it did not lack one ounce of energy, although they must have been melting on stage.
I am already looking forward to the 2016/17 season which goes on sale next month at this gem of a theatre.
Reviewer: Paul Downham
Reviewed: 8th June 2016