A Perfect Evening's Entertainment of Singing, Dancing, Music and Comedy
Before I start this review let me set out the challenge that Rainhill Musical Theatre Company did NOT know they were facing tonight at Rainhill Village Hall: I had just returned from New York and reviewing a 5-star Tony Award winning Broadway musical. But boy did they rise to this unknown task and some in one of the most engaging performances I have seen this year.
9 to 5 The Musical, with music and lyrics by Dolly Parton and book by Patricia Resnick, is based on the hit movie, set in 1979 in a world where apples and blackberries are merely fruit that come off trees and the office was ruled by men, memoranda and monotony. It centres on three female office workers - Violet (Pip Bradshaw), Doralee (Sarah Johnson) and Judy (Michelle Williams) - who turn the tables on their sexist, lecherous, lying, bigot of a boss, the ultra-assured Franklin Hart Jr. (Brian Tubbs) in a somewhat 'unusual' manner with plenty of humour, some romance and food for thought thrown in along the way.
Our three central characters are all very different with their own particular quirks which allows us to see right into their dreams and desires, worries and concerns, but that does not stop them coming together in solidarity to oversee some long overdue changes in their workplace. For those of you born after 1980 there will be some real surprises in how things used to be.
Bradshaw, Johnson and Williams all have fantastic voices and delivered in solo and in trio superbly throughout as well as being perfectly in character with Bradshaw and Williams speaking in believable New York accents. Johnson was brave enough to resist both the pressure and perhaps urge to emulate Dolly Parton's country girl and in doing so made the role very much her own which was great to see and it worked all the better for it. They regularly demonstrated their comedic skill and timing and their wonderful but separate performances of 'The Dance of Death', 'Cowgirl's Revenge' and 'Potion Notion' was most memorable as, with a little 'hallucination', they imagined how to get rid of the boss.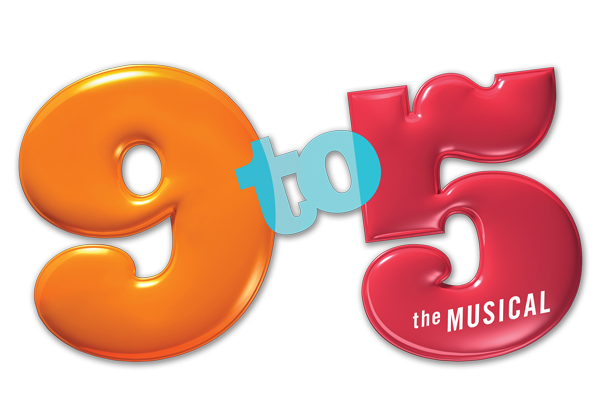 So we know Franklin Hart Jr. is in for a hard time but Tubbs took it all on the chin perfectly as he captured this egotistical hypocrite to a tee singing out 'Here For You' whilst leering over his desk at the ever delectable Doralee. Little does he realise that his PA. Roz (Sally Adamson), is infatuated with him and Adamson regularly provided fantastic comedy moments each time she was on stage as well as perfectly delivering two very different solo pieces. There is great comedy assigned to the character of Margaret (Ruth Gibb), the office lush, and which Gibb delivered expertly - when the audience laugh immediately you enter the stage you know you've nailed it.
As with any production of this nature there are a lot of support characters. A love interest for Violet is provided by Joe (Dru Fitzgerald-Grindley), the office accountant, and their duet 'Let Love Grow' was beautifully sung by both and well received by the audience. Other characters involved some doubling-up and much credit to Sam Troke, Paul-James Green, Claire Heaton, Les Tasker, Zoe Lawrance, Liam Fitzgerald-Grindley, Keith Marsh and Bláthíne Maguire for their commendable efforts in making the whole of this work, as well as a special mention to the company's renowned Ensemble of Grace Hodgson, Marj Davies, Maureen Kinsey, Marion Hitchen, Audrey Francis, Barbara Marsh and Sophie Miller who provided sterling support yet again.
The sets were kept simple and well put together and I particularly liked the special construction of an additional stage area to provide Hart Jr. with his private office and that highlighted his detachment brilliantly. Costumes and props perfectly captured the late 1970's and, although only a slip of a boy, brought back some great memories.
Any great musical requires great choreography and we had that in spades from Sam Moores and Claire Jones, both accomplished performers in their own right who I look forward to seeing again: Jones in fact played two support roles tonight (Maria and Candy Striper) and her natural stage presence shone through in both as well as when part of the ensemble on the main song and dance routines.
The musical accompaniment led by Musical Director Wayne Oakes was superb with an eclectic orchestra of stalwarts and young musicians drawn from local schools who can only have benefited from being involved in this production.
As with any performance we did have a glitch and it would be remiss of me not to mention that there were some microphone/sounds issues in Act 1, however the cast, and in particular Bradshaw who was the most affected, threw their voices further to compensate and everything was resolved for Act 2.
Much credit must be given to the Artistic Director, Pamela Foy, and Producer, Michelle Williams, (who apparently had enough time for this role as well as playing one of the female leads) for not only pulling this together but for pulling it off with such consummate ease. The audience were delighted throughout and I don't think any of us wanted the closing medley of '9 to 5/Shine Like The Sun' to end, especially when you can see how much fun the cast are having too.
Rainhill Musical Theatre Company was originally founded as Rainhill Amateur Operatic Society in 1951 - the name change is relatively recent - and is affiliated to the National Operatic and Dramatic Association (NODA). They produce two shows/revues/concerts per year, typically in January and June. There is also a Youth Group who perform a show or concert in April and October.
9 to 5 The Musical plays at Rainhill Village Hall for one more night only on Saturday 11th June 2016 at 7.30pm - book your tickets because you really do not want to miss out on this one. Tickets are available via their telephone hotline 0151 292 4458 or via email This email address is being protected from spambots. You need JavaScript enabled to view it..
For further information visit their website https://rainhillmusicaltheatrecompany.wordpress.com/
Reviewer: Mark Davoren
Reviewed: 10th June 2016